In Join the Club (SWAT Generation 2.0 #7) by Lani Lynn Vale, Police officer and SWAT team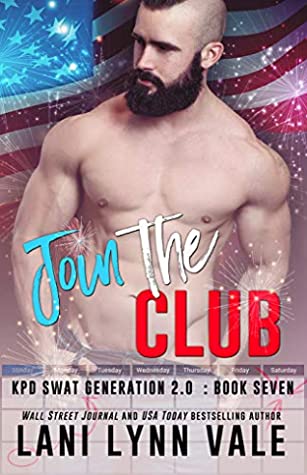 member Bourne Pena has spent the last five or six years basically putting his life on hold so his twin brother Booth could go after his dreams. But Bourne wouldn't change a thing. Because during those years he's got to spend quality time with his funny and wickedly smart nephew Asa–his brother Booth's son with Delanie Davidsdottir. Even though his brother never had a real relationship with Delanie aside from co-parenting their son, Bourne can't help but feel like she's off-limits. Especially since her twin sister Dillan is dating Booth. See? Complicated. But after so many years of everyone else chasing after their happy ending, maybe it's time for Bourne to go after his own dream–which would be a lifetime with Delanie.
'I knew deep down that she was it for me.
I just didn't want to freak her out or scare her when I told her I wanted forever.
Which was why, for now, I was going to keep it quiet.'
There might still be few questions rattling around in Delanie's head about the night she and Booth hooked up years ago, but she can't deny how much better her life has been with her beloved little boy Asa in it. And she doesn't want to change the delicate balance they've created as a family. Which is what would happen if Delanie finally caved and admitted to her feelings for her son's uncle, Bourne. Years of crushing on him hasn't gotten her anywhere yet. But with her twin sister Dillan seemingly settling down with Booth, could this be the time for Delanie to tell Bourne how she really feels about him? Or will he brush off their attraction as a fleeting thing?
"You proceed like we've always proceeded. You just treat me like I'm your baby daddy's brother, and that's all," he said.
And for some reason, that made me extremely mad.
That's how he wanted me to treat him?
Well, fine.
Join the Club was a sinful romp of a romance full of no-holds-barred passion and drama. With a touch of the taboo and some lighthearted giggles, Lani Lynn Vale finished off the triangle between the Pena and Davidsdottir twins in a most satisfying way.
"You're mine now. No going back," I growled.
While you can read Join the Club as a standalone where Vale included enough details of the love triangle (quadrangle?) to do it justice, I would suggest reading Joke's on You–Booth and Dillan's book–to get the full effect. Because boy was it a complex situation for all involved! Between that tangled web and the heat level, this was a super quick but enjoyable read. Vale added just enough depth emotionally to give the romance substance without letting it get too heavy overall. And I have to say that Delanie's five-year-old son with Booth, Asa, was the perfect dose of cuteness and levity the story needed as well.
Delanie and Bourne were utterly adorable together. I thought they balanced each other out quite well, both with ties to law enforcement and with a whole lifetime of shared experiences and memories together. And their chemistry! When Bourne finally decided it was time to take control of his life and what he wanted…look out. Delanie didn't stand a chance. (lol) She was definitely her own woman, though, and made up her own mind. I did get frustrated with both Bourne and Delanie a couple of times when they were stubborn or they made a mistake. But the ending more than made up for it. Especially the lovely glimpses into the future we got through the epilogues. (Yes, plural)
If you're looking for a super hot and steamy connection between over-the-top characters, Join the Club is a fast-paced book that will keep you on your toes. But what else would you expect from Lani Lynn Vale, right?

Book Info:

Publication: July 14th 2020 | Lani Lynn Vale | SWAT Generation 2.0 #7
There are a few lessons one has to learn for themselves. Then there are the lessons that most people don't have to learn because it's just not done.
For instance, most people know instinctively that they shouldn't crave the mother of their brother's child.
Bourne Pena isn't most men.
Bourne does everything he can to fight the attraction he feels for Delanie, but in the end, his refusal to go there almost ends up costing him his life.
***
Delanie Davidsdottir just wanted to forget. One night, she wanted to feel like a normal human being.
That one night changes her life and gives her a son that becomes her heart and soul. From that point forward, she does her level best to keep her head on straight and not make any more mistakes.
And falling for her child's father's twin brother—say that three times fast— would be a mistake. Not only is he Trouble with a capital T, he's also a SWAT officer that puts his life on the line every single day.
She can't take another loss like the one she suffered once before.
Then again, Delanie never encountered a man like Bourne Pena before, either.