Today, HJ is pleased to share with you

Emma Hart's

new release: 

The Introvert's Guide to Speed Dating

Speed dating: the act in which you have two minutes to figure out how much of a jerk someone is. And pretend like you don't have the hots for your son's soccer coach.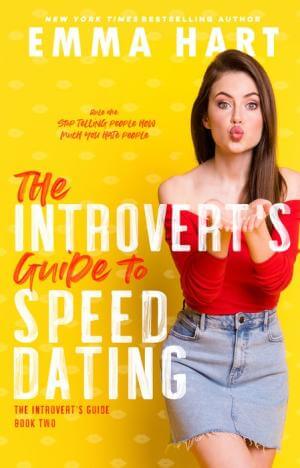 After four years living the single life, it's decided that I, London Stuart, am back on the market.
I'm not even mad when my cousins and best friends put my name down for the speed dating sessions. In fact, I'm actually a little excited about it.
Until one of my dates turns out to be my six-year-old son's irresistibly sexy soccer coach. His irresistibly sexy British soccer coach.
Oliver Hayes is too good to be true—he's tall, dark, handsome, hilarious, and he genuinely loves kids. Especially mine. But he's not sure if he's even staying in the country, and I'm not sure I can handle giving him my heart if he's only going to leave.
So why is he over for dinner almost every night? Why is he giving Leo private goalie sessions in the backyard? Why is he sending flowers to my desk at the newspaper?
And why, oh why, can't I stop kissing him?
Enjoy an exclusive excerpt from The Introvert's Guide to Speed Dating 
"I was wondering if I could interview you."
"I knew you were going to say that," he groaned. I gave him my best smile.
"Please. You're such a big part of the center and do such a great job with all these kids. It won't be anything insanely long, and I'm going to ask all the main coaches and trainers."
"What kind of questions?"
"A little background, how you ended up working here, and why you do it. Stuff like that.
Strictly professional with a sprinkling of personal."
He looked at me, meeting my gaze with eyes that weren't quite blue but weren't quite green. They hovered somewhere in the middle, like a hazel with a variation of flecks in it. "Do I get a lunch meeting for this interview?"
Whoa. "Do you want a lunch meeting for the interview?" I raised my eyebrows. "Or are you taking a cheap shot at asking me out?"
Oliver's tongue ran over his lower lip, and he grinned. "What if I am?"
"Then it means you're paying instead of me."
He laughed, and it was deep and guttural and did things to me that were not appropriate to feel right now. "Bloody hell, talk about backing a guy into a corner."
Dipping my head, I laughed, pushing my wayward bit of hair from my eyes once more.
"I'm messing with you. If a lunch meeting is easier for you, we can schedule something soon." I opened my purse and pulled out my card.
"Let me know when you're free and we'll work it out." Oliver took the card and looked at it, then tucked it into his pocket.
"I'll do just that."
Excerpt. ©Emma Hart. Posted by arrangement with the publisher. All rights reserved.


Giveaway:

5 Kindle copies of The Introvert's Guide to Speed Dating
To enter Giveaway: Please complete the Rafflecopter form and post a comment to this Q:

What did you think of the excerpt spotlighted here? Leave a comment with your thoughts on the book…
Meet the Author:
Emma Hart is the New York Times and USA Today bestselling author of over thirty novels and has been translated into several different languages.
She is a mother, wife, lover of wine, Pink Goddess, and valiant rescuer of wild baby hedgehogs.
Emma prides herself on her realistic, snarky smut, with comebacks that would make a PMS-ing teenage girl proud.
Yes, really. She's that sarcastic.
Keep up to date on her releases by following her on Amazon or signing up at http://emmahart.net/newsletter
TBR: https://emmahart.pub/tigtsd-gr
Amazon US: https://amzn.to/33vy3rK
Amazon UK: https://amzn.to/2GG9Ypa
Apple Books: http://emmahart.pub/TIGTSD-apple
Nook: http://emmahart.pub/TIGTSD-Nook
Kobo: http://emmahart.pub/TIGTSD-kobo