Today it is my pleasure to Welcome author
Sarah M. Anderson
to HJ!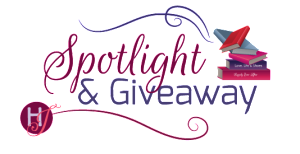 Hi Sarah and welcome to HJ! We're so excited to chat with you about your new release, The Men of the White Sandy Box Set!

Happy Fall, everyone! I'm thrilled to be here and not sweating!

Please summarize the book for the readers here:
It's not just one book–it's FIVE books! The complete series of The Men of the White Sandy is now available in one package!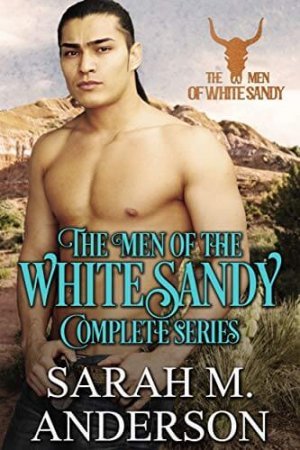 The Medicine Man: The White Sandy Reservation needs a doctor, and Madeline Mitchell needs to do a little good in the world. It seems like a perfect fit, until she meets the medicine man, Rebel Runs Fast, who makes her blood run hot. But when sickness hits, can Rebel help her saves lives?
The Rancher: Jacob Plenty Holes has a duty to protect his tribe–and that doesn't include Dr. Mary Beth Hofstetter. But when the fiery vet finds herself in the middle of an old feud, can Jacob save her?
The Shadow: Nobody Bodine is a nobody who came from a nobody and will always be a nobody. But Melonie Mitchell sees him like no one else does. When a young boy needs a guardian angel, can they work together to save him–or will Nobody disappear into the shadows?
The Medic: Clarence Thunder may not be as young as he once was…
But is he as good once as he ever was? He hopes so. He's been watching Tammy Tall Trees, the young single mother who works next door in the Child Care Center. He wants to show Tammy he can take care of her and her young son—but can he compete with the boy's real father?
The Sheriff: The last thing Sheriff Tim Means needs is another person he has to protect. But when he arrests a young man with no other family, he's forced to call Summer Johnson, who hasn't been back to the White Sandy in years. When she finally returns, sparks fly with the sexy sheriff. Has she finally come home?

Please share your favorite line(s) or quote from this book:
It's so hard to choose! I loved writing these books and there's something I particularly love about every single one.
Please share a few Fun facts about this book…
I'd worked on the White Sandy books for the better part of ten years! I originally wrote what is now The Rancher (and was originally published as Masked Cowboy) back in…2008? And I wrote The Medicine Man (originally Mystic Cowboy) in 2009. Mystic was published first in 2013 at Samhain, then I rewrote Masked to become the 2nd book in 2013. The Shadow–which was Nobody, originally–was self-published in 2014. Clarence was the original title of The Medic and he was right at the end of 2014. Then it took me another 2 1/2 years to finish up The Sheriff, who just came out in March this year. That was when I rebranded all the older books with updated covers and titles (and a few small changes–my writing style has changed a LOT over the years!) Whew!
Originally, Jacob Plenty Holes did not have a nose underneath his mask. But oddly enough, every single publishing professional I've ever talked with insisted that a romance hero had to have a nose! Even a scarred one! Go figure, right? So I gave him back his nose. He deserved it!
What first attracts your Hero to the Heroine and vice versa?
If I had to rank my heroes, I'd put them in this order:
1. Nobody (scarred, wounded, deadly)
2. Rebel (playful, tough, thoughtful)
3. Tim (honor-bound, protective, battle-scarred)
4. Clarence (ultimate cinnamon roll, cautious, fatherly)
5. Jacob (quick tempered, mysterious, guardian)
And of course, every single one of them meets their match. Rebel falls for Madeline, who's prickly and demanding, which comes from a place of caring and a desire to make things better. Jacob wins over Mary Beth, who's fearless and a true friend to people and animals. Nobody runs head first into Melonie, who's exuberant and loving and hard to miss! Clarence woos Tammy, a shy devoted mom and Tim finds true love with Summer, who's finds the family and home she's looking for.
If your book was optioned for a movie, what scene would you use for the audition of the main characters and why?
Rebel is Tatanka Means, an actor and activist. Fun fact–I actually talked with Tatanka about narrating the audio books–but alas, we couldn't get the stars to line up! But he's who's voice I hear when I read Rebel's dialog!
Jacob is Michael Greyeyes, who is on Fear of the Walking Dead. I like the intensity he brings to his role–that's perfect for Jacob!
Nobody is Martin Sensmeier, who was in the remake of The Magnificent Seven (and mostly shirtless!)
Clarence is Adam Beach, who's been in everything. Clarence is a little older and wiser than some of the other heroes and he's seen a lot–but nothing ruffles him. Adam definitely fits that description!
Tim was always Rick Mora, actor and model–and I was THRILLED when I was able to use a picture of Rick on the cover of the book, thanks to Hot Damn! stock photography!
There's no scene in the whole series where all five men are together. (Gross oversight on my part!) That's usually because Tim and Nobody can't stand being in the same room together (don't worry–they fight side by side when they have to!) and also the fact that Jacob's ranch is on the far side of the reservation, which is about a two hour drive. (South Dakota is a very long state!)
But almost any first kiss scene for any of the couples works out really well–here's the first kiss for The Sheriff, which takes place after a long night for our hero:
Then something touched his shoulder and cut through the weird dream. Instinct took over. He reached up and grabbed the wrists of the person who'd managed to sneak into his house, and rolled. Before he even got his eyes open, he had the intruder trapped underneath him and he was trying to reach for the gun under his pillow. Except it wasn't there. Dammit.

"Oh!" A soft feminine voice squeaked from under him.

His eyelids were heavy and he realized he'd been asleep. "Who are you," he demanded as he forced his eyes open.

That was when he realized he'd pinned Summer to his bed. He had her by her wrists and her body was warm and soft underneath his.

Oh, shit.

"Tim?" Her eyes were wide—the kind of eyes a man could get lost in—and she should have been terrified. But he didn't think she was. Maybe a little alarmed. He couldn't really blame her for that.

"Tim?" she asked again and he realized he hadn't answered her yet.

His brain felt like sludge and he was vaguely aware this was the worst thing he had done all day. Probably all week. "What are you doing here? Where's Georgey?"

Amazingly, instead of kicking and screaming and trying to throw him off her—all things she should've done—one corner of her mouth quirked up. "He's at the Clinic," she said in a remarkably calm voice, given the circumstances. "Jack was there, getting some stitches. He told me to tell you…" Her voice drifted off.

Tim tried not to think about the way her body was molding itself to his. Soft. She was so soft.

"He said the state troopers were watching the prisoners, but you need to get down there sooner rather than later. I gathered they didn't want Jack bleeding all over the place," she added, her smile growing slightly. "Apparently he tried to call you, but you didn't answer. So he's keeping an eye on Georgey and I offered to come check on you."

He'd slept through the phone? And the state troopers were taking over his station? Tim winced, which she took the wrong way.

"Are you okay?" She pulled one of her wrists free from his hand and then she was touching him.

Her fingers slid down his side, over his ribs until they hit the bandage and he almost lost what little self-control he was hanging onto, because she was touching him and looking at him with those beautiful eyes and he wasn't going to make it.

"Your ice melted," she told him.

"Yeah." Great. He sounded like an idiot, but he couldn't seem to get his brain or his mouth to function.

Something in her eyes changed. "I'm sorry I woke you up," she said, her voice growing even quieter.

"It's okay," he said, mentally ordering his brain to get with it. "I should get up anyway."

Neither of them moved. He still had her head bracketed with his forearms, her one hand pinned over her head. She was still lightly tracing his ribs.

And he was going to kiss her. It probably wasn't the right thing to do. It definitely wasn't the smart thing to do. There were a lot of really good reasons why he shouldn't cross this line with her. But he was having trouble thinking of any of them right now.

All he could think about was the way her body fit against his, how pretty she was.

How she wasn't clawing his eyes out or calling him names.

She moved first. Her free hand left his bandage behind and skimmed over his chest, then up his neck. She stroked the side of his face and tucked a hank of his hair behind his ear. Then, somehow, her fingers were tangled in his hair and she was pulling him down to her.

"Summer," he whispered against her skin and then he was kissing her. Maybe this was just a hyper-real dream, because the feel of Summer, the way her mouth moved against his, the way she opened and sighed into him—this couldn't be real. If he was asleep, he sure as hell didn't want to wake up.

Summer's tongue traced his lips and he groaned. He shifted and she shifted with him, her legs wrapping around his and pulling him down harder into her. God, how long had it been? Months? Years? He couldn't remember. All he knew was it had been too long since he'd been tangled up with a woman in this bed, lips and hands and legs everywhere.

He shifted again, releasing her wrist and propping himself up so he could touch her. He cupped her breast and squeezed—maybe not as gently as he should have, because she gasped and broke the kiss. But before he could apologize for being too rough, she arched into his touch, her head thrown back against the pillow and her mouth open.

"Pretty," he managed to get out and then his hips moved without his explicit permission, grinding his dick against her. "So damn pretty," he said again because it was true and also because he didn't want her to leave. Not now.

"Tim…"

In the other room, his phone rang.

They both froze, eyes wide.

"I'm supposed to be checking on you," she whispered.

"I'm supposed to be down at the station," he replied.

Neither one moved. The phone kept ringing.
Readers should read this book….
You should read (or reread!) these books because they're filled with gorgeous men who don't turn away from danger or protecting those they love! Plus, every single White Sandy hero knows how to ride horses!
I love to counsel new writers that a book isn't done until you hate it–but looking back over this whole series, I can still fall into the story and NOT hate it, which is actually pretty rare. The White Sandy is like a comforting blanket to me. I love the whole thing so much!
Even though I'm not a Native American, someone on Twitter pointed out the other day that there are very few instances of Native/1st Nation people getting HEA and that they have largely been erased from our romance narratives, so reading about the White Sandy is a way to broaden your horizons as well. I'd also recommend checking out Robin Covington, an #ownvoices author who's got several other romances featuring Native heroes and heroines coming out (Ghost is out now!)
What are you currently working on? What other releases do you have in the works?
I'll be putting out the box set for my alter ego Maggie Chase's Jeweled Ladies soon and then in February, my next Harlequin Desire will be out–Seduction on His Terms! This features Dr. Robert Wyatt, who is second only to Nobody Bodine for the title of "Sarah's Most Broken Heroes," which is realllly saying something! Then in April, the final book in the First Family of Rodeo, His for One Night, will be out! Fun stuff!
As for what I'm working on now…it's a little bit of a secret. Something entirely different! We'll see if it goes anywhere, but I'm having fun writing it!

Thanks for blogging at HJ!
Giveaway:

I'm giving away three ebooks of The Medicine Man–book one of the Men of the White Sandy series! The series is open internationally!
To enter Giveaway: Please complete the Rafflecopter form and Post a comment to this Q:

Halloween was yesterday, which means that, for some people, the Christmas decorations are going up as we speak! But I'm personally a big fan of Thanksgiving and we try not to put Christmas up until after Turkey Day. What about you? Do you wait until after you've eaten all the pumpkin pie before the tree goes up? Or are the icicle lights already up?
Excerpt from The Men of the White Sandy Box Set:
This is also from The Sheriff–right after The Kiss from earlier!
Summer's car was parked in front of his house. Just about the only thing that had kept him going today had been the thought of coming home to her and picking up where he'd left off—half naked and wrapped up in each other. All naked would be better but Tim was happy to take what he could get at this point.

He put his shoulder in the door and almost fell in to his house. Okay, so maybe the all-naked thing would have to wait just a little bit longer.

From the kitchen, Summer spun and let out a squeak. She had his oven mitt on her hand and she appeared to be…cooking?

"Tim! You scared me!"

"Sorry," he said, dragging his butt inside and getting the door shut. "The door sticks."
Her lips quirked into a grin. "So I've noticed." She looked at him. "You look exhausted. I'm making dinner, if you can hold out that long."

Tim exhaled a breath he hadn't realized he'd been holding. For years, he'd come home to an empty, dark house. There was something so profoundly normal about Summer waiting for him that he didn't even recognize the emotions that tumbled through him. He just suddenly knew he'd been missing this moment for a long, long time.

"I will eat anything you put in front of me," he told her, slouching into the kitchen chair then sitting up straighter because slouching didn't work with his ribs.

"It's not fancy," she told him. She opened the fridge and the next thing he knew, she set a beer in front of him. "You don't have a lot to work with. Macaroni and cheese, hot dogs, and green beans."

He stared at the beer for what felt like a stupid long time before he looked up at her. She was standing at the edge of the table and she had on this sweet little grin as she watched over him and all of a sudden, he thought, I could love you. The words tripped right up to the end of his tongue before he managed to clamp his jaw shut.

That was not the thing he should say right now. Yeah, he liked her and yeah, he'd enjoyed kissing her earlier and okay, yeah, she'd been the one person who'd kept him going all day long. But even in his sorry state, declarations of love just because a pretty woman made him dinner and got him a beer before he realized he wanted one were a bad move.

He opened the beer and took a long pull. "It sounds wonderful," he said sincerely. If he'd come home on his own, he probably would've had a couple hot dogs and fallen into bed. But macaroni and cheese had never sounded so good.

Then he realized they were alone. "Where's Georgey?"

"In the shower," she said in a severe tone. "He smelled like expired aftershave. It was not pretty. But," she went on, sounding far perkier than Tim could achieve at the moment, "he got the window in and done and he spent the afternoon chasing small children around the field with a soccer ball. And he didn't even cuss that much."

Tim felt the grin on his face. "Is that a fact?"

"He's welcome back at the childcare center any time," she told him as she put his oven mitts back on and lifted the pot of boiling water and noodles. She carried it to the sink, but Tim knew he didn't have a strainer. As he watched, she picked up a plate, held it over the lip of the pot, and slowly poured out most of the water.

It was nuts how much watching her do that affected him. Jesus, he must be more tired than he'd thought, but seriously? Not only could he love her, she could fit in his world. He knew she had to have a better life back in Minneapolis—one that included basic kitchen utensils like strainers—but she'd just slipped right into his as if she'd always been here.

He couldn't tell her that, not without sounding like a wacko. But…

Tim pulled himself to his feet. "How long has he been in the shower?" he asked as he walked toward her.

"Fifteen, maybe twenty minutes. He…"

But whatever she'd been about to say faded away as Tim reached her. "Then we've got a few minutes," he said low and close to her ear as he trailed his fingers over her shoulder and down her back.

She carefully set the pot upright so she wouldn't lose all her noodles, then turned. Tim's hands came to rest on her waist and he leaned into her. "I suppose we do," she said in a breathy voice as her arms came around his neck and she tilted her head up.

"This counts as later," he told her as he brushed his lips over her forehead and her cheek before working his way toward her mouth.

"Definitely later," she agreed.

God, she felt so good in his arms. The warmth of her body drove the pain in his chest away and the way her mouth moved against his?

He'd been kissing girls since he was at least Georgey's age. But not recently. He'd forgotten how much he loved the soft touch and sweet little noises women made. It was entirely possible he was just too tired and everything was affecting him too much but he didn't think so. He didn't feel so.

He had a vague sense this was all out of order. There hadn't been anything that could count as a date, but all he wanted to do was walk her back to the bed and sink into her body.

"Tim," she whispered against his skin as his hands begin to slide up over her ribs. To his ears, it sounded a hell of a lot like yes.

"A-hem."
Excerpt. © Reprinted by permission. All rights reserved.


Book Info:
Welcome back to the White Sandy! The complete series by RITA-award winning author Sarah M. Anderson is now in one box set—The Medicine Man, The Rancher, The Shadow, The Medic and The Sheriff!
Book Links: Amazon | B&N | iTunes | kobo | Google |


Meet the Author: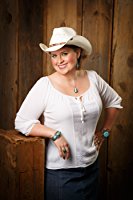 Sarah M. Anderson is an award-winning author who writes contemporary snarky and sensual romances featuring cowboys and bull riders as well as billionaires with and without babies. She won RT Reviewer's Choice 2012 Desire of the Year for A Man of Privilege. The Nanny Plan was a 2016 RITA® winner for Contemporary Romance: Short.
Sarah spends her days having conversations with imaginary cowboys and billionaires. Find out more at www.sarahmanderson.com and sign up for the new-release newsletter at http://bit.ly/sarahalerts.
Website | Facebook | Twitter | Instagram | GoodReads |