Today, HJ is pleased to share with you

Tessa Bailey's

new release: 

Unfortunately Yours

#1 New York Times bestselling author Tessa Bailey is back in Napa Valley with this hilarious rom-com about a down-on-her-luck heiress who suggests a mutually beneficial marriage of convenience to a man she can't stand… only to discover there's a fine line between love and hate.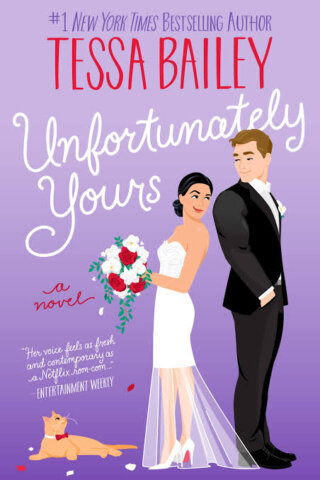 After losing her job and her fiancé in one fell swoop, Natalie Vos returned home to lick her wounds. A few months later, she's sufficiently drowned her sorrows in cabernet and she's ready to get back on her feet. She just needs her trust fund to finance her new business venture. Unfortunately, the terms require she marry before she can have the money. And well, dumped, remember?
But Natalie is desperate enough to propose to a man who makes her want to kill him—and kiss him, in equal measure.
August Cates may own a vineyard, but he doesn't know jack about making wine. He's determined to do his late best friend proud, no matter what it takes. Except his tasting room is empty, his wine is disgusting (seriously, he once saw someone gag), and his buddy's legacy is circling the drain. No bank will give him the loan he needs to turn the business around… and then the gorgeous, feisty heiress knocks on his door.
Natalie has haunted August's dreams since the moment they met, but their sizzling chemistry immediately morphed into simmering insults. Now, a quickie marriage could help them both. A sham wedding, a few weeks living under the same roof, and then they can go their separate ways—assuming they make it out alive. How hard could it be?
There's just one thing they didn't account for: their unfortunate, unbearable, undeniable attraction.
Enjoy an exclusive excerpt from Unfortunately Yours 
August surprised her by pressing their foreheads together. "Natalie."
"What?"
Three seconds passed. Four. "I will never, ever let you down again. Is that clear?"
The strangest thing happened in the wake of that unexpected vow. The clamminess of her skin subsided and her pulse slowly returned to normal. She found herself nodding, even, because how could she do anything else when she'd never seen him look so serious? Or heard that thread of honor so deeply woven into his tone. This was August the Navy SEAL.
Still, she wasn't one hundred percent ready to take that leap into trusting him. Not after everything. Not when they were so fresh from the stunt he'd pulled. "We'll see, I guess."
"You will see," he countered without the slightest hesitation. "Now are you coming with me to the Lovers Lounge or not?"
When had August pulled her closer?
Better question. When had she pushed up on her tip toes so her arms could reach around his neck? She started to retract her touch, but he shook his head. "If I was your real fiancé," he said quietly, for her ears alone. "This is how I'd hold you. All the time. So this is how we should stay."
"Right." The big slabs of his pecs were inches from her mouth and she had the strangest urge to sink her teeth into them. Maybe even had a premonition that he would enjoy it. There will be none of that. "Later, we can h-have an actual discussion and lay down some ground rules. Come up with a timeline for our respective goals. But first and foremost, let me reiterate, there is going to be absolutely zero sex. I cannot stress that enough."
"It has been stressful, princess. Believe me." His thumb brushed across her lower spine and a hot shiver went through her, head to toe. "Remind me again why we can't have sex."
His voice cracked on the word sex, right there against her ear and a swallow got stuck in her throat. "The reasons have changed, obviously, with this shiny new development. Lines that need to be clear will…blur…if we go there. But the underlying logic is the same. I can't let my guard down around you."
That big hand flexed on her back. "Do you always let your guard down during sex?"
"I mean…I have," she drew the words out, registering her answer even as she spoke it out loud. "Sort of. Let it down. But I definitely can't let it down with someone who is gleeful about pointing out my shortcomings and poking fun at my insecurities. That's just self-sabotage."
He frowned down at her. "What about the fact that you poke fun at my insecurities, too? Wouldn't it be self-sabotage for me, as well?"
"You are a man. You'd be getting sex. You wouldn't care."
"Valid point." His eyes narrowed further. "So you're saying you would care?"
"I'm saying I'd beat myself up over giving in while you snored it up on the other side of the bed."
"You're so sure you wouldn't be snoring right there beside me?"
"We're not going to find out."
"I'm inclined to agree to anything right now to make you happy, Natalie, but I'm not agreeing to any no sex rules. Sorry. We're grown adults and if we both want something, we should be able to take it without consulting some arbitrary rulebook." His chest rose and fell as he pulled her in closer. "If you don't directly ask me for sex, I'll respect that. But if you want to be fucked, you're going to get it. Period the end."
Excerpt. ©Tessa Bailey. Posted by arrangement with the publisher. All rights reserved.


Giveaway:

A print copy of UNFORTUNATELY YOURS by Tessa Bailey
To enter Giveaway: Please complete the Rafflecopter form and post a comment to this Q:

What did you think of the excerpt spotlighted here? Leave a comment with your thoughts on the book…
Meet the Author:
#1 New York Times Bestselling author Tessa Bailey can solve all problems except for her own, so she focuses those efforts on stubborn, fictional blue collar men and loyal, lovable heroines. She lives on Long Island avoiding the sun and social interactions, then wonders why no one has called. Dubbed the "Michelangelo of dirty talk," by Entertainment Weekly, Tessa writes with spice, spirit, swoon and a guaranteed happily ever after. Catch her on TikTok at @authortessabailey or check out tessabailey.com for a complete list of books.