Today it is my pleasure to Welcome author
Karen Grey
to HJ!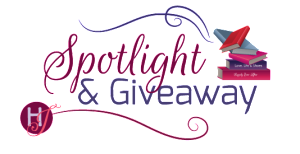 Hi Karen and welcome to HJ! We're so excited to chat with you about your new release, What I'm Looking For: a nostalgic romantic comedy!

Hope this finds you safe and sane. If you're in need of a trip back to a simpler time, read on…

Please summarize the book a la Twitter style for the readers here: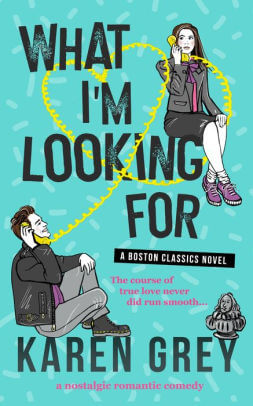 An unapologetically nerdy heroine and a talented but stubborn hero find love in spite of themselves in this vintage romance debut from Karen Grey.

Please share the opening lines of this book:
My chest heaves. Every inch of my body is slick with sweat. My legs are as shaky as if I just sprinted the last hundred yards in the mile at a track meet.

Having reached the front of the conference room, I set my flip chart on the easel and place my notes on the podium while I psych myself up to face the rows of my firm's traders and salesmen. Then I remember what Mr. Brady said to Jan when she was nervous to debate in front of a crowd.
Please share a few Fun facts about this book…
To the characters in this book "text" meant typed words in a manuscript and "#" was just the symbol for "number". Pagers and answering machines were the latest technologies.
The careers of the hero and heroine are based on real life experiences (mine and my friends').
All series main characters' names are taken from Shakespeare.
The first commercial that the hero appears in is move for move based on a commercial that the author appeared in.
Despite differences in social norms and technology, dating wasn't all THAT different back in 1988.
What first attracts your Hero to the Heroine and vice versa?
She appreciates his easy confidence and willingness to stand out in a crowd. He can't stop thinking about the feisty attitude in her big brown eyes.

Using just 5 words, how would you describe Hero and Heroine's love affair?
Opposites attract; challenge is sexy.

The First Kiss…
"This face. I can't stop thinking about it, even though you're a damn capitalist."

She huffs out a laugh. The pink on her cheeks goes from rose to crimson.

Closing the space between us, my thumb feather-light along her jawline, I grasp for words. "It's what your face says, how it expresses the thousand things you feel. When you're not hiding those feelings. But even then, this mask you put up makes me want to peel it away and get to know the person underneath."

The need for her to feel what my words don't seem to be communicating has me cupping her jaw with both hands and leaning in to brush my lips over hers. She shudders. I think it's a good shudder, so I press my lips to hers, sliding my hands to cup the back of her head. I let the tip of my tongue run over her top lip. She gasps and pulls away slightly, but when I catch her gaze, her pupils are dilated, almost displacing the light brown of her irises. In slow motion, her mouth floats back to mine. I hold my breath. She nips my lower lip. And holds on.

Immediately, the kiss deepens. Her hands dive into my hair; my hands roam down her spine. A shiver moves through her again, and I pull her in, sucking on her lower lip.

She moans and presses her chest to mine, then kisses her way across my jaw to my earlobe, nipping lightly.

Arms still around my neck, she leans away slightly and tips her chin toward the obvious bulge in my shorts. "Well, I guess I can't deny the attraction."

I grin before nuzzling back in. "I'm not that good of an actor."
Without revealing too much, what is your favorite scene in the book?
When the hero helps the heroine catch her breath after "the juggler incident" (based on an real life encounter I had with a street performer):
It's Will. Come to rescue me. Anger shoves embarrassment aside. I may be a total dork, but I don't need rescuing. I get to my feet but then everything goes hazy.

A firm grip catches me. "Hey, hey, no rush."

"Whoo." I sink back to earth. "Dizzy."

"It's okay. It's probably just adrenaline. Just take a few deep breaths; it'll undo the proprioceptive response."

Everything's still so fuzzy all I can come up with is "Huh."

"I know, big word for an actor." His voice holds a smile but I don't think he's laughing at me. "Deep breaths."

When I do as he suggests, he makes a disapproving sound. "Hm."

"What? I'm breathing." I suck in and blow out a couple more breaths. "I'm getting dizzier." And more irritated.

"Well, to really convince your body to calm down, you have to breathe using your diaphragm." Sitting on the ground next to me, he places a hand on his stomach. "Into your belly."

"You're telling me I breathe wrong?"

"You don't breathe naturally. Most people don't," he adds.

"How is it possible to breathe wrong? My body just breathes."

"Believe me, it's possible. It's… complicated. Breathing incorrectly is a habit you develop over time, usually starting in adolescence."

He reaches for my belly. "Here, I'll show you." He pauses before actually touching me. "Can I touch you?"

Yes please, anywhere you'd like, I almost blurt out. But we're in the middle of Harvard Square.

"On your stomach," he clarifies.

Squashing naughty thoughts, I move my own hands out of the way. "Sure. I would love to know how I'm breathing wrong. I'm a runner, you know. I can run miles without getting winded."

"I'm sure you can."
If your book was optioned for a movie, what scene would be absolutely crucial to include?
I'd love to see the scene where watching Will perform onstage for the first time – in a beautiful outdoor theater – flashes Kate back to the very ugly breakup with her ex.
Before I know it, the scene where Will seduces Jessica—or rather her character, Diana—has arrived. As soon as I hear, "They told me that your name was Fontibell," my heart drops to my gut.

Watching them perform the familiar words is so different than lounging next to Will while he recites them. His eyes hold desire that Jessica's return. Not only that, but she winds her body around his in a seductive dance that has him literally on his knees before he sweeps her up in his strong arms and carries her off the stage.

And then it hits me. Jessica, petite with large breasts and dark, curly hair, looks a lot like the woman Jonathan took up with. The day after he gave me the it's-your-job-or-me ultimatum.
Crossing my arms and legs, I fight the bile rising in my throat. All I can see is the scene in my mind. Jonathan saying that if I loved him, I'd follow him to Indiana and support him through med school. That my job didn't matter anyway since I'd have to leave it when I had kids. That women don't have the right temperament for finance. Frustrated with his stupid arguments, I'd stormed out even as he shouted that if I left, things were over between us. "Things" meaning a three-and-a-half year relationship. The next day, I'd returned, calmer, hoping to get him to see my point of view. But when I opened the door to his room, he was asleep. Naked. With a buxom brunette in bed next to him.

Images of Will and Jessica blur with those of Jonathan and that girl. I look over at Alice, hoping she can pull me out of this emotional quicksand, but she's completely absorbed in the play.

Right. It's a play. These are actors. It's all pretend.
Readers should read this book …
If they're in need of an escape from the crazy of the world right now.
What are you currently working on? What other releases do you have planned?
I'm editing the second book in the series, "Forget About Me". It's a best friend's little sister story about a famous underwear model (based on the Calvin Klein campaigns of the 80's) and a veterinarian technician.
Thanks for blogging at HJ!
Giveaway:

A personalized ebook where I change the name of the heroine's cat to any name you want!
To enter Giveaway: Please complete the Rafflecopter form and Post a comment to this Q:

What current technology would you miss most if you had to go back and live in the eighties? OR – what technology would you be happy to get rid of?
Excerpt from What I'm Looking For: a nostalgic romantic comedy:
The next day when I return from a late-morning meeting with the CFO of Lotus, there's a While You Were Out message resting on my phone asking me to call Gail. When I do, she says she'll meet me at my cubicle in ten minutes. As usual, no hints from her. I could've won the lottery or I could be fired, and she'd deliver the news in the same monotone.

She shows up exactly ten minutes later and tells me to gather all my personal items and follow her. I cannot believe it. I did what Roland wanted. I recommended Chase Mills even though it felt like I sold a little chunk of my soul in the process, and now I'm getting the boot?

Following her blindly, willing the tears to stay inside my eyeballs, I almost run into her when she stops abruptly to unlock a door. When she steps back and gestures inside the office, I just stare at her.

She holds up the key. I stare at it.

"Kate." She reaches in to turn on the lights. "This is your new office."

"My… what?"

She points to the nameplate next to the door, which reads Katherine Bishop ~ Associate Equity Analyst.

"I'm not a junior anymore?"

Gail coughs out what might be considered a laugh if it were anyone else. "No, you're not a junior anymore. I'll have someone move the rest of your things shortly." She looks at her watch. "I have a messenger scheduled to make a delivery to Roland at noon. Will you have your notes from the Lotus meeting ready to go by then?"

I'm still trying to catch up, but I nod before stumbling into the office.

My office.

Once I've plopped into the chair—a real office chair that swivels and everything—I pick up the phone and dial the number I now have memorized. Today is my lucky day in more ways than one because instead of the mechanized answering machine voice, the man I'm looking for actually answers the phone. "Guess where I'm calling you from?"

"Um, work?"

"Well, yeah, duh. But where at work?"

"I don't know. The bathroom?"

"No, silly. How would I get a phone into the bathroom? I am calling from my very own office."

"Wow. Congratulations. That's pretty sweet."

"Thank you. I can't believe it." I turn in a circle, taking in the empty bookshelves and the view. Of another office building. "I mean, it's tiny, but I even have a window."

"Does it have a door, too?"

"Yes, it has a door, too."

"Hmm. If it locks, we could have phone sex."

"Will!"

"Sorry. Can't help it. I know it's only been a few days, but I miss seeing you."

"Me too." My heart pounds as I contemplate the suggestion I want to make. It's so forward, but I want to celebrate with Will. Tonight. "So, what's on your docket today?"

"I have an audition in an hour and then rehearsal. Till ten."

"I'll be working late, too." Taking an extra deep Will-breath, I say, "You still have my key, so why don't you just come over when you're done? And we can have better than phone sex." I whisper the last part because even though I have a door, it's open and my phone cord is too short for me to close it.

"That sounds like an excellent idea," he whispers back, a smile in his voice.

The moment I hang up with Will, a custodian shows up with a dolly stacked high with file boxes. While he unloads, I turn on the Selectric already on the desk and type up the notes to send to Roland. The rest of the day is a whirlwind, but I'm fueled by the prospect of seeing Will and by the little burst of energy I get every time I walk by the nameplate announcing to the world that Katherine Bishop is an Associate Equity Analyst.

I may not love everything about this job—the inevitable fallout from the Chase Mills rec still nags at me, even though it's not like I can do anything to stop it from happening or help those workers—but I am proud that I've made it another step up the corporate ladder.
Excerpts. © Reprinted by permission. All rights reserved.


Book Info:
Recipe for a Boston Classic Cocktail: one part finance geek, one part starving actor, two shots of stubborn and a healthy squeeze of passion. Shake well and serve in a vintage glass.
When Kate Bishop walks into Boston's famous Bull and Finch pub, all she's looking for is one guy from her investment firm that she can trust to have her back—a tall order. With a salesman at her side, maybe stage fright won't paralyze her completely when she presents her meticulously prepared research to clients. And maybe she can save her job.
Romance is the last thing on her to-do list, but a meet-cute with a Shakespeare-quoting bartender has her speculating on the value of diversifying her life portfolio.
Will Talbot is not a fan of the slick financiers who cram into his bar after each day's closing bell. With their calls for Harvey Wallbangers and their Hermès ties, they're all the same.
Except for a certain beautiful, buttoned-up brunette with fire in her eyes and a storm in her heart. They're totally wrong for each other. He should be focusing on his upcoming audition, not coaching Kate on how to act like she's a bona fide member of the Gordon Gekko club.
Problem is, they can't seem to stay away from each other.
The course of true love never did run smooth, but in this 1980's sweet-and-sexy rom-com, returns on love can't be measured on the S&P 500.
Book Links: Amazon | B&N | iTunes | Goodreads |


Meet the Author:
KAREN GREY is the pen name for audiobook narrator Karen White (assumed not to hide her identity, but because her actual name is already connected with a well-known fiction author). A stage and screen actor in Boston in the eighties and nineties, she started recording books in 1999 after moving to Los Angeles. Having resettled in her home state of North Carolina, she shares a house with her family and probably too many pets, where she continues to narrate audiobooks as well as make up stories.
Website | Facebook | Twitter | | Instagram |