Today, HJ is pleased to share with you

Helena Hunting's

new release: 

When Sparks Fly

Charming, hilarious, and emotional…When Sparks Fly is Helena Hunting at her very best!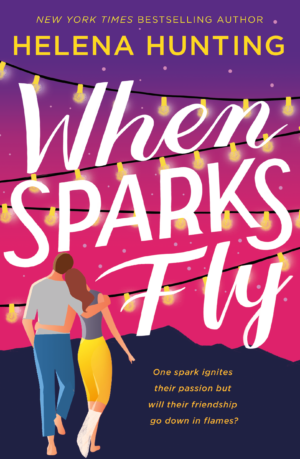 Avery Spark is living her best life. Between her friends, her sisters, and Spark House, the event hotel her family owns, she doesn't have much time for anything else, especially relationships. She'd rather hang out with her best friend and roommate, Declan McCormick, than deal with the dating scene. But everything changes when she is in a car accident and needs someone to care for her as she heals.
Declan avoids relationships, giving him a playboy reputation that he lives up to when he puts a one-night stand ahead of a promise he made to Avery. While he may not have been the one driving the car, he feels responsible for Avery's injuries and is determined to make it up to her by stepping into the role of caretaker.
Little did they know that the more time they spend in compromising positions, the attraction they've been refusing to acknowledge becomes impossible to ignore. When they finally give in to the spark between them, neither is prepared for the consequences. Their love is fragile and all it will take is a blow from the past to shatter it all.
Enjoy an exclusive excerpt from When Sparks Fly 
Chapter Two
Chilling with my Bestie
Avery
It's almost eight by the time I get home. I live in a high-rise, two-bedroom condo complex in a bustling area on the outskirts of Colorado Springs with Declan. We met during our freshmen year in college, and he, along with our other two friends Jerome and Mark, made up my primary friend group while there, and we've stayed close over the years. It helps that we all moved to the same city after college, as opposed to a few of our other friends who scattered across the country.
We have weekly hangouts when we order pizza and watch sports. Usually it's soccer, which we all played together in college, but Jerome is a huge football fan and Declan loves hockey, so if there's a game, we'll flip between them. They're my buds and they've always treated me like one of the guys. My sisters make up the rest of my circle, but neither of them enjoy sports, so they don't partake in our sports and pizza nights.
I almost trip over Declan's running shoes when I walk in the door. I kick them off to the side, toe my own onto the mat, and hang up my keys. I glance at the side table, where a Thor action figure greets me. I give mighty Thor a pat on his plastic head, but I still shout, "Honey, I'm home!" before I pad down the hall to the living room.
It's a habit I've gotten into since we moved in together, in order to avoid being exposed to things I can't unsee. Once I didn't announce myself and walked in to find one of Declan's lady friends riding him naked on the couch while he was half paying attention to the soccer game. I entered the room as he shouted a "Fuck yes!" I discovered mere seconds later that it had nothing to do with the woman in his lap, riding his joystick, but because our favorite team had scored a goal.
After that we created our own Bat-Signal. When the Thor action figure is facing the wall, it's a sign that Declan has company. For a while, Thor often faced the wall, but it's been happening a lot less frequently over the past several months.
"Thank God, I need a beer," is the response I get as I round the corner.
I step into the living room, one hand already on my hip and a bitchy retort on the tip of my tongue. I find my roommate on the floor. He's wearing navy basketball shorts and he's shirtless. Declan is built like an athlete. His abs ripple as he rolls up in a crunch. A bead of sweat trickles down his temple and lands on the area rug.
"What are you doing?"
"What does it look like?"
"Sweating all over the carpet." His dark hair is wet at the temples, turning it almost black. His chest glistens and new beads of perspiration form and travel in slow rivers between his pecs.
This isn't a sight I'm unfamiliar with, but he's usually not shirtless, so mostly I get to look at sweat stains instead of all those cut muscles. My best friend is easy on the eyes. Thankfully, I've had enough exposure over the years to his pretty face and his ridiculously impressive body that I'm immune. Mostly. A bit. Okay, maybe 65 percent of the time.
"I couldn't make it to the gym this morning, so I thought I'd get in a quick workout before you came home. Earn the takeout I'm about to destroy. Ten more and then I'm ready for that beer." His blue eyes glint with humor.
I flip him the bird. "If anyone should be asking for wait service, it's me."
I pass through the living room and make a right down the hall to my bedroom.
"Where are you going?" he calls after me.
"I need to change into something more comfortable."
"You're wearing yoga pants and a T-shirt. How much more comfortable can you get?"
"Let me rephrase. I need to change into something clean." I return two minutes later wearing oversized gray jogging pants with holes in them and a loose, baggy shirt.
Declan has finished his workout and is wearing a shirt that probably fit him a lot better in college than it does now. I'm guessing laundry day is coming up. There's a discarded towel on the floor, likely used to mop up his sweat trail.
Declan, being the sometimes-thoughtful roommate he is, has done me a solid and poured me a beer. I drop down on the other end of the couch with a groan, and he passes me the full pint glass.
"I need this more than air right now, so thank you."
He cocks a brow and turns his attention back to the soccer game. "Should I even ask how your day was?"
I grab my phone and pull up my group messages with my sisters and click on the video Harley sent about an hour ago, while I was getting my nails done and the hair ripped out of my sensitive bits. I toss it to Declan and he presses play. "What the hell am I looking at right now?"
"A hobbyhorse fight."
He cringes at the loud thwack, rewinds the video, and bursts out laughing. "Are they jousting with stuffed horses?"
"Yup."
"Jeez, who won?"
I chuckle. "No one because I took care of the situation."
"Huh, I can't decide if that's disappointing or not." He plays the video over again, much like I did while I was getting my nails done. "Is this a normal thing? Like I can't imagine that hobbyhorse riding is actually popular."
"You would be surprised at the number of people involved in the sport."
"Seriously? How have I never heard of this? And how many times have you held a hobbyhorse . . . fence jumping event?"
"This would be a first for Spark House. And possibly a last, depending on whether there's more jousting between now and Sunday."
He passes my phone back, and I set it on the side table.

From When Sparks Fly by Helena Hunting. Copyright © 2021 by the author and reprinted by permission of St. Martin's Publishing Group.
Giveaway:

One Print copy of When Sparks Fly by Helena Hunting. US winner.
To enter Giveaway: Please complete the Rafflecopter form and post a comment to this Q:

What did you think of the excerpt spotlighted here? Leave a comment with your thoughts on the book…
Meet the Author:
New York Times and USA Today bestselling author HELENA HUNTING lives outside of Toronto with her amazing family and her two awesome cats, who think the best place to sleep is her keyboard. She writes all things romance — contemporary, romantic comedy, sports and angsty new adult. Some of her books include Meet Cute, Pucked, and Shacking Up. Helena loves to bake cupcakes, has been known to listen to a song on repeat 1512 times while writing a book, and if she has to be away from her family, prefers to be in warm weather with her friends.
Buy: Kindle | B&N | BAM | Indie Bound | Powells