Today it is my pleasure to Welcome romance author
Rebecca Brooks
to HJ!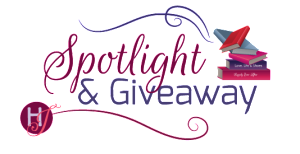 Hi Rebecca and welcome to HJ! We're so excited to chat with you about your new release, Wrong Bed, Right Man!

Hi, everyone! *waves*

Please summarize the book a la Twitter style for the readers here: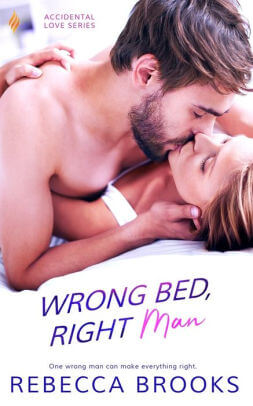 Play-by-the-rules Rose Campbell finds a sexy, scruffy stranger sleeping in her bed…and then he breaks it. (Oops.)

Please share the opening lines of this book:
The key turned smoothly in the lock, and the door swung open like an invitation. Owen Crowley couldn't believe what he saw.

The door didn't have three locks and a deadbolt like the one in Owen's woodworking shop, or creak and complain like the door to the apartment above it that he shared with his dad.

It just opened, easy. Probably because people who owned giant condos in trendy buildings in Manhattan didn't have to worry about break-ins — that's what the doorman was for.
Please share a few Fun facts about this book…
 I've only ever been a writer and an academic, so I had to do a lot of googling to figure out not only furniture restoration but what Rose actually does all day working for a giant company.
CUBE is (obviously) based on a place like IKEA, but I have plenty of IKEA furniture so I'm definitely not hating on it!
I live in the Bronx, and it bugs me that so many NYC books are Manhattan-focused. Owen's is a Queens business and Rose lives in Brooklyn. I really wanted this whole series to highlight other boroughs.
When I lived in Brooklyn, I'd go up too my rooftop to hang out with friends. Owen's favorite hangout spot is a pretty regular thing for people to do, if they can!
We all know people criticize romance novels for being "unrealistic," but the thing that really stretches the imagination in this book is when Owen gets a parking spot in front of Rose's apartment right when he needs it.
What first attracts your Hero to the Heroine and vice versa?
When they first lay eyes on each other, she loves his eyes and the plane of his abs — which she can totally see because his shirt is riding up as he's sleeping. He loves how put-together she seems, and he can't wait to make her undone. But it's his kindness that ultimately does her in, and he can't get enough of her drive and her heart.

Using just 5 words, how would you describe Hero and Heroine's love affair?
Sexy, surprising, + changes their lives.

The First Kiss…
…is in Rose's apartment, next to the bed Owen has just put back together for her…and it's interrupted by Rose's sh*tty ex-boyfriend! UGH. But don't worry, they soon get right back to it… 🙂
Without revealing too much, what is your favorite scene in the book?
I love when Rose first visit's Owen's apartment and his workshop. She gets so much insight into his life, and although she always knows he's talented, hardworking, and committed to his family, it means so much more to see it up close. I love the whole funny conversation she has over dinner with Owen's dad…and the extra-sneaky sex they have in his workshop…but my favorite part is when Owen takes her up to the rooftop after. They cuddle and look at the Manhattan skyline at night and just talk. It's a real turning point in their relationship, and I loved bringing them closer together that night.
"Somehow, lying on the roof with her, looking out at the lights, he couldn't help thinking how everything felt right. His job, and Rose's. His family, and his heart. The warmth inside him that came not just from sex, but from holding her.

Maybe everything really was possible. Under the stars, with Rose in his arms, it felt like all of it — everything — was his."
If your book was optioned for a movie, what scene would be absolutely crucial to include?
Obviously the movie would have to show Owen breaking Rose's bed in the beginning! It's her grandmother's bed, a beautiful heirloom that means the world to her. She goes back to her ex Jason's apartment to reclaim it…and finds a stranger sleeping there.
Rose took a step forward, curiosity propelling her on. She didn't know why she was being so careful. As opposed to, say, shouting at the top of her lungs.
But nothing in this room could shock her. She could have walked into a full-blown circus rehearsal and she wouldn't have blinked. Not after seeing Annabeth writhing in ecstasy. And learning there were things Jason Harris's tongue could do to a woman that he'd never done to her. That no one had done to her.
She took a step closer.
The man was on his back, one arm flung over his forehead. The gesture had lifted his T-shirt, exposing a line of skin between the shirt and his jeans.
Well, hello.
The plane of his abs was smooth and taut. His hips dipped, and the skin hugged them tight as a drum. The edge of Calvin Klein was visible above his belt. And just below the line, where his hips dropped—
Holy shit.
Do NOT look at his crotch.
But looking up wasn't any better. She could see the outline of his chest through his T-shirt and the curve of his biceps where the sleeve rolled up. He had facial hair, not too long but enough to make her rethink her previous stance against beards.
This guy pulled it off.
It was a shade darker than his hair, which was streaked by sunlight and fell into his eyes. She wondered what color those eyes were. And then wondered what was wrong with her right now, checking out a stranger draped across her bed.
Maybe she'd had more than her heart broken when she'd walked in on her cheating dirtbag ex. Maybe it had damaged her whole brain.
She cleared her throat tentatively, but the man didn't stir. Even when she tried to be louder, he didn't open his eyes.
Time to be more decisive about it. She took a deep breath. Be brave.
She stepped forward, clapped her hands over him, and said, as loud as she could muster, "Excuse me?"
The man sprang up, clearly startled. Oops. Maybe she'd overcompensated.
Then gravity kicked in and he fell down, hitting the mattress. It didn't seem like he'd fallen that hard. But the next thing she knew, there was a deafening crack.
The man looked up, mouth open.
And the whole bed crashed to the ground.
Readers should read this book …
if they like scorching hot sex with sizzling emotion! It's a quick and fun read, a mix of naughty and nice, that's about figuring out what you want from life and how to find your path.
What are you currently working on? What other releases do you have planned?
Wrong Bed, Right Man is the third book in the Accidental Love series. You don't need to have read the first two to jump right in, although of course it's fun to meet the rest of Rose's friends in Wrong Bed, Right Roommate and Wrong Bed, Right Girl. I'm working on the fourth book in the series, Wrong Bed, Right Brother, which will be out later this year!
Thanks for blogging at HJ!
Giveaway:

A digital copy of Wrong Bed, Right Roommate, Accidental Love book 1
To enter Giveaway: Please complete the Rafflecopter form and Post a comment to this Q:

Do you have a favorite piece of furniture or a family heirloom you'd hate to see broken?
Excerpt from Wrong Bed, Right Man:
Owen leaped up as fast as he could. He had no idea what had just happened. But it wasn't good.
The last thing he remembered, he'd been lying on the most comfortable bed in the world. Only now, he was scrambling off a mattress that was tilted on the floor and checking that his limbs were attached.
And a woman was shouting, both hands flying to her mouth.
A gorgeous woman, for what it was worth. Maybe that shouldn't have been the first thing he noticed after breaking a priceless antique.
But he couldn't help it. She was stunning, in a perfectly put-together, pantsuit and heels sort of way. Except, of course, for the shout—which at least helped remind him he was in the middle of a situation here.
So he'd better stop thinking about how this woman's blazer hugged her curves…or how long it had been since he'd last had time for a date. He needed to deal with the literal mess he'd just made.
"I'm so sorry," he said, yanking his T-shirt back into place.
The woman folded her arms, composing herself quickly. Auburn hair tumbled over her shoulders. He was surrounded by splintered wood, and his small fix-it job had just turned into a major time-suck. Yet there he was, noticing things like her touchable hair.
"Who are you?" she asked, eyes narrowing.
"Owen," he said, his mouth dry. "Crowley." He was the one armored in tough leather boots, with who knew how many pounds of muscle on her. But he felt like a little kid woken up from a nap, disoriented and sleepy. It was downright embarrassing.
"Okay, Owen Crowley," she said. "Next question. How did you manage to break my bed?"
Now that got his attention. He stood up straighter. "I'm pretty sure I just broke my bed, actually."
She blinked. For a second, he could see her naked surprise. "What are you talking about?"
"I just bought it. Lucky you, it's not your problem anymore."
He tried to laugh. But the woman didn't laugh with him.
"I think there's been a mistake." She frowned. "You've got the wrong bed. The whole wrong apartment. I didn't sell this to anyone."
"I talked to Jason," he said, hoping to jog her memory. "I got it off Craigslist."
He waited for the woman to go, "Oh, yeah, I remember now! Sorry!" and smile and relax and get out of his way. He could still fix it and get a sale. It was still worth it to him.
But the woman didn't smile. Or relax. Or shrug like who cared, the bed was his problem now.
He didn't know if it was the word Jason or Craigslist or what, but she got this look like he couldn't describe. Angry. If he had to guess, that was what he'd call it. Really fucking pissed.
"That little shit," she spat, almost like she'd forgotten Owen was there.
He didn't usually care about social BS like which fork went where. Or what events you weren't supposed to show up at wearing jeans. Or what fake, pretend shit you were expected to say with a fake, pretend smile to make some fake, pretend asshole feel good.
But even he knew this probably wasn't the right time to shrug and start taking out his tools.
"Something tells me this wasn't Jason's to part with," he said.
"It was mine." Her voice was stony. "And it used to be perfectly fine."
He explained to her how one of the slats had seemed bent. "I must have slammed down right on it, and the whole thing gave out. You didn't notice it sagged?"
There was a pause. He wondered if he'd overstepped. Then she said, "I haven't been sleeping here in a while."
Oh.
Interesting.
So, not Jason's girlfriend/wife/whatever, which was what he'd thought—even if it didn't square with Jason's story about moving out.
Jason's ex?
Excerpts. © Reprinted by permission. All rights reserved.


Book Info:
Rose Campbell is determined to get her stuff from her cheating ex-fiancé's apartment. There's just one problem. A sexy stranger is sleeping in her bed. Work boots and scruff so aren't her type––except when they're on furniture maker Owen Crowley, who is funny, kind, and speaks his mind.
The prim and proper Rose isn't the kind of woman Owen is usually interested in. But the more he gets to know her, the more intrigued he becomes. There's passion underneath those stiff suits of hers that he can't wait to explore.
There's no reason these two opposites can't have some sexy fun––except that one thing. Rose works for the very people trying to destroy Owen's business.
Book Links: Amazon | B&N | iTunes | Goodreads |


Meet the Author:
Rebecca Brooks lives in New York City in an apartment filled with books. She received a PhD in English but decided it was more fun to write books than write about them. She has backpacked alone through India and Brazil, traveled by cargo boat down the Amazon River, climbed Mt. Kilimanjaro, explored ice caves in Peru, trekked to the source of the Ganges, and sunbathed in Burma, but she always likes coming home to a cold beer and her hot husband in the Bronx.
Website | Facebook | Twitter | | Instagram |