Today, HJ is pleased to share with you

Lauren Layne's

new release: 

Yours In Scandal

A political golden boy and the woman of his dreams take the risk of their lives in a sexy romantic comedy of strange bedfellows and second chances by New York Times bestselling author Lauren Layne.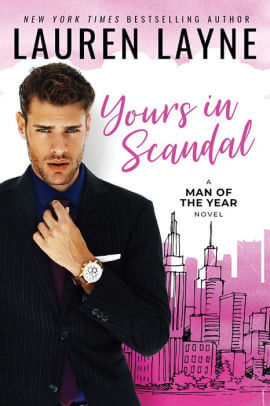 Fresh off being named Citizen magazine's Man of the Year, New York City's youngest mayor, Robert Davenport, decides it's time to strategize. Next move: a bid for the governor's seat. In his way: an incumbent with a flawless reputation. He also has an Achilles' heel: an estranged wild-child daughter with a past so scandalous it could be Robert's ticket to victory. And a charm so irresistible it could be Robert's downfall.

Rebellion is a thing of the past for Adeline Blake. As New York's premier event planner, she's all about reform and respectability. Then she's approached by Robert to organize the party of the season. Curious, considering he's her father's most formidable opponent. And alarming, too. Because Addie can't help but fall for the righteously popular candidate with the movie-star smile.

Now it's Robert's choice. Does he pursue a future that holds his legacy? Or the woman who holds his heart?
Enjoy an exclusive excerpt from Yours In Scandal 
She stood, and her team followed suit. "Thank you for your time," Carol said. "I'll be in touch."

Robert nodded in acknowledgment as they exited the conference room together, grateful for the reprieve. Grateful that one of the city's most prominent lobbyists hadn't realized his source of distraction wasn't an opposing issue but a certain brunette who, in the span of their twenty-minute meeting, had managed to intrigue him in a way no woman had for months.

Months? Who was he kidding? It had been years. Hell, for that matter, had he ever responded so immediately to a woman as he had the moment Adeline Blake had stepped into his office?

Strictly speaking, she'd looked almost identical to the woman in the photo Martin had shown him yesterday. Her dark hair had been tied back into a knot at the back of the head, and her clothes had been that of a career woman who played it safe with her wardrobe, her makeup subtle enough that his male eye didn't have the faintest clue if she wasn't wearing any or had just mastered the look of looking like she wasn't wearing any.

She hadn't been flashy. She hadn't been provocative. She hadn't been the Addie Brennan of the tabloids.

But whatever she had been was alluring as hell.

It had been a strange type of torture having to sit across the desk from her, discussing timelines and dress code for a party, when all he'd wanted to do was lean forward and tug that tidy bun from its confines and see how long her hair was. Would it fall all the way down her back? Just to her shoulders? Would it be as soft as it looked? As soft as the curves he suspected she was hiding under the blazer?

Robert gave a grunt of irritation at his thoughts and ran a hand through his hair. What was wrong with him? Not only had he completely failed to glean any information on why she'd changed her name to Adeline Blake, but he also hadn't even remembered she was the governor's daughter.

Martin would be annoyed, but not nearly as annoyed as Robert was with himself. One of the reasons he was so good at his job was because he'd been immune to exactly this sort of distraction for eight years. He'd been in the game long enough to know that more than a few of the clichés about the political arena held uncomfortably true. Power was abused, mistresses were almost expected, and plenty of officials were far more concerned with where their next vote came from than they were with the issue at hand.

Robert had always prided himself on rising above. He was here to serve the people, not rule them. He'd dodged every seduction attempt that had come his way, and as he'd told Martin, he'd made it a point to not worry about the next job until the current one was complete.

But apparently, all it took was one gorgeous brunette who'd shown zero interest in working with him, much less flirting with him, to command all of his thoughts.
Excerpt. ©Lauren Layne. Posted by arrangement with the publisher. All rights reserved.


Giveaway:

eBook copy of YOURS IN SCANDAL by Lauren Layne
To enter Giveaway: Please complete the Rafflecopter form and post a comment to this Q:

What did you think of the excerpt spotlighted here? Leave a comment with your thoughts on the book…
Meet the Author:
Lauren Layne is the New York Times and USA Today bestselling author of more than two dozen novels, including Hot Asset, Hard Sell, and Huge Deal in her 21 Wall Street series, as well as her Central Park Pact series. Her books have sold more than a million copies in nine languages. Lauren's work has been featured in Publishers Weekly, Glamour, the Wall Street Journal, and Inside Edition. She is based in New York City. For the latest updates, be sure to check out her website at www.laurenlayne.com.