Today it is my pleasure to Welcome USA Today Bestselling author
Darcy Burke
to HJ!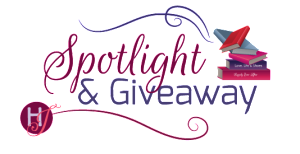 Hi Darcy and welcome to HJ! We're so excited to chat with you about your new release, Yours to Hold

!
Please summarize the book for the readers here: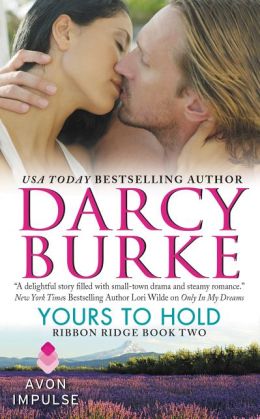 YOURS TO HOLD is the second book in my Ribbon Ridge series about the Archers, a family of sextuplets (plus the seventh oops kid) who own a chain of brewpubs in Oregon's wine country. The family undergoes a tragedy at the start of book one and the series deals with that loss as the siblings, who are mostly scattered outside of Ribbon Ridge, each find their way back home. This is Kyle's story and he's the black sheep of the family. In an effort to soothe his father's heartache and in the process demonstrate the's not the flake people think he is, Kyle is on a mission to find out how his brother obtained the prescription drugs he used to commit suicide. His quest leads him straight to his brother's former therapist—the one woman his family would hate to see Kyle fall in love with. Too bad he finds her incredibly attractive and when they decide to work together, they end up liking each other far too much.

Please share the opening lines of this book:
Following the arrow indicating the suite numbers, he turned left and strode down the hall with purpose. Suite 320 was on the right, about halfway down. Without pausing, he pushed open the door and took in the gurgling fountain in the corner, the instrumental music featuring what he thought was probably a lute and a sitar, and the muted lighting. He supposed it was meant to establish a calming environment, though none of it did anything to soothe the frustration that had taken root in his gut over the past week.
Please share a few Random facts about this book…
The wines mentioned in the book (from WillaKenzie and A.F. Nichols) are real and they are AMAZING. There are some Game of Thrones references that I hope readers find amusing. Finally, there's a plant in the book called a cereus (pronounced "cerise"), or what we call a night-blooming cereus. My parents have one and while it's an ugly plant, it has the most gorgeous flowers! It blooms only at night and only once, so my parents will have get-togethers with champagne and tasty treats to watch it bloom. It's fantastic to watch because you can almost see it blooming. They smell great when there's just one. More than that, and the scent can become cloying. By morning, the blossom is all closed up and limp, it's time done. But what a night! It was fun to include something so unique in the story.

Please tell us a little about the characters in your book. As you wrote your protagonist was there anything about them that surprised you?
The hero in YOURS TO HOLD is the black sheep of the family. He's struggled to be as successful and as appreciated as his siblings, as well as trying to overcome a pretty significant problem that I won't spoil here. He surprised me in that amidst all of the turmoil around and inside of him, he managed to maintain his sense of humor and open himself up to love. The heroine is as one reviewer aptly described her a bit of a "hot mess" and I love, love, love that about her. Her family is completely wacky and while they're definitely at the root of some of her messiness, they love her and I really enjoyed the journey she took with them.

What, in your mind, distinguishes this book from other books out there in the same genre?
The Ribbon Ridge series is contemporary romance with a lot of emotion and some fun sexy times. The family is larger than life (somewhat literally since there are seven kids), but deal with real life problems. A tragedy throws them all into emotional upheaval, and each of the siblings deals with it in their own distinct way. Some of the protagonists have some pretty big challenges, such as sensory processing disorder, addiction, depression, and Asperger's Syndrome. I like how "real" the stories feel, yet also serve as a mental getaway.

The First kiss…
He came around, pinning her to the car. "I have nothing now."
About the drugs. They were back to square one. "You don't have nothing," she said quietly, hating the agony in his voice. "You have me." What the hell, Maggie? She wanted to bite the words back, but looking at him, seeing the vulnerability hiding just beneath his confident exterior, she felt a pull that wouldn't let her.
He stared down at her, his blue-green eyes thunderous. "Do I?" He inched closer, his body pressing her back against the car. Thank goodness it wasn't an excessively hot day, or the metal would've burned her. Or maybe not. As it was, she was far too aware of the heat in front of her to care what was behind her.
Knowing she was going to regret it, she ran her hand up his shirt and wrapped her palm around the base of his neck. Her fingers had barely met his flesh when his mouth came down over hers. She hadn't really known what hot was before. A scalding, burning desire raced through her as his tongue edged around her lips, opening her. She tilted her head and pressed her hand against him, urging him deeper.
He ground his hips into hers, and God, she didn't know if she'd ever felt a hunger like this. He was totally wrong for her with his past string of casual girlfriends, off-limits because of who he was and the way his family would judge her, the very embodiment of something she couldn't have and shouldn't want. And that only made it sweeter.
Did any scene have you crying or laughing (or blushing) while writing it?
Um, all of the above, lol. I'll share a snippet from a blushing scene. The crying scenes (yes, plural) would be too spoilery! Here's a snippet (and this is not the most blush-worthy part, lol):
He went to her, and she looked up at him, her eyes dark and lush, a thin band of gold lining the inner edge of the brown. He tipped her chin up and pulled on her lower lip with his thumb. Then he ran the pad straight down in a direct path, gliding over her neck as she cast her head slightly back. Down he went until he reached the V in her shirt, where three little buttons were sewn as some sort of taunting decoration because they didn't open. He arced his hand to the right, cupping her breast.
She gasped and brought her head up, locking her gaze with his.
"I'd rip your clothes off, but since they're all you have, I'll be gentle."
"I appreciate you not ripping them, but please, don't be gentle."
If your book was optioned for a movie, what scene would you use for the audition of the main characters?
Fun question! I would use a scene towards the beginning. It's not their first meet, but the second. Kyle surprises Maggie and the ensuing banter is both fun and revelatory. I really enjoy this scene as it sets the tone for their flirtatiousness and the attraction between them. Here's a snippet:
"Are you sure you're all right? I feel really terrible about scaring you."
"I'm fine." Her hands were still a little quivery, but she wasn't going to tell him that.
He gave her a long, assessing look. "Okay. So can I buy you a drink or something?"
"Hell no!" He had the nerve to ask her out after scaring the shit out of her?
His eyes narrowed once more, but this time with some other emotion. Irritation maybe. "Not on a date or anything . . . social. I want to talk to you about my brother. I told you I wanted your help."
"And I told you—via Stacy—that I have nothing to tell you."
"Maybe you think that, but if you could just spend fifteen minutes answering some questions. We can sit in your car, if you like."
Like she'd invite him into her car as if they were on some teenage make-out date? She envisioned sitting in the backseat with him, the windows steamed, their lips locked, his hand creeping up her thigh…
Damn, where had that come from?
Her overactive, undersexed imagination that found him totally hot; wasn't it obvious?
What do you want people to take away from reading this book?
I'd like readers to take away that we're all capable of more than we probably realize and that it's okay to admit you need help and to take it when it's offered. I think that's a really hard thing for people to do sometimes, especially if they feel like they have something to prove or if they feel like they don't deserve it. We all deserve support, love, and understanding.

What are you currently working on? What other releases do you have planned for 2015?
I am currently working on the next Ribbon Ridge book (that would be book four, which is Evan's story) as well as my Regency Treasure Hunters historical series. Ribbon Ridge Book 3, WHEN LOVE HAPPENS will be out May 26. The next Regency Treasure Hunters novel, ROMANCING THE EARL, will be out April 21! I'm not sure what I'll have out in the latter half of the year, but hopefully more Ribbon Ridge and another Regency Treasure Hunters – RAIDERS OF THE LOST HEART.

Thanks for blogging at HJ!
Giveaway:

Print copy of ONLY IN MY DREAMS.
To enter Giveaway: Please complete the Rafflecopter form and Post a comment to this Q:

What are your favorite contemporary romance themes? Do you find yourself drawn to a certain type of character or trope?
Excerpt from Yours to Hold:
"I've been contemplating what to put on the menu at The Alex, and I think I have my first contender."
It warmed Maggie's heart to know that Alex had left a lasting legacy. "I think it's so great that you guys named the place after him."
"It was Sara's idea. The restaurant will be The Arch and Fox."
"All of the Archer brewpubs have Arch in the title, don't they?" she asked.
"Yep, and we all have animals associated with us. Alex's was a fox. I think it was because he was sly. Or maybe it was just the X in his name."
She was fascinated to hear more about this family she almost felt like she knew through Alex's therapy sessions. "What's your animal?"
"A horse. I loved them when I was a kid."
"Really?" She'd been obsessed with horses, but they'd never been able to afford lessons or anything. She'd only ridden one a couple of times with Girl Scouts. "Me too."
He smiled at her. "What about now?"
She shrugged. "I don't know. I haven't thought about it. They're beautiful animals."
"Smart too. I rode until I started playing sports. That took up too much time."
"Do you miss riding?"
"Sometimes." He changed the radio station, presumably because a commercial had come on. "If you wanted to ride, I could probably arrange something. A friend of mine from high school owns a riding facility."
There he went talking about the future. Ribs, horseback riding. They weren't dating. They weren't even really friends. Were they? "You need to stop planning things with me."
"Why?" He pulled onto the freeway.
"Because we're going to get to the bottom of this drug thing, and then we'll be done."
"Why?"
"Because . . ." I can't be in a relationship with the brother of the guy who died on my watch. "Because we just need to be."
He cast her a sly glance, and she thought maybe he should've been the fox. "What are you afraid of, Maggie? That we might like each other a little too much?"
Yes, exactly that. "Maybe I'm dating someone."
"Are you?"
"No. But I might want to." Him, probably.
Excerpts. © Reprinted by permission. All rights reserved.

Book Info:
Years ago, golden boy Kyle Archer left Ribbon Ridge without a word. Now, with heartbreak on the verge of tearing his family apart, the black sheep is back, and he's determined to regain their trust by uncovering the truth behind Alex's death. But the moment he confronts Maggie Trent—the therapist his parents blame for the tragedy—Kyle is stunned by his powerful attraction to the beautiful doctor … and drawn to her like no woman he's ever met before.
When gorgeous, charismatic Kyle approaches Maggie about his brother's death, she agrees to help him search for answers. And as they piece together Alex's last days, their undeniable chemistry turns too hot to ignore. After their relationship becomes more serious than either anticipated, Kyle may be forced to choose between the woman he's desperate to hold on to and the family he almost let slip away.
Buylinks: Avon Romance Amazon Barnes & Noble Google Books iBooks Kobo


Meet the Author: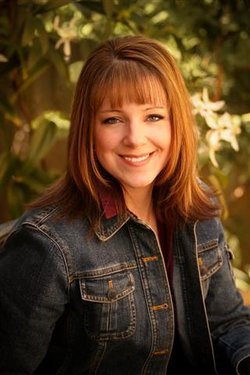 Darcy Burke is the USA Today Bestselling Author of hot, action-packed historical and sexy, emotional contemporary romance. Darcy wrote her first book at age 11, a happily ever after about a swan addicted to magic and the female swan who loved him, with exceedingly poor illustrations.
A native Oregonian, Darcy lives on the edge of wine country with her devoted husband, their two great kids, and two Bengal cats. In her "spare" time Darcy is a serial volunteer enrolled in a 12-step program where one learns to say "no," but she keeps having to start over. She's also a fair-weather runner, and her happy places are Disneyland and Labor Day weekend at the Gorge.
Best place to find me is Facebook: http://www.facebook.com/DarcyBurkeFans. I'm also on Twitter, @darcyburke. To keep up with my new releases, be sure to subscribe to my newsletter at: http://www.darcyburke.com/newsletter/.