Today, HJ is pleased to share with you

Amelia Grey's

new release: 

Yours Truly, The Duke: Say I Do

Good morning, Friends of Harlequin Junkies! I'm excited to be here today and share an excerpt of the first book in my Say I Do series.

YOURS TRULY, THE DUKE, is a marriage of convenience story between the Duke of Wyatthaven and Miss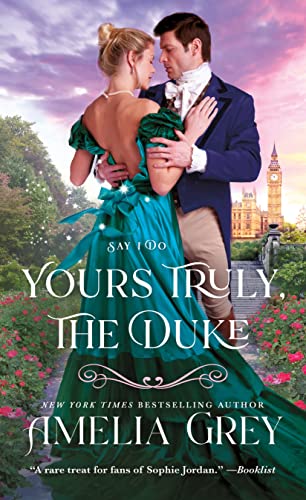 Fredericka Hale. Wyatt is at the top of his game in fencing, cards, and social life and he has no interest in marriage. Fredericka is in need of a husband and fast. They both discover that there are times in life when unimaginable things start to happen. Enjoy! Amelia

 Yours Truly, The Duke is the first novel in the historical romance Say I Do trilogy about dukes needing to wed to tap into their wealth by New York Times bestselling author Amelia Grey.
Fredericka Hale needs a husband, and fast. She's been caring for her deceased sister's three young children, and now a childless cousin has petitioned the court for custody. Fredericka is powerless to stop her, but having a husband might sway the ruling. The last thing Fredericka wants is a hurried-up marriage to a man she doesn't know—much less love, but she'll do it for the children. So when the handsome Duke of Wyatthaven shows up with a proposal, she accepts. He'll help her, and in return, they'll lead separate lives. But distance cannot keep them from their powerful attraction.
At the top of his game in London, the Duke of Wyatthaven has no interest in marriage. However, if Wyatt doesn't marry by week's end, he'll lose a sizable inheritance from his grandmother. When Wyatt's solicitor finds Miss Fredericka Hale, Wyatt considers this little hiccup solved. Miss Hale is lovely, and intelligent. Most importantly, she prefers country life to London, so he's free to continue his life as usual. But when circumstances force Fredericka and the children to show up at the duke's door, Wyatt can't deny he's always been under her spell. Will the duke give up his bachelor lifestyle and give into the fiery passion growing between them?
Enjoy an exclusive excerpt from Yours Truly, The Duke: Say I Do 
From Yours Truly, The Duke by Amelia Grey. Copyright © 2023 by the author and reprinted by permission of St. Martin's Publishing Group.
The Duke's gaze continued to drift over her face as he whispered, "You intrigue me, Miss Hale."
Fredericka drew in a steady breath and continued to drink in all the pleasantness surrounding him.
The man she was experiencing right now must be the captivating duke some of the scandal sheets swore he was even though others swore he was a rake who would never be tamed. Whichever the case, she had to gain control of herself and not get caught up in the things about him she found appealing and inviting.
They were too close. But she couldn't complain when she hadn't bothered to step away. Keeping a man in his proper place was a lady's responsibility. She couldn't allow the duke to make her forget that.
She slowly backed up a step and asked, "How did you hear I was considering marriage?"
"Nothing is private or even sacred in London, Miss Hale. Not the streets, the parks, the drawing rooms, or the bedchambers."
From what she read in the scandal sheets, she believed that to be true. But here in the country where social standards were more relaxed and houses much farther apart, she thought she could entertain a gentleman with afternoon tea and polite conversation and no one would notice.
"It had to be my barrister," she mused. "No one else knew."
He remained silent, letting her know he wasn't going to admit to anyone telling him.
"I didn't realize it had gotten out that I–" She looked away, unable to finish her sentence. It really didn't matter how he found out. She was determined to manage this as she had everything else since becoming the unofficial guardian of her sister's children.
The significance of her situation suddenly felt heavier than it ever had. It was one thing for her to be privately considering gentlemen as prospects for the position of husband, to have one actually offer for her hand was most unexpected. What was she going to do?
"It's not public knowledge from what I understand," he added in a soft tone.
A swift measure of relief shivered through her. It was good to know she wasn't being talked about in polite circles.
"I know you have a cousin who wants to take guardianship of the children from you and, because of circumstances, her chances of winning in Chancery Court are good."
Fredericka's heart pounded at hearing him speak the cold hard truth of her situation even though he did so with a measure of understanding. Only instinct kept her calm on the outside while inside she felt the turmoil of what losing the children would do to her.
"You will be in a better position to keep them if you are wed to me."
"You?" She exhaled unevenly, feeling overcome by the unfairness of it all. "How can you benefit me, Your Grace? You have the worst reputation in London. You've renounced two engagements already and had to pay enormous sums of money because of them."
"It was only one broken betrothal, and it was the young lady who rescinded her acceptance." The wrinkle returned to his brow, but his tone remained level. "Believe me, the lady was far better off without me, and I did the right thing and made a settlement with her father even though it wasn't necessary or expected. In the end, everything turned out for the best and she is now happily married."
"The broken engagement isn't even the half of it," she added, as more of the things she'd read about him came to her mind. "You shot a man in a duel, and he almost died. You were forced to leave London for a while because of it."
"I can't refute that." He paused and cursed softly under his breath. "Not that it matters now, but he challenged me. I had no choice in the matter if I was going to save his honor and my own. He's damned lucky I'm an excellent marksman and didn't kill him."
She huffed at his brusque language. "You've been seen throughout London with all manner of disreputable people. And just recently you had a mad, reckless curricle race through town that caused several accidents before you finally stopped. Everyone was surprised no one was seriously injured. Not to mention the string of broken hearts you've left behind at the end of every Season. If a man could be ruined, you'd be ruined! How could you possibly make a good husband?"
"Perhaps much of what is written about me is true, but not all. Surely you know that gossipmongers excel at making up stories about the people whose names help sell their stories. I won't answer every ridiculous charge, Miss Hale."
Far from being upset by her accusations, his face eased into an expression of amusement and his look caused her to feel those decidedly feminine sensations once more. "I don't think you missed one of my faults. You covered them all."
"No, there are others," she said before she could stop herself.
"What can I say?" He chuckled attractively, making it clear he wasn't taking umbrage. "I am without excuse. Please continue. I've forgotten a lot of the things I've done." He shrugged good-naturedly. "Too many bad things to remember."
Fredericka almost smiled at his truthful remark. She took a deep solid breath, bound and determined not to let this man get the best of her, though felt she was failing miserably. It was difficult to be upset with someone who agreed with you. Along with how he made her feel, he had an answer for every accusation put forth. What would be the use in adding to the list?
"As it happens, I do need a husband," she admitted with more than a little grudging sound to her voice. Until recently she'd shunned thoughts of marriage, thinking it would be an impediment to taking care of her sister's children.
The duke relaxed his arms and shoulders. "I'm glad you finally admitted that. You had me worried for a moment or two."
"But not to a duke," she added with quiet resolve. "Especially one with your reputation."

From Yours Truly, The Duke by Amelia Grey. Copyright © 2023 by the author and reprinted by permission of St. Martin's Publishing Group.
Excerpt. ©Amelia Grey. Posted by arrangement with the publisher. All rights reserved.


Giveaway:

One print giveaway copy of YOURS TRULY, THE DUKE, US Winner Only
To enter Giveaway: Please complete the Rafflecopter form and post a comment to this Q:

What did you think of the excerpt spotlighted here? Leave a comment with your thoughts on the book…
Meet the Author:
New York Times and USA Today bestselling author Amelia Grey read her first romance book when she was thirteen and she's been a devoted reader of love stories ever since. Her awards include the Booksellers Best, Aspen Gold, and the Golden Quill. Writing as Gloria Dale Skinner, she won the coveted Romantic Times Award for Love and Laughter and the prestigious Maggie Award. Her books have sold to many countries in Europe, Indonesia, Turkey, Russia, and most recently to Japan. Several of her books have also been featured in Doubleday and Rhapsody Book Clubs. Amelia is the author of over twenty-five books, including the Heirs' Club trilogy and the Rakes of St. James series. She's been happily married to her high school sweetheart for over thirty-five years and she lives on the beautiful gulf coast of Northwest Florida.

Amazon | Barnes & Noble | Books-A-Million | Bookshop.org | Powell's | Target |