Story time & Box-O-Books #Giveaway!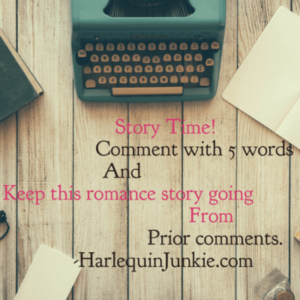 It's a warm sunny day here in Southern California… Perfect beach reading weather.

Often, while I am at the beach enjoying a good book, I also love to people watch and make up stories about them in my head (such fun).

So today we are going to play a fun game of #StoryTime.

Here's how it works: You post a comment with 5 words and Keep the story going from prior comments. (Sound fun & Easy?)

Since we are all about Love, Laugher and Happily EverAfter's here at HJ – It goes without saying that it has to be a romance. 🙂
What's up for grabs?

Giveaway #1 – Print Book (US):
Riverbend Road (Haven Point) by RaeAnne Thayne
Her Lucky Cowboy: A Montana Men Novel by Jennifer Ryan
To Have and to Hold (Wedding Belles Book 1) by Lauren Layne
His Wicked Wish(Cinderella Sisterhood Series) by Olivia Drake

Giveaway#2 – Ebooks  (Open to All)
SWEET LITTLE LIES by Jill Shalvis
ALL CHAINED UP by Sophie Jordan
For a chance to win: P

ost a comment with 5 words and keep the story going from prior comments.


Box-O-Books Giveaway Details:
 You must be an email subscriber of HJ blog
Leave a comment on this post

Box-O-Books Giveaway Info: 
Winner's will be selected by random drawing.
Shipping Details: Must have a US mailing address, PO Box. or a forwarding address in the US that we can mail to.
Ebooks will be gifted via InstaFreebie. (InstaFreebie Terms and Conditions apply)
This contest will close on Thursday August 4th, 2016 8:59 PM (PT) and the winners will be notified via email and on this Post. Winner will have 48 hours to respond to my e-mail before a new winner is selected.
WINNER's ARE: