Trope it Up: 
Second Chance Romance or Reunion stories
If you love reading romance novels as much as we do here at HJ, you definitely have a trope or two that you love to read about.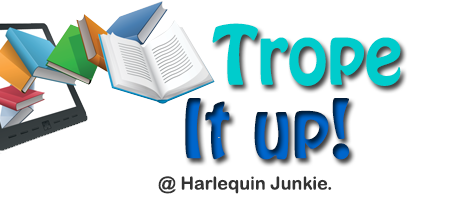 Today we are Troping up on

"Second Chance Romance or Reunion stories"


Tropes are the backbone of so many popular novels out there today. Most of us have our favorites. That storyline that catches our attention with the mere mention of certain phrases: second chance, friends-to-lovers, childhood sweethearts, dating the boss, etc. Sometimes the connection to a certain trope might be a personal one, while other times it's simply a fun storyline to read.

One of my personal favorites is Second Chance Romance or Reunion stories. I just can't get enough of them. There's something so satisfying about seeing a couple finally get their happily-ever-after. It may have taken years (or in the paranormal genre, centuries) but when everything falls into place, it's enough to make a reader sigh happily and finish the book with a smile.

So here's a list of ten of my current favorite books with a Reunion theme. There are oh-so-many more that I've read and should probably mention, but these happen to be written by some of favorite authors as well.

1. I Only Have Eyes for You (The Sullivans #4) by Bella Andre: I am a huge fan of The Sullivans and Sophie (aka: Nice) is one of my favorite characters. She's a librarian, a good girl, who ends up taming the tattooed bad boy, Jake. Five Stars wasn't enough for this one!

2. This Heart of Mine (Whiskey Creek #8) by Brenda Novak: Phoenix & Riley. If you're a fan of this series, you had undoubtedly been waiting for this story for a long time. Tender, heartbreaking, and full of redemption, no one conveys emotions like Brenda Novak.

3. Barefoot in White (Barefoot Bay Brides #1) by Roxanne St. Claire: Ms. St. Claire can do no wrong when it comes to powerful romance, and Willow & Nick are a testament to this fact. Scorching hot, passionate and dreamy, this story couldn't have been any more satisfying.

4. Jilted by Rachael Johns: Aussies Ellie & Flynn are one of the many couples Rachael Johns has made me fall in love with. This bittersweet story was all about healing and letting go of the past, and had realistic characters I could perfectly envision.

5. Dark Skye (Immortals After Dark #14) by Kresley Cole: This was a reunion that was centuries in the making. Twisted and electric, Lanthe and Thronos had a stormy relationship that can only be understood by devouring the pages of this paranormal masterpiece by the one and only Kresley Cole.

6. Mended (Connections #3) by Kim Karr: The New Adult genre is known for angst, but not necessarily second chance romances. Author Kim Karr rocked our socks off with Xander and Ivy's crazy chemistry and their drive to make things right. Seriously hot!

7. Dylan's Redemption (The McBrides #3) by Jennifer Ryan: I truly love Jennifer Ryan's writing style. And she, like one of my other favorite authors Brenda Novak, puts her characters through hell to get their HEA. That's exactly what happened with Dylan and Jessie, but that's also what made it so wonderful.

8. It Must Be Your Love (The Sullivans #11) by Bella Andre: Okay, so I already have a Bella Andre book listed. But seriously, no one writes romance like Bella. And Mia & Ford's story was SO good. A bad boy rock star with a good heart, and a sexy workaholic who deserves some fun? Yes, please!

9. Come to Me Recklessly (Closer to You #3) by A.L. Jackson: Another New Adult offering, this was full of miscommunications and a connection so strong, it couldn't be denied. Christopher & Samantha were an opposites attraction couple who I rooted for from page one.

10. Hard to be Good (Hard Ink #3.5) by Laura Kaye: This novella may be controversial as it's a M/M relationship. However, the Hard Ink series is my favorite from the past couple of years, and I couldn't wait for Charlie & Jeremy's passionate story. This was well-deserved happiness for two incredible characters.
Please feel free to leave a comment with your favorite romances based around this theme, or even why you're not a fan of this trope.
Michele