Trope it Up: 
Workplace Romances
If you love reading romance novels as much as we do here at HJ, you definitely have a trope or two that you love to read about.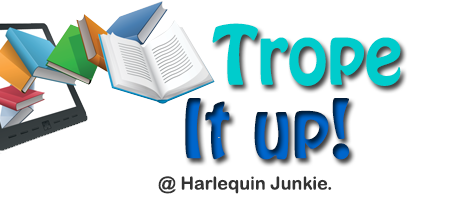 Today we are Troping up on

Workplace Romances


One of my favorite tropes is the workplace romance. Whether it's dating the boss, a coworker, or a client, it's always fun to watch the sparks fly when two people can't deny their chemistry and embark on a relationship that is both personal and professional. Since they work together, they are forced to interact with each other regardless of the state of their personal relationship, whether they are in the honeymoon phase, fighting, or broke up.
Recommendations:
Here's a list of ten of my current favorite books in the workplace romance trope. There are more books I could (and should) list, but these are the books I've read more than once.

1. Real (Real series #1) by Katy Evans: I fell in love with Katy Evans after reading Real! Both Remy and Brooke are in their second chance careers. To date, Remy is still my #1 book boyfriend!

2. Hero by Samantha Young: Caine seeks to punish Alexa for her father's sins while Alexa seeks redemption for those sins. I loved that Alexa's presence in his office allowed for them to get past their misperceptions and give in to their attraction.

3. Beautiful Bastard (Beautiful Bastard series #1) by Christina Lauren: Chloe and Bennett are two intelligent, independent, and strong-willed characters who perfectly complement each other. They give as good as they get which makes for a steamy and highly entertaining ride!

4. Tangled (Tangled series #1) by Emma Chase: Told entirely in Drew's POV, Tangled is hilarious and hot romance between two intensely competitive and intelligent rivals. Drew is a memorable and entertaining narrator!

5. Animal Attraction (Animal Magnetism series #2) by Jill Shalvis: As one of my favorite authors, I feel like you can never go wrong with a Jill Shalvis book! Dell and Jade are a great combination as they dance around their attraction in the vet clinic.

6. Nothing but Trouble (Chinooks Hockey Team series #5) by Rachel Gibson: Chelsea is the latest person hired as a PA to the former hockey star and Mark makes her life difficult. Neither envisioned their life as it is, but they find something unexpected in each other.

7. Match Me if You Can (Chicago Stars series #6) by Susan Elizabeth Phillips: Annabelle landed Heath as a client in her matchmaking business, which makes their attraction very inconvenient! This opposites attract romance is a fun read as Annabelle is willing to go to great lengths to impress her number one client.

8. Hot Number (Hot Zone series #2) by Carly Phillips: The Hot Zone is probably my one of my favorite series by Ms. Phillips. Micki is a relatable heroine as she's fought for her place in a male-dominated world. I love the pairing of the tomboy with a jock with a preference for Marilyn Monroe types.

9. Locke (Corps Security series #5) by Harper Sloan: Emmy made no secret of her love for Maddox, but he pushed away the seemingly innocent secretary time after time. The sparks fly as this alpha male finally goes after the woman he believes he doesn't deserve.

10. Reasonable Doubt Full Series by Whitney Gracia Williams: Andrew has no patience for liars, but Aubrey is his exception to the rule! The hotshot lawyer and the intern are an explosive combination as Aubrey constantly challenges Andrew.

 I'd love to hear your thoughts! Are you a fan of workplace romances? What are some of your favorite workplace romances?
Kim