A Child Claimed by Gold by Rachael ThomasEmma Sanders has travelled to Russia for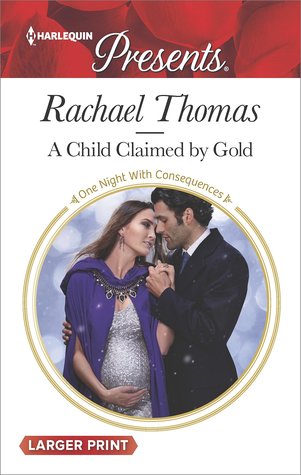 an exclusive article for World in Photographs, an in-depth expose about the Petrushov family. Met at the train station by Nikolai Petrushov, she discovers that her plans aren't going to go as smoothly as she'd hoped. For one thing, Nikolai's last name is Cunningham now, as he'd taken the name of his stepfather whom his mother had married when they'd left for New York just after his father died. There are secrets in Nikolai's family that he doesn't want anyone to know, especially not a nosy journalist.
Nikolai's attempts to control Emma's story means he's going to keep her away from his grandmother (who is the instigator of the story) and make sure that it's as scandal free as possible. In spending time with her he can't deny that they share a deep attraction, and after only a short time in each other's company they spend the night together. In the morning, Nikolai regrets what happened, believing Emma planned it to get at his family story. Hurt and disappointed, a call from her sister, an aspiring ballet dancer for whom Emma had taken this job in the first place has her leaving Nikolai and their brief affair abruptly ends.
But back home, Emma soon discovers the consequences to their night together – she's pregnant. Bringing the news to Nikolai, he insists that they plan their marriage at once, one that will be solely for the sake of the child. Emma goes along with this marriage of convenience plan because she doesn't want her child to grow up fatherless like she did. But can the passion they shared be rekindled? And will it lead to a lasting love affair?
I enjoyed this story and the contrasting settings of rural Russia with New York City. Nikolai carries a lot of anger inside him, a consequence of having an abusive father. Though he'd prefer not to be a father himself, he knows that he'll do everything possible to protect his child, unlike his own parent. When he finds out Emma is pregnant, he's determined to do the right thing. But he doesn't think much of the idea of love, and is content with the idea that they can have a physical relationship within the bonds of marriage without having to be emotionally bonded as well. Still, he wants Emma to put up an act in front of his mother, that they are marrying for love and not out of duty, so the pregnancy remains between them.
Being in close proximity means that the attraction between them flares up again, and they share some sensual love scenes as they prepare to get married. But Nikolai still keeps his heart firmly under wraps, and there are some rocky times before they get to their happy ending. Fortunately he comes to his senses in the nick of time! Despite Nikolai's past, the overall feeling of the story is fairly light and Emma and Nikolai make a good match. It's a lovely romance with a sweet epilogue.
Book Info:

Publication: Dec 20, 2016 | Harlequin Presents | One Night with Consequences #26
A scandal of their own making
Nikolai Cunningham has kept his family history secret for seventeen years. So when photographer Emma Sanders is granted exclusive access to his childhood home, he returns to Russia to ensure it stays hidden.
Though she tries to keep her eye on the story, Nikolai's potent sexuality proves too much for Emma's untouched body to resist! But, convinced she only wanted a scoop, Nikolai casts Emma out, unaware she's pregnant!
When the consequence of their recklessness is revealed, Nikolai will legitimize his heir—with a gold wedding ring!