Satisfaction (Lawless #2) by Lexi Blake: Carly is a sweet, loyal, and creative woman who is stuck in a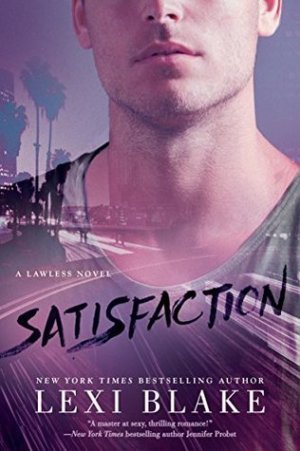 situation she can't find her way out of. She can't stand her witch of a boss, but she's unfortunately stuck doing all of the work (and getting none of the credit) and has to be available at her boss' beck and call for at least the next two years.
Bran is a loyal, dedicated, and protective brother. As the youngest brother, he feels the need to prove his worth and earn his place in the family business. He had the worst childhood experiences and he's got the anger to prove it. He has a need to save any woman he sees in trouble, no matter what the cost.
Bran is dedicated to the family cause of getting revenge and putting their family legacy to rights, but he's also determined to learn from their last experience. Bran's mission is to get close to Carly as a way to get the dirt on her boss. Carly pings all of Bran's protective instincts as it's clear that she's in trouble. He's determined to win her over and is willing to use their undeniable chemistry to keep her close.
"I'm afraid no one is going to believe I suddenly found a hottie and am getting my groove back. I didn't have a groove in the first place."
"They'll believe it because I'll sell it. They'll believe it because there is chemistry between us whether you want to acknowledge it or not. We sat there all afternoon talking and being perfectly comfortable together. How many strangers can do that? Unless you were pretending."
Carly is more than a little wary about getting so involved with Bran. She understands his desire to right a wrong and finally out her boss, but she's afraid of getting burned (personally and professionally) by another man with his own agenda. Bran and Carly have to get close, but their pretend relationship doesn't remain fake for long. The more involved the get in their planning, the closer the danger seems to be.
Something wasn't right. "We were fighting."
"Yes," she agreed. "Now we're not. Now we're going to bed."
"What about tomorrow?" Was she planning to hit him with questions all over again tomorrow?
"We'll deal with that when it comes. For now, come to bed with me."
Satisfaction is a thrilling, sexy read that I didn't want to put down. Lexi Blake doesn't pull her punches and delivers heat, suspense, drama, and a shocking twist. Ms. Blake provided great banter and characters who continue to develop throughout the series. I would recommend reading this series in order, since each book picks up where the previous book ended. I can't wait to read the next book in the Lawless series, Revenge! Fans of Shayla Black, Roni Loren, and Lisa Renee Jones will enjoy Satisfaction.

Book Info:

Publication:  January 3rd 2017 | Berkley | Lawless #2
The sizzling second novel in a sexy new contemporary romance series featuring the Lawless siblings—from New York Times bestselling author Lexi Blake.
Brandon Lawless is a man on a mission: obtain the information that will clear his father's name. He's willing to do whatever it takes—even seduce his enemy's personal assistant, the beautiful and innocent Carly Hendricks. But with her beguiling smile and captivating intelligence, Brandon soon realizes he doesn't want to deceive Carly, he wants to win her over—both in the boardroom and the bedroom.
Then a twisted crime leaves Carly vulnerable and Brandon finds himself reeling. The stakes of his mission are now life or death—Carly's life. And Brandon realizes he's lost his heart to an amazing woman and his plan must succeed, because the stakes are no longer just revenge, but a once in a lifetime love.