3rd

Annual Harlequin Junkie

Reader Appreciation EXTRAVAGANZA
#Giveaway:

Day 7
Are you on HJ's Naughty list?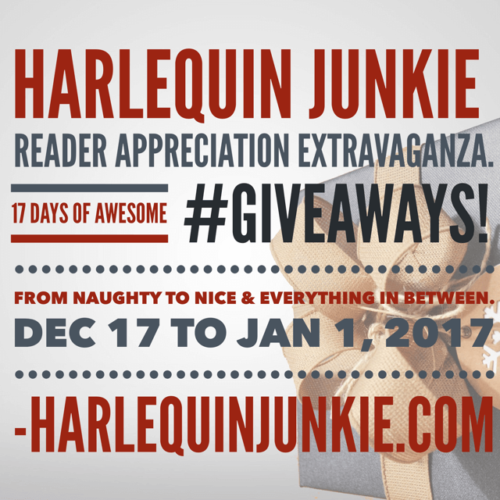 From Naughty to Nice and Everything in between….
Be sure to stop by everyday from Dec 17 to Jan 1 2017 for a chance to win: Box-O-books, Gift Cards, Kindle, Audio books, Author Swag, Gift baskets & more!

The holiday season is the perfect time for Celebrating and Giving.

Considering HJ's Reader community is the BEST! We've decided to do both. 🙂

Starting December 17, we are celebrating YOUR continued support of the romance community & Harlequin Junkie blog with 
16 days of Awesome #Giveaways!
Thank You, for being a part of HJ's community.
Thank You, for all YOUR comments and interactions.
Thank You, for YOUR loyalty to the blog.
Most of all THANK YOU for making HJ a FUN place to hangout!
We <3 You! 🙂
Up for grabs today, Box-O-books from LoveSwept + $20 Amazon Gift Card.
Loveswept and Flirt are Random House's digital-only imprints focused on romance and women's fiction titles. More consumers are reading eBooks than ever before, and we're looking to the future and seeking to partner with the most forward-thinking and up-and-coming authors to introduce them to an avid new audience of digital readers.
Twitter: @readloveswept  Website: www.readloveswept.com

GIVEAWAY: 
Box-O-books from LoveSwept + Smitten Word Tote Bag + Loveswept Mug + $20 Amazon Gift Card.
One lucky winner will win 1 print copy of each item noted below: US 
Blood Vow by J. R. Ward
Feverborn by Karen Marie Moning
Romantic Outlaws by Charlotte Gordon
Frostbitten by Kelley Armstrong
Sweet Tomorrows by Debbie Macomber
Hottest Mess by J. Kenner
Sweetest Taboo by J. Kenner
Max by Sawyer Bennett

Smitten Word Tote Bag
Loveswept Mug
$20 Amazon Gift Card
To enter Giveaway: Please complete the Rafflecopter form and leave a comment to this Q: 
Your favorite LoveSwept title? Why?

a Rafflecopter giveaway


This giveaway is sponsored by LoveSwept an imprint of Random House.
*Giveaways noted (US) can only be shipped to a US mailing address.