In A Di Sione for the Greek's Pleasure (The Billionaire's Legacy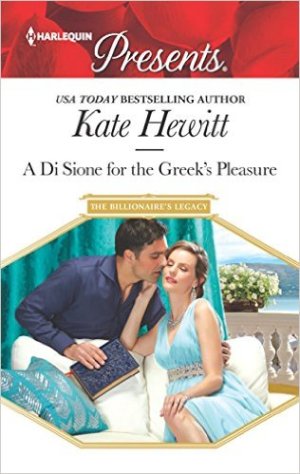 #6) by Kate Hewitt , a simple request from her grandfather to find a book of poems that once belonged to him has left Natalia shaken. Because after a harrowing experience in her past, she hasn't left the Di Sione estate. But now it seems she'll have to when she discovers where the book could be located. Traveling halfway across the globe, she finds herself in a tricky situation. How is she supposed to convince the man that now owns the book to sell it to her? Become his kid's temporary nanny, of course, as long as she can survive the interview process.
"I've learned enough from our brief conversation. You have no CV, you wear a crumpled dress to a job interview—,"
"I just got off a plane," she shot back, and her gaze widened. "A job interview…"
"You are here," Angelos bit out, sarcasm edging every word, "to interview for the temporary position as nanny?"
"Nanny? To your daughter?"
"Who else?" Angelos exploded, and she nodded quickly."
Angelos Menas doesn't know what to think of the woman that's come to his office, for what he assumes is to apply for the temporary position of nanny to his daughter. She has no experience, but somehow the fact that his daughter likes her immediately makes him consider giving her a chance. But when he uncovers the real reason for her showing up in his life, will he give her a chance to explain or let the first woman that's managed to capture his attention since his wife's death get away?
Although I haven't read the other books of this series, which are penned by different authors, I found this could easily be read as a standalone. Right from the beginning, the heroine had me hooked and venturing to read more of this story. Why was she so afraid to leave the family estate? Would she grant her grandfather's request? The one thing I did ascertain was her love for her grandfather, so it was more than likely she'd go and find the book for him, even if she initially paid the price for leaving her comfort zone.
As for the dialogue, it was intense due to both the main characters back stories. The fire accident that claimed his wife has left Angelos emotionally scarred and I felt sorry for him when it comes to his relationship with his daughter. He doesn't know how she can love him when she lost someone important to her as well as suffered her own injuries. His guilt is palpable throughout, and I liked how Natalia helped him to finally deal with it. To get him to face his fear that he failed his daughter. However, there were some light-hearted moments that had me smiling. Natalia definitely challenges Angelos.
"You mean…you're coming with us? And you're…you're not angry?"
"Angry?" Angelos stared at her, nonplussed. "Why do you think I am angry?"
A grin split her face as relief zinged through her. "Maybe you should look in a mirror on occasion." She dared to tease. "You've been scowling the whole time you were climbing the hill, and scaring the dickens out of your daughter and me."
Both the main characters and Angelos's daughter were compelling. Natalia is strong, brave and I liked how tenacious she was to face her fears of finally stepping off her family's estate and setting off on an adventure she never imagined she'd ever take again because of what happened to her the last time she travelled. Then there was the growing friendship she shared with Angelos's daughter, Sofia. They're good for each other. Their conversations had me smiling because of the language barrier. Sofia doesn't know much English while Natalia doesn't know much Greek. However, what I liked most is how Sofia and Angelos showed Natalia how to live again instead of her continuing to be afraid because of her past.
While Angelos, he's a tormented hero that needs to realize that he's not doing his daughter any favors by treating her the way he does. She needs him to start caring for her like a father would, instead of leaving her in the care of nannies. Yet, at the same time, I could understand why he handled things the way he did after the accident that left his daughter motherless. He was guilt-ridden due to his actions during the accident.
Overall, Ms. Hewitt has penned a really good novel in this book that provided a strong romance where the couple's intense chemistry spilled over onto the pages in hot sex scenes and did justice to their attraction. The way this story ended brought tears to my eyes when Angelos finally had a deep talk with his daughter and then what happens between the hero and heroine to force them to go their separate ways. But the way Angelos made it up to the heroine was wonderful, especially once he received something Natalia sent him. His speech about all the things he liked about her had me smiling all the way to the last word while thinking 'It's about time you realized how foolish you'd been, Angelos.'" I would recommend A Di Sione for the Greek's Pleasure, if you enjoy a hero and heroine that need each other to heal from the hurts of their pasts and show each other that love is a powerful gift.
Book Info:

Publication: November 22nd, 2016 | Harlequin Presents | The Billionaire's Legacy #6
Natalia is trembling. She hasn't left the Di Sione estate in years, but must retrieve her grandfather's lost book of poems from formidable tycoon Angelos Menas—who's just mistaken her for his daughter's new nanny!
The brooding Greek and his precious daughter were scarred in the fire that claimed his wife, and Talia is drawn to the man beneath the damaged exterior. She knows the untold pleasure Angelos offers is limited, but when she leaves with the book, will her heart remain behind on the island?