In Leopard's Fury (Leopard People #9) by Christine Feehan,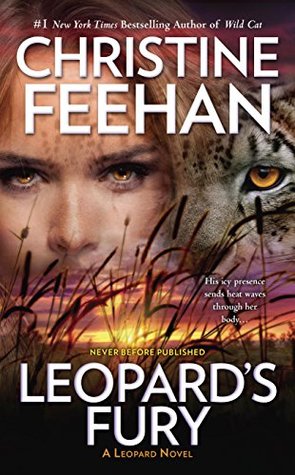 Leopard shifter Evangeline Tregre survived a hellish childhood in the swamps of Louisiana to start a new life in San Antonio as a bakery owner. She may be a bit shy but she loves her customers and to watch them enjoy her cooking. Then a huge brute of a man walks into the bakery and her entire world changes. Alonzo Massi is obviously used to violence and death. But when he's in Evangeline's presence, he's polite, protective and almost gentle. She knows her leopard is close to rising and that Alonzo seems to be her mate. Is she willing to get involved with someone tied to criminal activity after leaving her dangerous family behind?
'She should run while she had the chance… If she saved herself who would save him, because if ever there was a man who needed saving, it was Alonzo.'
Alonzo has never had a time in his life when he felt loved or peaceful, having been raised in one of the most heinous crime families in history. And add to that the fact that he is an Amur leopard shifter, a particularly vicious type of leopard, and there is no chance of him being anything other than a killing machine. But Alonzo is working with a bunch of powerful men to try to clean up some of crime syndicates across the U.S. In the midst of this tumultuous change, he meets Evangeline and realizes that not only has he met the one female meant for him alone, but that he also has a chance to finally have love and stability in his life.
'He'd never thought he could be happy. He didn't know what that was. He hadn't experience it. Never happiness or joy yet now, he recognized both emotions for what they were. Both were simply Evangeline.'
Christine Feehan is on a roll this year with all of her new releases. And Leopard's Fury was just what the Leopard People series needed to bring it back to that great balance the first several books had of alpha male vs. sassy heroine. Alonzo and Evangeline certainly did not disappoint.
"When I'm close to you, my leopard is calm. In all the years of my life, he's never been that way. I've never been that way. When I'm with you, there's peace. I need that and crave it the way my body craves you."
We had a nice mix of romance, action, and even a reunion with previous characters in this installment. Now I know that some fans of the series have been a little, ahem, vocal about how Feehan has portrayed her alphas as such overbearing characters in the past few books. And even though, yes, Alonzo was a badass criminal, he was trying to go clean–or as clean as a crime boss can get–and I loved that he was gentle with Evangeline and tried to keep his alpha tendencies in check. Most of the time. But I have to say, seeing such a tough, cold-as-ice man show genuine emotion and dedicate himself to protecting his mate? *Swoon*
Evangeline was a pretty cool character. And I totally enjoyed her leopard, whom she called Bebe. She had a terrifying childhood that would have broken most people but she survived and even thrived, opening up her own bakery once she left the bayou. Evangeline was a nice mix of sweet and compassionate along with strong and sassy. I loved watching how she could calm Alonzo and his leopard which was a first for him ever. And I think I liked them as a couple so much because they understood each other, having come from dangerous families and each enduring horror after horror. Even though Evangeline had a tendency to want to run far and fast away from Alonzo due to his criminal connections, he understood that and was able to talk her down from her anxiety.
A slow burn paranormal romance paired with pulse-pounding action, Leopard's Fury was an exciting and passionate story that fans won't want to miss.
Book Info:

Publication: November 8th 2016 | Jove | Leopard People #9
A ruthless criminal unleashes his most feral desires in the new Leopard novel from the #1 New York Times bestselling author of Wild Cat.
Passion melts the will of an ice-cold criminal when he meets the one woman who can tame the beast inside him.
Leopard's Fury
With her own bakery in San Antonio, Evangeline Tregre made a new life far from the brutal lair of shifters she was born into. Though she is all too aware of her leopard-shifter blood, she never felt the sensation of a wild animal stirring inside her. Not until Alonzo Massi walked into her bakery. The powerful shifter is as irresistible as he is terrifying, but his icy demeanor tells her to keep her distance.
Alonzo knows better than to let himself get involved with someone like Evangeline. She doesn't deserve the type of danger that follows him, or the threat of his Amur leopard. But even with his lean muscle and iron will, Alonzo isn't strong enough to stay away from the one woman who can make him feel at peace. And when their secret lives draw a mortal threat, Alonzo unleashes the feral passion he keeps pent up inside himself.