In A Man To Hold On To by Marilyn Pappano, Therese is still struggling 3 years after her husband died in Afghanistan. He was the love of her life and now she is raising his son and daughter, not an easy or enjoyable task. She feels like she's just barely making it day by day. None of them are happy, and Therese is feeling the stress of her living situation. Her saving grace are her friend's in the Tuesday night margarita club. They know her, they are her support system. The last thing Therese is thinking about at this point in her life is a new romance…her life is too complicated as it is to add that to the mix.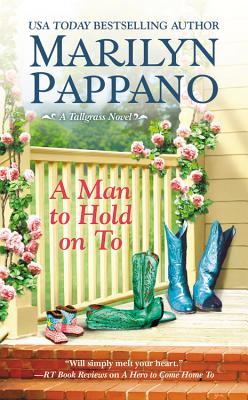 Keegan is a Combat Medic currently on leave. When his ex-girlfriend disappears and he's left to take care of her toddler daughter Mariah, he is determined to find Mariah's real father and hope she can have a home with him. His search leads him to Tallgrass and Therese. Despite the potential complications, Keegan is immediately drawn to Therese…for more than one reason. Not being completely honest with Therese, Keegan ends up spending more and more time with her and her stepchildren. Especially when Mariah is dropped off by his mother and he is at his wits end, not comfortable or knowing how to care for her.
In spite of her resolve not to get romantically involved with anyone, Therese finds herself feeling more than she thought she could again for Keegan and little Mariah. They spend a lot of time together, the romance progresses quickly, and soon they are talking about how a long distance relationship might work. At a time when Therese is struggling with her step children, especially her step daughter and having to deal with their issues, Keegan is a welcome light in her world. Keegan arrived in Tallgrass with one purpose, has found more, and is now struggling with conflicting emotions and secrets.
When the secrets come out it will either rip Keegan and Therese apart or pull them closer together. But Keegan's revelations will also raise questions for Therese about her marriage to Paul that will never be answered. Will she be able to leave those questions in the past, forgive Keegan his secrecy and move on to a future with him? Therese has more than one decision to make about her future, decisions not to be taken lightly or made as fast as this romance has progressed.
A Man To Hold On To is a love story of past and present with many deep and complex characters and emotions. Marilyn gives us a vast array of characters besides Therese and Keegan, and it was a bit confusing at first until I got all the characters straight in my head. Of all the secondary characters, Jessy is the main one who you really will want to know more about.
Therese is easy to like and to feel for. She is coping but just barely, struggling to do what is best. Her life is realistic because we see her ups and lots of downs, and watch her wrestle with her inner demons. I saw a lot of character growth in Therese as I read A Man To Hold On To which only made her stronger, more realistic, and someone that a reader can relate to.
Keegan was a little annoying at times and a bit harder to like until you got to know him much better. He definitely didn't want to get attached to Mariah, or anyone…one bad experience has soured him on relationships until he is blown away by Therese. He is very secretive and I felt like he had lots of opportunities to come clean, but he kept holding out. His big deception aside, I did like how he treated Therese and supported her.
I also like the little bit of religion that Marilyn includes in A Man To Hold On To. Marilyn writes this in quite well in my opinion. In A Man To Hold On To being religious doesn't mean you're above everyone else or don't have human emotions or actions. There is no judging, Therese reads her bible and goes to church and this is just part of who she is. It adds to her whole personality and this piece of spirituality in A Man To Hold On To helps give her hope.
The realism of the characters, their problems, and Marilyn's smooth writing made A Man To Hold On To a romance that any romance reader will enjoy. Spicy enough but not overly so, with a lot besides romance happening, A Man To Hold On To and the characters will capture your heart.
Book Info:

Publication: February 25th 2014 by Forever
Therese Matheson doesn't know if she'll ever get over losing her husband in Afghanistan. Surviving Paul's death has been hard, but raising his sullen son and his thirteen-going-on-thirty daughter alone has been even harder. All they need is a fresh start, and Tallgrass, Oklahoma, could be the perfect new beginning . . . especially when Therese meets Sergeant Keegan Logan. The sexy combat medic and single dad soon awakens a desire she'd thought long buried.
Keegan always wanted to be a father . . . someday. So when his ex-girlfriend disappears, leaving her daughter in his care, Keegan's hands are tied. He has to find the girl's father. His search leads him to Tallgrass and to a beautiful brunette widow who has no idea her husband was ever unfaithful. What begins as a friendship soon ignites into something far more and gives him the courage to be the kind of man-and father-he always dreamt he could be. But his secret still stands between them. Can Keegan reveal the truth and convince Therese they share something too special to lose-a love that can bring two families together?