In Kaleidoscope (Colorado Mountain #6) by Kristen Ashley, Emmanuelle "Emme" Holmes didn't realize how much she enjoyed her friendship with Jacob "Deck" Decker until he and her best friend broke up. Nine years go by before Emme sees Deck again. So much has changed in both of their lives, but they still connect on a level intellectually and emotionally that she's never found with anyone else. He begins to make it clear that he's interested in being more than friends. Emme is game, but old issues from her past haunt her and her new relationship with Deck may prove to be what pushes her over the edge. He's willing to be there to save her, but at what cost to them both?
"I'm not a puzzle to figure out, Jacob," I told him, my voice quieter.
"You are, Emme, the most frustrating one I ever found and the one it's most important to solve."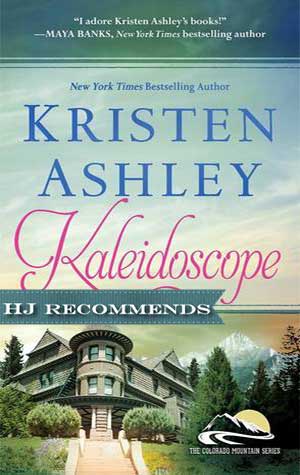 Jacob Decker uses his genius level intelligence to solve crimes as a private investigator. The one mystery he can't seem to solve is his new attraction to his long lost friend, Emme. She's changed, for the better, over the past decade and now Deck lusts after her with a fierceness he's never felt before. On their path to a new chapter in their lives, the past keeps interfering–mainly an event that Emme thought she had already put behind her for good. With trouble once again brewing in Gnaw Bone, Colorado, Deck will have to use all of his mental and emotional capabilities to take care of the woman he loves.
"This is not friends reconnecting. You know it. So do I."
Book six in the Colorado Mountain series, Kaleidoscope, is all about Emme and Deck's HEA. However, of course, they live near Gnaw Bone where nothing can ever be easy for those seeking happiness.
"Emme, I'm lying in bed lookin' at your kaleidoscope sittin' on my nightstand, knowin' you've been with me every day for nine years. Which means I wanted you with me every day even when I didn't realize it."
Kristen Ashley is fast growing to be one of my go-to authors. Her writing style has an authentic feel to it, making it real and raw, and in the case of a lot of her characters, gritty to match the setting of the stories. I really enjoyed the dialogue between Emme and Deck. They were both very smart people who loved to debate and were passionate about their views. This came across clearly to me while reading. I also thought Deck's no nonsense, straight-talking manner was so, so alpha which Emme loved (and so did I).
Kaleidoscope pulled in characters from previous books to help with the rather involved plot. I like a story with a bit of mystery to it, and this one definitely held that element, although not enough to overpower Emme and Deck's romantic journey. And what a journey it was. They each had their battles to face, but it was heartwarming to see them bond together through the chaos. Deck wouldn't let Emme face her demons alone, being protective or tough as each situation warranted. The chemistry between them was there from their first reunion and let me say, the romance scenes were hot, hot, hot! And uniquely their own.
There's a lot to love and enjoy in Kaleidoscope. I think you'll find you can read this as a stand-alone without too many problems. There will be references to previous books, but it won't ruin the overall story if you go back to read them later. I definitely recommend this romance to readers who love deeply emotional but passionate stories.
Book Info:

Published February 4th 2014 by Grand Central Publishing
When old friends become new lovers…anything can happen.
Sexy, gifted, and loyal, PI Jacob Decker is a tall, cool drink of perfection who had Emmanuelle Holmes at "hello." His relationship with Emme's best friend kept them apart for years, but things have changed. Now that a case has brought him to Gnaw Bone, Colorado, the road is wide open for Emme and Deck to explore something hotter and deeper than Emme dreamed possible. So why is she sabotaging the best thing that's ever happened to her?
It isn't easy to catch Deck off guard, but Emme does just that when she walks back into his life after nine long years. The curvy brunette had her charms back in the day, but now she's a bona fide knockout . . . and she wants to rekindle their friendship. Deck, however, wants more. Emme's always been the one; she excites Deck's body and mind like no other woman can. But a dark chapter from Emme's past overshadows their future together. Now only Deck can help her turn the page-if she'll let him . . .