In A Million Little Things  (Mischief Bay #3) by Susan Mallery, Zoe Saldivar has been through her fair share of changes in the past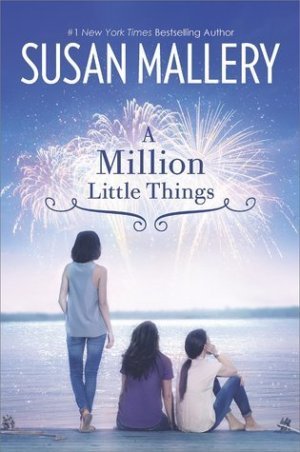 few years. From losing her mother, to changing jobs, and breaking up with her longtime boyfriend, she thought things would even out eventually. But secluded in her home, working and hanging out with her cat Mason, Zoe knows she needs to reenter society. She starts by working on her friendship with Jen, but with Jen having become rather obsessed with her eighteen month old son's lack of speech and ignoring everyone else, she then turns to Jen's mom Pam. They get along well despite the age difference and she even finds herself being pushed toward Pam's son Steven. But as sparks fly between them, things begin to change in Zoe and Pam's friendship. And she's not sure how to get back to where they started.
'He was nice, kind, funny, and he had a heart. Oh, yeah, there was the really sexy thing, too. Talk about the perfect guy. Was it possible her luck had changed?'
Jen is blessed to have a loving husband, Kirk, who is an LAPD officer and their sweet little boy Jack to occupy her time. And even though she's seemingly got it all, she's a nervous wreck all the time. From worrying about what may happen to Kirk at work to wondering why her bright son won't talk, she's begun having panic attacks. Jen wishes her best friend Zoe and her mom Pam could understand that she knows in her heart that something is wrong. But no one will listen. Then a nearly tragic event changes everything and forces Jen to be strong and fight her way through her anxiety, all with the help of a very unexpected person.
'She wanted to stand up and start screaming–something that wouldn't help her cause. But she knew she wasn't the problem. There was something wrong with her son. Why couldn't other people see it? Why was she the only one?'
After losing her beloved husband a couple of years ago, Pam has never really given dating any thought. She still feels like she's married for heaven's sake. So her volunteer work, spending time with her grandson Jack, and taking trips with her girlfriends has become her routine. And she doesn't think there's anything wrong with that. But when Pam comes face to face with handsome, silver-tongued Miguel Saldivar, it throws her well ordered life into turmoil. Not only is he Zoe's father, but he has a reputation as a ladies man. And she's not sure she's ready for the challenge. As she agrees to spend time with Miguel, though, they become caught up in what is happening in their children's lives and realize that it might keep them from seeing where things could go between them.
'Miguel reminded her of the best part of her marriage. The connection. Being a part of something. Knowing someone. She hadn't thought she would ever go there again and maybe she still wouldn't. But refusing to consider the possibility no longer seemed so important.'
A Million Little Things was a heartfelt piece of women's literature that pulled in several interesting elements to make it quite a page-turner for me: romance at different stages in life, family drama, the testing of friendships, and small town dynamics as well.
First off, I have to say that this can be read either as a standalone or as part of the Mischief Bay series with no problem. Secondly, this is more of an ensemble cast where we got three different women's POVs, so probably not every reader will connect with every character. I respected Zoe, Jen, and Pam equally, but found myself more in tune with Zoe. She had a fun personality and a good sense of humor about her issues for the most part, not giving in too much to self-pity. Jen on the other hand…I could empathize with her anxiety issues but it was tough to see how far she took things, alienating herself from her loved ones at times. And Pam, well, I started off really loving her straight forward manner but had a tough go of it when she copped an attitude with her (grown) children toward the last third of the book.
It was quite intriguing to see how the dynamics between the three main characters and all of the secondary characters changed as things became more complex. Zoe dating Pam's son Steven, who was also Jen's younger brother, caused some ripples, especially as things progressed. Pam sort-of dating Zoe's father Miguel added tension between Steven and Zoe. And then you had Jen freaking out about her son not talking yet and her husband's dangerous job, straining all of her friendships and relationships. It was quite a tangled web between these characters but I loved how honestly Susan Mallery wrote it. She included the good, the bad, and the very ugly, letting us readers experience all of the feelings each character went through every step of the way.
Filled with complicated, intertwined relationships, some laughs, and whole lot of heart, A Million Little Things was yet another reason to fall in love with Susan Mallery's writing.
Book Info:

Publication: February 28th 2017 | MIRA | Mischief Bay #3
From the bestselling author of The Girls of Mischief Bay and The Friends We Keep comes a twisty tale of family dynamics that explores what can go terribly, hysterically wrong when the line between friendship and family blurs
Zoe Saldivar is more than just single-she's ALONE. She recently broke up with her longtime boyfriend, she works from home and her best friend Jen is so obsessed with her baby that she has practically abandoned their friendship. The day Zoe accidentally traps herself in her attic with her hungry-looking cat, she realizes that it's up to her to stop living in isolation.
Her seemingly empty life takes a sudden turn for the complicated-her first new friend is Jen's widowed mom, Pam. The only guy to give her butterflies in a very long time is Jen's brother. And meanwhile, Pam is being very deliberately seduced by Zoe's own smooth-as-tequila father. Pam's flustered, Jen's annoyed and Zoe is beginning to think "alone" doesn't sound so bad, after all.
Friendship isn't just one thing-it's a million little things, and no one writes them with more heart and humor than book club sensation Susan Mallery!