Billionaire's Baby Promise by Sarah M. Anderson is an excellent example of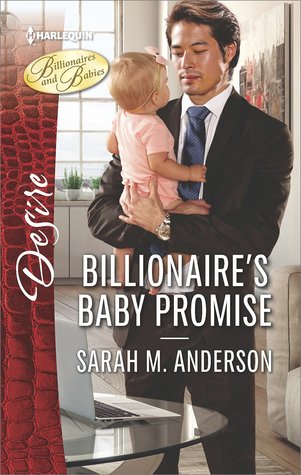 a redemption romance, with a hero who has done some pretty hurtful things in the past finding a way to make it up to the woman who had to deal with the fallout.
Daniel Lee was once a ruthless political operative, working behind the scenes to find dirt on his opposition. And his actions had real consequences for Christine Murray. The daughter of a preacher running for a governorship, the discovery that she was pregnant and unwed was used mercilessly against her father in the campaign destroying his chances at election. But more importantly, the resulting scandal resulted in Christine being abandoned by her boyfriend, hunted by the paparazzi and having to move away and lay low. When Daniel finds out that Christine's father is planning to run for election again, he knows that someone will want to use her as fodder in the campaign – but this time, he's going to do whatever it takes to protect her and make up for the grief he caused her in the past.
It's been two years and Christine has found a new career, is raising her beautiful little girl Marie on her own, and wants nothing to do with politics or her father. When Daniel Lee contacts her about her father running for office again and immediately admits to his part in what happened to her, she wants nothing to do with him. But reluctantly she comes to the conclusion that he might be the only one who can protect her from another paparazzi nightmare. Actions speak louder than words, and it's Daniel's obvious concern for her and her daughter and his willingness to do everything he can to protect her that proves he's sincere in his desire to make things right. But that's not his only desire. He can't help but admit to himself that he's attracted to Christine and the feeling quickly becomes mutual. But would she ever be willing to give her heart to a man like him?
I really enjoyed this story! Daniel is one of the Beaumont half siblings and now works with his brother Zeb at Beaumont breweries. It's a far cry from his previous life, and he's taking this opportunity to become a better person. When the chance presents itself to atone for the hurt he's caused, he is unable to stop from at least giving Christine the option to use his services to protect her and her daughter. Now, it should be made clear that Daniel is no saint. He's slung a lot of mud in his past, and until now he's never felt guilty about it. But for whatever reason, Christine never entirely left his mind.
Christine's character is one of strength and forbearance. She survived one scandal and is determined to protect her daughter at all costs, even if it means putting her trust in the man who should be her enemy. Being attracted to him on a physical level makes her extra cautious. But Daniel's actions prove his intentions are genuine. When they eventually succumb to that attraction, they share some sensual love scenes. Daniel's genuine affection for Christine's daughter Marie is also evident, and there are some very sweet scenes between them as they all grow closer.
Daniel's character is half Asian and his heritage influenced him growing up. He has a close relationship with his mother who is Korean, and she would send him off to his grandfather in Korea during holidays. He learned how to be a ruthless businessman like his grandfather, and he now runs their family's Korean enterprise. He is a very wealthy man in his own right. He doesn't need to work for the Beaumonts, but he wants to have a connection with his American half siblings. On the surface his previous political actions appear ruthless but they have a lot to do with how he was brought up. It makes him a fascinating hero.
All of the stories with the ethnically diverse Beaumont siblings that I've read have been really enjoyable, but this one might just be my favorite. I love seeing a character's flaws and how they are able to change over time, and Daniel really is a good man at heart, or at least, he's becoming one. His romance with Christine is sweet and sexy and we get a lovely happy ending for this new family. This one is definitely going on my keeper shelf!

Book Info:

Publication: Mar 1, 2017 | Harlequin Desire | Billionaires and Babies
For the baby's sake…
Secretive billionaire Daniel Lee is known for being ruthless. But he's discovered his conscience when it comes to Christine Murray. Once, he'd smeared her name to win a campaign. Now that she's back in the spotlight, with a precious baby to protect, Daniel's determined to make amends. Even if rescuing Christine and her daughter means sweeping them away to a life he shares with no one…
He'll do anything to earn Christine's trust…and to have her in his bed. But now that the sexy single mom and her adorable daughter are on his turf, he can't seem to let them go..