A Ring for the Greek's Baby by Melanie Milburne is a sensual romance where a passionate one night spent together at a wedding for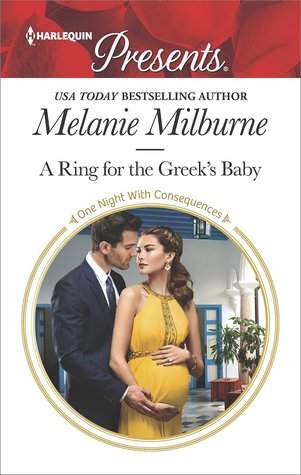 mutual friends leads to a baby, and a happy ever after.
Loukas Kiprianos couldn't resist the lure of sweet, innocent English woman Emily Seymour whom he met at his best friend's wedding. In fact, he can't forget her, and when he finds himself in London again, he decides to look her up and see if she's interested in spending some more time with him – no strings attached. But when she agrees to dinner with him, he soon finds out some news – she's pregnant! Loukas was not looking for anything permanent but he's not going to abandon a child, and proposes marriage. Emily is willing to do whatever is best for the baby, and agrees. But Loukas soon finds that he wants more than a marriage of convenience with the woman who is quickly gaining a place in his heart. Can a one night stand become a lifetime of love?
I loved this story! Loukas comes across quickly as a nice guy hero – not arrogant or entitled despite his wealth. Yes, he initially was only looking for a good time with Emily after their startling connection at the wedding, but when he finds out she is pregnant he is determined to do the right thing. Loukas feels a lot of guilt for an accident involving his younger sister that resulted in her being permanently wheelchair bound. It's made him believe he is not father material so having a baby was not something he'd ever considered. But now that it's happening he is forced to confront those fears and Emily's presence helps him repair his fractured relationship with his mother and sister.
Emily is a lovely woman, sweet and genuine, and though she is initially hesitant to become engaged to Loukas, she also wants to do right by her child. She was in a long term relationship that ended and left her questioning her judgement where men are concerned. It's easy to be attracted to Loukas who is very persuasive. The conflict in the story comes from both of them trying to keep their hearts intact from the other, with little success. There are some very sexy love scenes and Loukas's protective nature of Emily is quite endearing. The story moves along smoothly with some sun drenched scenes at Loukas's villa in Corfu and there is a sweet ending and epilogue for this lovely romance. I definitely recommend it for romance readers who like their alpha male heroes with a tender heart.

Book Info:

Publication: July 18, 2017 | Harlequin Presents | One Night with Consequences
From no strings…
Notorious playboy Loukas Kyprianos cannot forget his wild night with sweet, innocent Emily Seymour. But when he arrives in London to offer a no-strings arrangement, Loukas uncovers a surprise consequence of their passion–Emily is expecting!
To wearing his ring!
Despite their exquisite encounter, Emily knows Loukas can't give her the fairy tale she dreams of–so when he insists they wed, she agrees for their child's sake alone. But their engagement fuels their hunger, and when the irresistible Greek's protection turns to seduction it's only a matter of time before Emily succumbs to his touch!