After the Party by Jackie Braun: Chase had a lot of things on his mind. It'd been just over a year since he'd come from California to help his uncle Elliot to strengthen his family's struggling toy company. Trumbull's Toys had always been a leader in the industry, but lately there had been leaks, and on top of that, his uncle was showing signs of a neurological condition. He wasn't expecting the bombshell in the lobby to be heading up to the executive floor with him. Just what he needed… to be attracted to the woman planning his uncle's "wake".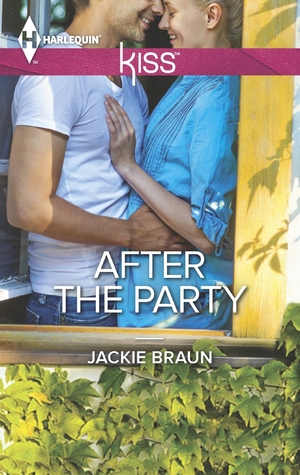 Ella Sanborn had to make a good impression. This was her first job as a party planner, and it was to plan an Irish wake. She didn't know until she got there that it was a sarcastic party to 'celebrate' Elliot Trumbull's ousting from the company he founded and made uber successful. His son and nephew had taken over and sobered up the place – but Elliot's office was still a playground. The way a toy company should be – at least in Ella's eyes. That didn't stop Ella's eyes from noticing Chase, Elliot's nephew. He seemed concerned for his uncle, and she had no doubt that he loved him, but would that mean Ella's out of a job?
After a no-hitch dinner party and some well-made decisions, Chase no longer has doubts about Ella's capability to plan his uncle's wake. He also can't seem to keep his hands off her, and she doesn't seem to mind. But there's something holding her back from him – and that's disconcerting. Is it her family's scandalous past, her ex's desertion, or is he just projecting? Chase is going to make plans no matter what, and let the chips fall where they may. Of course, if she finds out what he did before he got to know her…
I really liked this story. Elliot is a hoot, but his troubles are still very heart-tugging. Chase is caring all the way through,and I could totally feel his struggles although he tried to stay stoic. I enjoyed the fact that Ella got him to loosen up around the office, and that he was dedicated to those he cared about. I found myself turning around on Owen at the end – but man, it was a hard decision to make. Gotta say, poor Ella. Until she met Chase and his family she just had one person that stuck by her. Fortune was definitely in her favor.
Good, quick, sweet read. Some angsty issues, but well worth it.
Book Info:

Published December 17th 2013 by Harlequin KISS #48
You're cordially invited to…
In her socialite days, Ella Sanborn was the life and soul of every party! Now she's on the other side of the invitation, determined to become New York's premiere events planner if it kills her! Which working with straight-laced new client Chase Trumbull could well do….
Chase has been too busy saving his family's business to enjoy much recently. He might have agreed to throw a themed party, but that doesn't mean he's off duty just yet! Until he meets Ella. Something about her tempts him to loosen his tie, take off his suit jacket and finally have some fun….