All I'm Asking For: A Contemporary Christmas Anthology: by Christi Barth, Brighton Walsh & Kat Latham
Put love on your wish list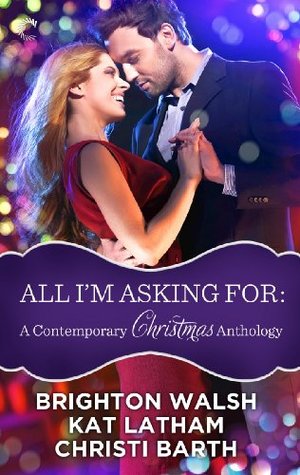 This Christmas, the producer of a small-town holiday spectacular is swept away by a handsome Hollywood director. Being stranded in a snowstorm offers a couple a second chance at a future together. And an American in London helps a brooding Brit put the ghosts of Christmas past behind him. Wherever you are, however you celebrate, this collection of three festive novellas will bring warmth to your holiday season.
All I'm asking for is a great collection of holiday novellas, perfectly short and sweet to enjoy. Since I would give too much away I will just give you a glimpse into each.
Tinsel my Heart by Christi Barth
Tinsel my Heart by Christi Barth is about Jack and Becca. They used to be very close as kids and were best friends. But Jack left his hometown and left Becca behind. Now Jack is a Hollywood director and Becca is a producer in her hometown. While Jack is reluctant to face the best friend he left behind, he must now return home to direct a show. Only he soon learns that Becca is the producer and they must work closely and spend a lot of time together. But even though the chemistry between them is great, they must both first admit their feelings to themselves and have the courage to chase the one dream they both want but have not have the will to follow.
Season of Second Chances by Brighton Walsh
Season of Second Chances by Brighton Walsh is about Claire and Logan, they were engaged two years ago, but now they live in different cities. Due to a storm, Claire now finds herself trapped in Chicago, the last place she wants to be in since she used to live there with her now ex-fiancé. Logan offers Claire a place to stay to wait out the storm, it just happens that his apartment used to be their apartment, and being there together brings back all the old memories the good and happy times as well as the heartache. But Logan and Claire need to have learned from their past mistakes that broke them apart before they repeat the past.
Mine Under the Mistletoe by Kat Latham
Mine Under the Mistletoe by Kat Latham is about Ashley and Oliver, they have both lost loved ones and have gotten used to being alone and decided to switch homes for the holidays. But this time a winter storm brings them together when Oliver cannot get away and they have to wait for the airport to reopen. They may be strangers and are unwilling to share their own losses at first, but in a way they both help each other heal and fall in love. This was a very sweet and story that just warms the heart.
Book Info

December 5th 2013 by Carina Press
Edited by Angela James, this anthology includes:
Tinsel My Heart by Christi Barth
Season of Second Chances by Brighton Walsh
Mine Under the Mistletoe by Kat Latham
Stories also available for purchase separately.
85,000 words