All There Is by Violet Duke: All There Is by Violet Duke is my first Violet Duke novel, but definitely won't be the last. Don't get me wrong,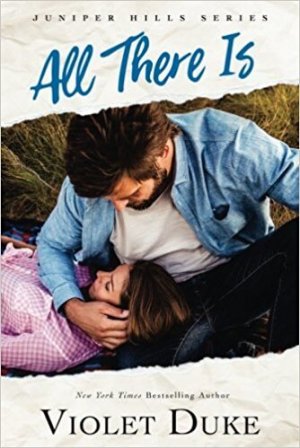 I have a few of her books on my kindle, but I never made time to read them. After reading this book, I immediately moved her other stories higher on my tbr list. I am still smiling just thinking about this book. The dialogue was well-written, the characters were lovable, and their story was an emotional one, yet the author still invoked plenty of humor in it, to keep it light.
Emma Stevens is a sweet girl and an amazing baker, but when her bakery floods, she has to rely on help where she can get it. When the new carpenter comes in to do an estimate for her shop, old feelings spring to life and the pain he left behind comes back strong.
Jake Rowan is not only a carpenter, he's also someone who represents a painful past that effects both Emma and Jake. Emma is no longer the girl next door and he's not the same boy who did his time in Juvie. He's there for work and whether Emma likes it or not, she needs his help.
It's been fourteen years since the fire that took her little brother, but Emma still bears the scars of that night. It's not the visible scars that Emma's sister carries, but an emotional one, that hurts just as much. Even though that night still stings, the attraction Emma has always felt for Jake hasn't went away and since they are going to be spending some time together repairing the bakery, they might as well explore their attraction.
"We have chemistry. And fun."
"What we have is a past you want us to ignore."
Jake and Emma need to get through the past to embrace their future together. But all Emma wants to do is pretend their past doesn't exist. It's going to take communication and some hard truths to get them where they need to be.
Emma is fun, sassy, and such a great person. She's always doing things for other people, when she's not baking fantastic goodies. She also reminds me of a bull-dog and fierce protector when it comes to her sister. As for Jake, he's such a good hero. The past doesn't define him and readers will find out that everything isn't how it appears and sometimes the wrong party is punished instead. As for the secondary characters, I loved them, as well. Emma's sister is very smart and such a great character. Can't wait to read more from this series!
Violet Duke is a hidden gem and everyone should rush to buy this book and that's all there is to it!
Book Info:

Publication: June 27th 2017 | Montlake Romance | Juniper Hills #1
Emma Stevens is ready for a fresh start in Juniper Hills, but she still lives with the impossible guilt of her past: having failed to rescue her little stepbrother from a fire that decimated her childhood home and her family. Her next-door neighbor may have been the one to drag her out of the burning building that night, but it doesn't exonerate him since he caused the fire. Not even when he shows up fourteen years later to help salvage her bakery.
Jake Rowan may not have been able to save Emma's brother from the fire, but at least he was able to save his own brother. By taking the fall and the punishment for him, Jake managed to protect his older brother's future…but it cost him the girl of his dreams.
Now Jake finds himself on Emma's doorstep once again. Not to save her life this time, but to repair it. And more importantly, her heart, if she'll let him