In Wicked Grind (Stark World #1) by J. Kenner, Time is running out quickly for photographer Wyatt Royce to find the right woman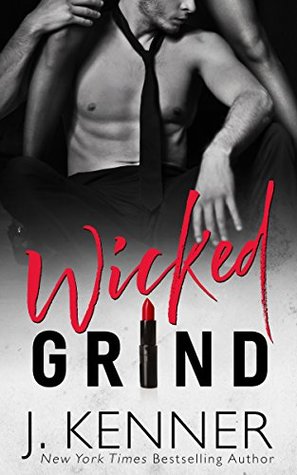 for his groundbreaking project. He knows the look he's after, even if it is a woman who ruined his life a decade ago and he hasn't seen since. But fate brings Kelsey Draper back into his life as she walks into his studio, ready to audition, not knowing who the photographer would be. Their immediate connection takes them both by surprise. Wyatt still isn't willing to let go of his anger over their parting quite so easily and offers a deal which Kelsey may or may not take. He finds himself both hoping she does so they can possibly put the past behind them and yet not wanting to dredge up old feelings. But Wyatt knows to tread carefully because if he lets go of the past he could easily fall in love with Kelsey all over again.
'Kelsey wasn't just a girl, she was The Girl. The one he'd always had in the back of his mind. The one he didn't even realize had been his inspiration until she'd walked through his door.'
Trying to let loose and live a little, Kelsey took a chance auditioning for a risque photo shoot never imagining it would be for her former teenage boyfriend. Wyatt was the only guy she ever truly cared for but unfortunately their parting was not on good terms. Knowing she should turn and walk away, Kelsey instead decides to embrace her inner bad girl and give working with Wyatt a shot. But right away the old hurt and mixed up emotions come back, reminding her of bad decisions she made the only other time in her life she tried to be wild and free. Kelsey also finds herself being drawn to Wyatt again physically. And with the tempting offer he makes, to show her how to be carefree in both his photos and in his bed, time will tell if her decisions will be in her favor this time around or threaten to ruin things again.
'For a moment, I'm lost in the past, remembering a time when there was nothing harsh between us. When it was just longing and sweetness, conversation and desire. When it was all new and full of possibility. When we hadn't hurt each other.'
A second chance romance that was every bit as sweet and tender as it was sexy and provocative, Wicked Grind is the first novel in J. Kenner's new spinoff series that's tied to Damien Stark, his friends, family and work colleagues.
"Go a little wild, Ms. Draper. Cut loose. Take a risk."
"Is that what you are? A risk?"
"Risk, reward. I'm pretty sure the two are tied together."
I adore a good second chance romance and boy did J. Kenner do a great job here. The characters, Wyatt and Kelsey, were so interesting and were obviously still struggling with never having closure from what happened between them a decade prior. I really loved that we were left guessing until about the middle of the book as to what exactly happened and that it was relayed to us through flashback scenes. I figured out a good chunk of it but I never expected some of the hardships and dark times both Kelsey and Wyatt went through. I had to admire them both for overcoming heartbreaking situations and becoming the strong adults they grew to be.
My favorite part (although I loved the whole story) was seeing the contrast between Wyatt and Kelsey as teens via the flashback scenes and then as adults in the present day. They had such a wonderful relationship beginning back when they first met. Their connection was great and they seemed to just *get* each other. It was cute and fun. Skip ahead to Kelsey and Wyatt as adults and things turned wickedly steamy as they got to know each other again. Kelsey, I'll admit, was a bit wishy washy in whether she should work with Wyatt, going back and forth a few (almost too many) times. And he had a tough time letting go of his anger. But I thought they were still a good match as adults. I do have to say that Kelsey's brother Griffin was one of my favorite secondary characters and his tragic background broke my heart. I think he would make an awesome lead character for a future book in this series, hint hint, J. Kenner…
What a lovely, passionate, compelling story. Wicked Grind held my attention from page one and never let up. This new Stark World series is setting up to be a definite winner and I think it will have fans happy to be back in this delicious world J. Kenner created.

Book Info:

Publication:  July 11th 2017 | Martini & Olive | Stark World #1
Sometimes, it feels so damn good to be bad …
From New York Times and #1 International bestselling author J. Kenner, the first in an all new series of fast-paced, provocative novels centering around the ambitious, wealthy, and powerful men who work in the glamorous and exciting world of the Stark International conglomerate … and the sexy and passionate women who bring them to their knees.
Photographer Wyatt Royce's career is on the verge of exploding. All he needs is one perfect model to be the centerpiece of his sexy, controversial show. Find her, and Wyatt is sure to have a winner.
Then Kelsey Draper walks in. Stunning. Vibrant. And far too fragile for a project like this. Wyatt should know—after all, he remembers only too well why their relationship ended all those years ago.
Determined to break free from her good girl persona, Kelsey wants spice. Adventure. And she's certain that Wyatt is just the man to help.
But when Wyatt agrees to give her the job only if he has complete control—on camera and in his bed—Kelsey can't help but wonder if she's in too deep. Because how can a good girl like her ever be enough for a man like Wyatt?