In An Affair with a Notorious Heiress (Scandalous Gentlemen of St. James #4) by Lorraine Heath, Alistair Mabry, the Marquess of Rexton, has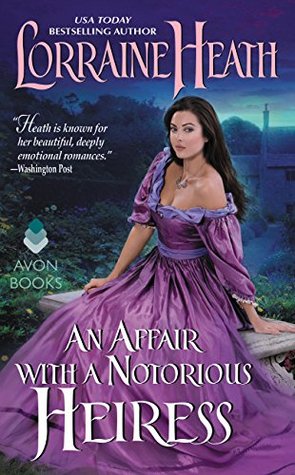 seen firsthand the problems that can happen when someone is deemed unworthy of the Ton. His parents had a rocky beginning, his father the duke having wed a woman outside of the nobility, so Rexton strives to always make the appropriate choices in life. He won't have his future children face ridicule or worse like he endured. But an agreement with a businessman to date an American heiress and help boost her in Society puts Rexton on a path to potential ruin. For he finds he's much more interested in Miss Hammersley's older sister, Lady Landsdowne, a woman with a scandalous past. And even though he knows it would harm his reputation, what he wouldn't give to be "courting" Tillie instead of her sister Gina.
'She was unraveling the tapestry he'd woven regarding the sort of woman she was. She was capable of great love, showered her sister with it. He found himself envying anyone to whom she might give her heart.'
Tillie is certain she will forever be looked down upon by Society but she can't regret the choices she made a few years ago, for she has finally found her freedom. Unfortunately she didn't realize that her seemingly bad behavior would influence her younger sister Gina's chances in her first London Season. So when Lord Rexton shows her sister attention and begins to court her, Tillie hopes their luck is finally changing. But she has the feeling that something isn't right with Rexton's interest in Gina. It seems like he's more intent on her. Or maybe it's that her own unwanted desires for him are being reflected. Either way, Tillie will do whatever it takes to give her beloved sister the happy ending she deserves. Even if it means she'll have to give up her own chance at love in the process.
'What was it about him that brought out such extreme wantonness? He made her yearn to be exactly what all of London whispered she was: notorious, scandalous, indecent, disgraceful.'
A Victorian era romance where each of the three main characters had hidden depths to their personalities, causing quite the predicament, An Affair with a Notorious Heiress was everything I had hope it would be…and more.
"Always. That's what we want, isn't it? Love for always… For some always is a short time. For others it is long. What matters is that we had a chance at it at all."
I had such fun with Lorraine Heath's latest historical romance. Of course I knew going into it that the writing would be spot-on and everything from the pacing to the characters would be just right. But I was surprised with how much I was captivated by our cast. I wasn't sure what to expect where the hero appeared to be dating one sister and fell for the older sister instead. I have to say, though, that Heath knew exactly how to build the storyline and the intensity between Rexton and Tillie in such a way that it seemed, well, natural.
There was such a wonderful dynamic between Gina, Tillie, and Rexton. It did get a bit complicated as you would expect, especially when some truths came out and their feelings were realized. But Rexton and Tillie had a fiery, flirtatious rapport between them that sizzled on the page. I loved that Rexton was the future duke whom everyone thought to be above reproach but he had a bit of a wilder side that he kept hidden. And it was interesting that the notorious Lady Landsdowne wasn't quite as scandalous as the Ton would have thought. It was Gina that pleasantly surprised me the most. She may have seemed like an innocent, frivolous young miss, but she was a lot smarter and wiser than her family gave her credit for being. (And it sounds like the next book will be about Gina's HEA!)
Featuring some of the children from Lorraine Heath's Scoundrels of St. James series, this book can be read as a standalone or as a companion to the original series. I think either way historical romance fans will have a grand time with this fully entertaining novel.

Book Info:

Publication: Published May 30th 2017 | Avon | Scandalous Gentlemen of St. James #4
The son of a duke and an infamous mother, Alistair Mabry, Marquess of Rexton, fought his way to respectability. Now, the most eligible bachelor in London, marriage-shy Rexton will take only a wife with an impeccable reputation, good breeding, and a penchant for staying out of the gossip sheets. But when he strikes a deal to be seen "courting" a sweet young debutante whose notorious older sister has blemished her chances for marriage, Rexton is unexpectedly drawn to the highly inappropriate, calamitous Tillie, Lady Landsdowne herself.
After a scandalous incident that sent shockwaves throughout society and disgraced her, Tillie refuses to cower in the face of the ton. Instead, she will hold her head high as she serves as chaperone for her younger sister, but Tillie is convinced Rexton's courtship is shrouded with secrets—ones she vows to uncover. However, doing so requires getting dangerously close to the devilishly handsome and forbidden marquess…