In Appealed (The Legal Briefs #3) by Emma Chase, Defense attorney Brent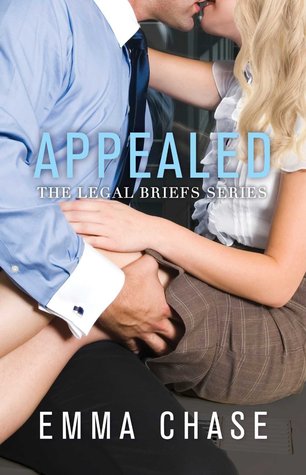 Mason is gearing up for his next court case when he encounters a beautiful blast from his past: his childhood best friend, and one time love interest, Kennedy Randolph. His joy is cut short when he finds out that not only is she the prosecuting attorney in his case and intends to make him work for the win, but now the easy relationship they used to have is filled with animosity and misunderstandings.
"I came back into your life just in time. Old house, multiple feline companions, an inappropriate interest in vampire books that were meant to be enjoyed by teenage virgin girls." I pinch my thumb and forefinger together. "You realize you're this close to becoming a full-fledged Cat Lady."
Once Brent uncovers the truth behind Kennedy's reaction to him, he sets out to make things right again. He can't get the gorgeous blonde out of his head and intends to sweep her off her feet, no matter what it takes. And as things heat up in court, they soon do as well between Brent and Kennedy behind closed doors. This time, though, he's not going to let the fiery girl of his dreams walk away without a fight.
"Brent…" She gasps, fingers running through my hair. "This is real. Tell me this is real."
My eyes jerk up to hers and I cup her jaw in one hand. "It's real. This is so real I can't stop shaking."
She searches my face…and then she smiles. Because she believes me.
Utter. Perfection. Appealed was a smart story written in the funny, in-your-face male POV I adore from Emma Chase while still including genuine emotion, touching moments and a solid plot. Plus it was a second chance romance. How can it not be good, right?
"What if the reason I've never let myself fall in love with a woman is because I didn't have anything to give? Because I'd already given my heart to her when we were seventeen years old? And all these years…I've just been waiting for her to come back to me with it."
I always have a ball reading Emma Chase's books but there was something about Brent and Kennedy that just clicked for me. Maybe it was the whole in-love-with-the-girl-next-door vibe. Or maybe it was Brent's awesome attitude after overcoming the loss of his leg. Perhaps it was the bit of a geeky side he hid under the suave attorney persona. Or maybe it was how Kennedy didn't let Brent get away with anything. (And I mean anything!) But I'm thinking it was all of those parts combined that created the magic that was Appealed.
Brent might just be my favorite character out of the entire trilogy, and that's saying something because I've enjoyed them all. He was completely charming, honest to the point of being blunt, wicked smart, loyal, had a fabulously dirty mouth, and didn't realize he had been pining away over Kennedy since they were teenagers–which was adorable. To me, the fact that he was so open and honest about coming from money but still worked hard for a living and didn't use his family connections made Brent come across as an average guy. Even though he totally wasn't.
The same went for Kennedy, too. She grew up in the very same privileged neighborhood and also studied hard to become an attorney. She was just as caring and loyal as Brent. I really loved her sassy attitude and how emotionally and mentally tough she became after having some traumatic experiences growing up. And I so enjoyed the flashback scenes that highlighted certain moments Kennedy and Brent had together which explained why they had a falling out over a decade ago. Watching them build a new relationship, a stronger one, together was absolutely heartwarming.
I can't say enough good things about Appealed. This can be read as a standalone but I would highly suggest reading the whole trilogy. It's that good! And please read all the way to the end as this had not just an epilogue, but an 'extended epilogue' that wraps up the whole series and brings it around full circle in the best of ways.
Book Info:

Publication: Expected publication: January 19th 2016 | Gallery Books | The Legal Briefs #3
When Brent Mason looks at Kennedy Randolph, he doesn't see the awkward, sweet girl who grew up next door. He sees a self-assured, stunning woman…who wants to crush the most intimate – and prized – parts of his anatomy beneath the heels of her Christian Louboutins.
Brent has never let the loss of his leg in a childhood accident affect his ability to lead a fulfilling life. He sets high goals–and then he reaches them.
And now he has his sights set on Kennedy.
**
When Kennedy looks at Brent Mason, all she sees is the selfish, Abercrombie & Fitch catalogue-worthy teenager who humiliated her in high school to join the popular crowd. A crowd that made those years a living hell.
She's not a lovesick social outcast anymore – she's a DC prosecutor with a long winning streak behind her. Brent is the opposing attorney in her next case and she thinks it's time to put him through a little hell of his own.
But things aren't exactly working out that way.
Because every fiery exchange has her wondering if he's as passionate in the bedroom as he is in the courtroom. Each argument and objection only makes him want her more. In the end, Brent and Kennedy may just find themselves in love…or in contempt of court.
APPEALED is a sexy, humorous romance about first crushes, second chances and the final verdict of the heart.