Baiting the Boss by Coleen Kwan: Sydney Australia city dweller Grace Owens, works directly for Lachlan Macintyre, the 80 year-old CEO and Chairman of Macintyre Inc., a huge construction conglomerate. She is in charge of Special Projects, which is actually a fancy title for glorified assistant or indentured servant. Lachlan has tasked her with finding his estranged grandson Jack, and if she is successful, she will be moved into a position of importance within the company. A few years ago, Grace worked directly for Jack when she started her career with Macintyre and found him to be very attractive and kind.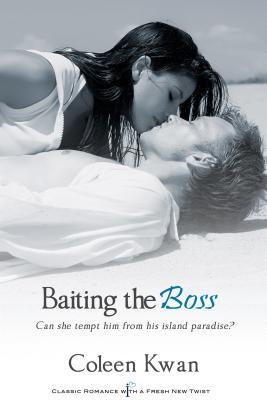 Three years ago, former successful business executive and heir to the Macintyre fortune, Jack Macintyre, lost his wife Becky in a car accident. At the time and due to Lachlan's insistence, Jack worked round the clock, with little time for himself or to spend with Becky. A few weeks after Becky's funeral, Jack quit because he needed more time to deal with his grief, while Lachlan wanted Jack immersed completely in the business. Needless to say, their relationship ended abruptly with Jack vowing never to return to the company. After moving around a lot, Jack ends up on a small tropical island where he uses his construction expertise to improve the island's infrastructure.
Grace eventually finds Jack, and they get to know one another again. They bring out the best in each other and they become more than friends. Grace is able to convince Jack to leave the island, however, their future together in the business world remains in limbo.
I am a huge Coleen Kwan fan, so I really wanted to read and like this book. Unfortunately, I found a good portion of the story to be uninteresting and even struggled a little to get through it. Grace and Jack, the two main characters, did not come across with the chemistry or passion I have grown accustomed to when reading a book by Ms. Kwan. However, the sex scenes were hot, even though the emotion was bereft. I did enjoy the ambiance, as well as the flora and fauna of the tropical island setting.
Book Info:

Publication: October 14th 2013 by Entangled: Indulgence
For years Grace Owens harbored a secret crush on her boss, Jack Macintyre, the heir to the Macintyre Corporation. But Jack relocates to a remote tropical island after tragedy upends his life, cutting off all contact. Now Grace's new boss issues an ultimatum: return Jack to the family fold or pack her briefcase and move on.
When she turns up at Jack's bungalow, he can't deny his attraction to the fiery woman determined to lure him out of his tropical paradise. Little does she know that returning is the last thing he wants—he's nobody's boss, and he likes it that way.
If he stays, she'll lose her job. If he goes, she'll lose her heart.