In For Love of Lacey by Sandra Chastain, Lacey Lee Wilcox remembers her best friend's ex-husband, Tyler Winter, from two years ago as a cynical and not very friendly guy. Not only did he insult her, he was also not happy about her friend selling her the van for $500, which he did not consider enough money. Unfortunately he needed to be informed since the title was in his name.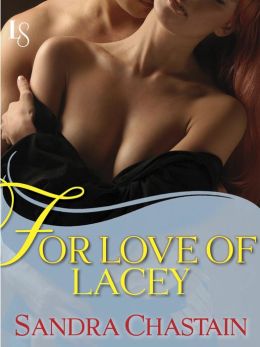 Now Tyler is at her friend's bohemian wedding, and she has to make sure that Tyler won't ruin it. While her friend reassures her that everything between them is over, she cannot help but wonder if he still loves her. But no matter what, Lacey will make sure that the wedding goes through without a hitch.
Tyler remembers Lacey as a hippie like girl, but not dressed for the wedding he cannot help his body's reaction towards her. It is something he has not felt for anyone in a long time, and something that he definitely needs to find out how far it will go. But first he will have to convince Lacey to give him a chance. Good thing that she will be with him for the duration of the wedding, which means that they will have more time to get to know each other. During the ceremony he cannot help but hold her closer and closer to him. But Lacey believes that it's because he cannot stand seeing his ex getting married again.
Since Lacey Lee believes that Tyler may interrupt the wedding, she takes him outside. But as he decides to kiss her and she kisses him back she suddenly panics over her emotions and pushes him away and he falls over the balcony. At first she is afraid he may be hurt and she is looking over the balcony, and since she cannot see him move she jumps over, only to fall on top of him and hits him on the head and his nose starts bleeding.
Now Tyler has the perfect excuse to keep her close due to his "injury" and need of her help. But things will not go as easily as he wants, for Lacey Lee is on to him, and she will not be manipulated. But as she takes her leave of him leaving him stranded in the hospital, she does not know that Tyler will not give up that easily.
Things will not be easy for either of them for Lacey is afraid of commitment after looking after her hippie parents for the past few years. She believes that they are not responsible enough and that without her they will not survive for which she takes it upon herself to take care of everything without actually seeing if that's what they want. Something that she will realize once Tyler enters her family life and helps things around to be more self-sufficient. But definitely not something she will appreciate, since that will make her look at herself and everyone around her in a different light.
For Love of Lacey is an entertaining read. The romance does not develop that easily between Tyler and Lacey Lee and it does take quite a bit for the story to move along. But overall, the story is a fun, entertaining and fast read. If you want something light to read, don't miss For Love of Lacey by Sandra Chastain.
Book Info:

October 14th 2013 by Loveswept
Get ready to fall for Sandra Chastain's classic romance set in an irresistible world of Southern sparkle and sizzle.
The last time Lacey Lee Wilcox saw straight-laced corporate type Tyler Winter, he was wearing a permanent scowl with his perfectly tailored suit. So when he shows up at her best friend's bohemian wedding, Lacey takes it upon herself to keep the cynical exec out of the way. But underneath the pinstripes, Lacey finds an old soul—not to mention an incredible body—and what was supposed to be a vexing day turns into a wild time that leaves Lacey wanting more.
Lacey's taste for adventure stirs something in Tyler he wasn't sure he still possessed. It's something that worries him just a little—after all, he hasn't become Atlanta's most successful real-estate mogul by letting loose. But maybe, just maybe, there is such a thing as working too hard . . . and there's no one Tyler would rather play hooky with than lovely Lacey.