In Barefoot in Pearls (The Barefoot Bay Brides Trilogy #3) by Roxanne St. Claire, Arielle Chandler and her two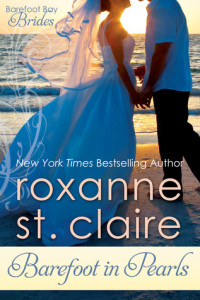 best friends Willow and Gussie have made a name for themselves as bridal consultants at Casa Blanca Resort in Barefoot Bay. She, however, is the only one who remains single of the three of them. Ari is ecstatic for her best friends, but she hopes the dreams her Grandma Good Bear put into her head of finding The One are actually true. She trusts her Native American roots that bind her to the universe and goes with her instincts in most situations. But when Luke McBain literally runs into Ari and she feels those sparks she's been waiting for, can she trust what she's feeling? Especially when she finds out Luke is intending to tear down what she believes is Native American ground full of artifacts. She struggles to reconcile her feelings with her gut instincts but simply can't be sure.
'…What was tearing her apart? Heart and head? Body and soul? Right and wrong? Real and imagined? Everything about Luke McBain was a paradox to her.'
Luke McBain is back stateside after being away for a decade, fighting wars in the French Foreign Legion. He's glad to finally have time to spend with his beloved younger sister Gussie, but didn't expect to fall for her close friend and business partner, Ari. Everything about her draws Luke in. Her spirit, her voice, her body. Everything except her beliefs, that is. Luke can't seem to get past the "woo woo" stuff as Gussie calls Ari's connection to nature and everything spiritual. He personally believes in what he can see and explain. So when they begin to unravel a mystery surrounding his building project and her gut feelings are spot on, Luke starts to wonder if there really is something to Ari's instincts. He only hopes he can come to terms with it so they can see where their intense chemistry takes them.
"I'm afraid you've put a spell on me."

She closed her eyes. "Please don't make fun of me right now."

…"I'm not." Pulling her close, he kissed her cheek, his lips so soft and sweet she wanted to moan. "That's the scary thing."
With every new Barefoot Bay story that author Roxanne St. Claire gives us, I fall more and more in love with the people and the area. There must be something special in the air in the Florida Keys to inspire such romance. And I, for one, hope it doesn't change anytime soon.
I'm a bit sad to see this particular trilogy end because I LOVE the three bridal consultants we've met and their spunky can-do attitudes. However, I'm sure we'll be seeing them in the next spinoff, The Barefoot Bay Undercover series, which will mix romance with a bit of suspense and adventure. How good does that sound? I'm sure it will have the same passionate writing we've all come to expect from Ms. St. Claire, along with her unforgettable characters and intriguing storylines.
Ari and Luke's story had it's own unique feel to it, just like with each of the other couples we've met. This time around, there was an almost mystical feel to everything that happened to them, given that Ari was very in touch with her Native American roots. I really loved the connection she had with nature and the universe, trusting her instincts and gut feelings. And it was very clever of Ms. St. Claire to match her up with Luke, who was a firm believer in only what he could see and prove to be true. Such different ways of thinking led to some very interesting conversations and created a bit of tension while Ari and Luke were getting to know each other. But it was a whole lotta fun.
There was a nice thread of mystery all wrapped up around Luke and Ari's romance, centering on the location where he was to build a home for his childhood friend. I thought the secondary characters in those scenes added a lot of intrigue and depth to the plot. This was one of those times where I thought I knew who was behind the strange happenings but I wasn't really sure until the end. I love when that happens! Obviously this made the book a page-turner for me. Not that the other installments haven't been as well, because they certainly have. There was just something about Luke being so capable, with his military background, getting to watch while he and Ari solved the mystery and kept each other safe. *sigh*
Barefoot in Pearls is yet another love story by Roxanne St. Claire that had me laughing, wiping away tears, and thanking the universe (and Grandma Good Bear) for such a wonderfully entertaining time.
Book Info:

Published January 30th 2015 by South Street Publishing | (The Barefoot Bay Brides Trilogy #3)
A brand new full length (365 pages) set in Barefoot Bay! New York Times bestselling author Roxanne St. Claire takes readers back to the beach with more of the "Barefoot Brides" — destination wedding planners who are experts at dreamy "I do's" but haven't yet found their happily ever after.
As her two best friends settle into their happily ever afters, destination wedding designer Arielle Chandler is beginning to wonder if the promise of "The One" – one true love, meant only for her – is merely folklore passed down from her Native American grandmother. But when a mysterious man nearly mows her down on a hill overlooking Barefoot Bay, the legend of destined love suddenly feels very real. That is, until Ari learns of Luke McBain's plans to demolish a piece of land she believes is sacred.
Luke isn't proud of the fact that he spent ten years as a mercenary warrior, fighting battles for another country. With those dark days behind him, he's focused on creating a new life instead of destroying others, so he's moved to Barefoot Bay to launch a contracting business and build a house for an old friend. But when an enigmatic dark-eyed beauty steals his attention and stops his progress with her announcement that he is about to flatten a native burial ground, Luke has a new battle to fight.
While their immediate and potent attraction grows complicated, Luke and Ari discover the hills of Barefoot Bay could be hiding something far different – and even more valuable – than ancient art or graves. They are determined to discover the truth, but that will come at a cost. Will they risk their chance at once-in-a-lifetime love to uncover secrets that could change the landscape of Barefoot Bay forever?