In Beautiful Boss (Beautiful Bastard #4.5) by Christina Lauren, Will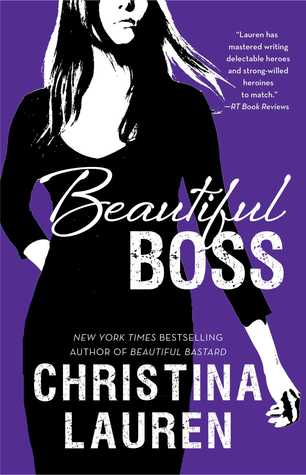 Sumner can't wait to start the next chapter of his life with gorgeous and insanely smart Hanna Bergstrom by his side. He loves that she's being courted by every major college and university in the country to begin her career. However, as Hanna plows through interviews, she remains quiet about her preferences. Will knows he'll follow her wherever she decides to go. But would it be so bad to include him in at least part of the decision making process?
'How many people find the person they ache to touch, to be near, to belong to? How many people married their best friend, the person they admired most in the whole world?'
Hanna had no idea it would be so difficult to narrow down where she wants to start her career. And thoughts of making the wrong decision and getting hunky Will upset makes it that much more difficult. She forgets that she sometimes gets so focused she doesn't let anyone else in. But with Will at home getting more anxious by the minute, Hanna needs to keep that focus and figure out what will work best for them now and for their future together.
"But my career was important to me, too, and if anyone was going to understand that, I thought it would be him. The lab was important to me. My research was important to me. But so was he. Why couldn't I have both?'
In this follow up novella to Beautiful Player, we watched as Will and Hanna handled some life-changing decisions in their own unique and endearingly entertaining way.
Will and Hanna are such a fun, energetic couple. If you're new to the series, I would caution you to read their full-length story (Book #3: Beautiful Player) before this novella so you can see their connection and get the whole background. That being said, it was great to get some more time with these two. From their impending nuptials to Hanna's huge career decisions, it made things super complicated for the quirky couple, but it also proved how much they could overcome as long as they were together.
There really was such a nice vibe to this book. Hanna was still her cute and nerdy self but it seemed like she was becoming more at ease in her own skin. Some of that was of course due to Will's adoration, but the rest I think was just from new life experiences. And Will was a lot of fun to watch as he realized the huge steps he and Hanna were about to take. I loved that he was still his dirty-mouthed normal self, but that he was in awe of how connected he and Hanna would finally be. Definitely swoon-worthy!
This is a story that fans have been asking for and I don't think they will be disappointed in the least. With drop-ins from previous characters, and a great mix of poignant and sexy scenes, Beautiful Boss was every bit as wonderful as I'd hoped it would be.
Book Info:

Publication: March 1st 2016 | Gallery Books | Beautiful Bastard #4.5
The ninth work in the New York Times and #1 internationally bestselling series that started with Beautiful Bastard. In this novella, Will Sumner and Hanna Bergstrom (from Beautiful Player) find that a wedding and everlasting love were just the beginning.
One Player tamed. One nerd girl satisfied. And one more major life decision to make. When Will fell for Hanna, her quirky sense of humor and fierce dedication to her career were part of the attraction. (Not to mention her coy newbie attitude toward sex and her willingness to let him teach her everything.) But when the job offers start rolling in for her—and oh, they do—Hanna has trouble deciding what she wants, where they should live, and how much she should burden Will with the decision. Magic between the sheets is only one part of a relationship…getting on the same page is quite another altogether.