Billionaire, Boss…Bridegroom? by Kate Hardy: Some fairy tales are just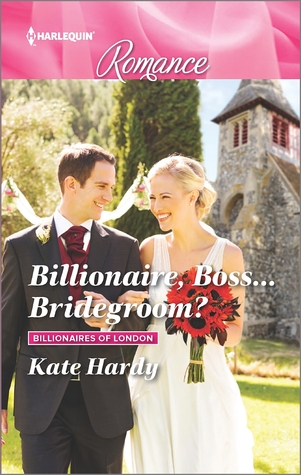 too outlandish to even be considered true, and some people are just too outlandish to ever be taken seriously.
Bella Faraday had just scored a perfect job. After losing everything, money, boyfriend, best friend and most importantly her self-confidence, she needed this. She needed to know she could do things on her own and stand on her own two feet. She was determined and sure that this new job was going to open up her future again.
Hugh Mocrieff knew he was over his ex, the problem was he wasn't over the doubts she had left in his life. He wasn't the settling down kind of a guy any more. He just wished his family would get that. Just like he wished they would understand that he loved what he did. Then he came up with a plan. The problem? It involved a new employee something he swore he would never do again.
When Hugh asked Bella, his new employee, to help him fool his family, he didn't have a clue as to what he was asking. Would he be ready for the fallout of that favor?
Billionaire, Boss…Bridegroom? is an unusual story that Ms. Hardy provides, but it is one that I was unable to put down or even stop for anything for. The plot is swift and the characters are so immensely likeable that I was disappointed to see it end. (Though yes we get the HEA that we like and it closes loose ends.)
The story is so clear and so vivid that it's almost like watching a movie, only better because you get to know way more of what they are thinking. However, stop reading the review and go read the book!
Book Info:

Publication: March 8th 2016 | Harlequin Romance |
The boss's proposal
Gorgeous, rich CEO Hugh Moncrieff might be his office's reluctant heartthrob, but he does not date employees! Until he needs a fake date for an upcoming engagement and decides his quirky new graphic designer Bella Faraday is the perfect candidate…
Except Bella is anything but the unsuitable girlfriend she's supposed to be playing! Charming Bella's life might have been shattered by her ex, but with Hugh she feels all the pieces starting to fit back together…