In Beauty and The Billionaire (Billionaire Boys Club #2) by Jessica Clare, from the moment Hunter sees Gretchen he is enchanted by her and wants to know her better. Scarred inside and out, billionaire Hunter doesn't think any woman would want to be with him, but he has hope that Gretchen might be different. Living a very solitary existence, rarely leaving his home, Hunter comes up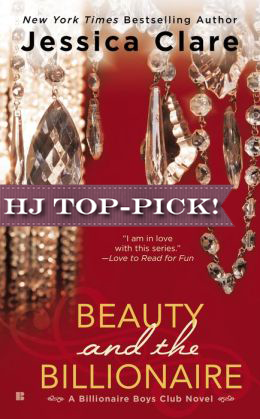 with a plan to meet Gretchen and spend some time with her.
For Gretchen, her career as a ghost writer is leaving her feeling very unfulfilled and frustrated. When a new writing opportunity arises and promises to pay well, Gretchen decides to take the chance. Even when it means living in residence at a old mansion for a month…with a very elusive, intriguing man.
When Gretchen meets Hunter, she sees past his scars and the walls he's built. Without even trying, Hunter has a piece of Gretchen's heart from the start. Expecting rejection and terrified of the same, Hunter does not let Gretchen in easily and makes a lot of mistakes along the way. Slowly they forge a relationship that moves from friendly to steaming hot. Hunter is still hiding, but Gretchen is opening his eyes to the world outside his walls. Hunter is still unsure of himself, his feelings, and Gretchen's feelings towards him though. Can there be more after this month? Or will Hunter's insecurities be the force that pushes Gretchen away?
Beauty and The Billionaire is a fast paced, passionate, very sexy read! Jessica drew me in from page one and kept me glued to the pages as I watched the evolution of Gretchen and Hunter. I loved Gretchen! She is hilarious, open and honest, and speaks her mind. She is someone I'd love to know. I really enjoyed reading about Gretchen, she was realistic and highly amusing! At the same time she has a very serious side and a big heart. She is patient with Hunter and seems to really get him. Hunter is a hero who stole a piece of my heart too. Jessica wrote his character so believably, and really made me care for him. I loved the completely unexpected side of Hunter Jessica surprised me with! It made an already hot book even hotter and more intriguing to read!
There are a lot of great secondary characters in Beauty and the Billionaire from Hunter's butler to his billionaire boys club friends who all had something extra to add to the plot line and were unique in their own ways. There are characters from the other book in this series, but Beauty and The Billionaire can easily be read as a stand alone. I like how Jessica has made it so that even if you jump around in the series, none of the other plots from the books in this series are given away.
Beauty and The Billionaire has great flow and is easy to read. A unique, modern day fairy tale that's as steamy as it is entertaining, I'd highly recommend Beauty and The Billionaire if you're looking for a sexy adventure to lose yourself in!
Book Info:

Published October 7th 2014 by Berkley (first published July 16th 2013) | (Billionaire Boys Club #2)
The Billionaire Boys Club is a secret society of six men who are incredibly wealthy—but not always so successful when it comes to love…
Real-estate tycoon Hunter Buchanan has a dark past that's left him scarred and living as a recluse on his family's palatial estate. Hunter is ready to give up on love—until he spots an enigmatic red-haired beauty and comes up with an elaborate scheme to meet her.
Gretchen Petty is in need of a paycheck—and a change. So when a job opportunity in an upstate New York mansion pops up, she accepts. And while she can overlook the oddities of her new job, she can't ignore her new boss's delectable body—or his barely leashed temper.
Hunter's afraid his plan might be unraveling before it's truly begun, but Gretchen is about to show him that life can be full of surprises…