Bedmates by Nichole Chase: The President's daughter Maddie isn't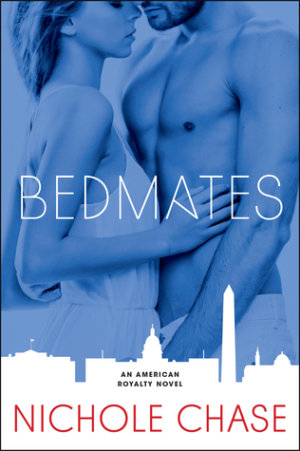 exactly a political force. In fact, she might be a bit more of a blight after having been arrested for pulling a Legally Blonde II and trying to free animals being tested on. Now, she's been ordered to work alongside the VP's son Jake, the boy she's hated for years and had been feuding with before he went into the military.
Together, they're building homes for veterans, and finding love along the way. Working alongside one another brings up feelings neither ever knew existed. But for this pair of American royalty, romance isn't going to be easy. Not when his mom can't stand her and Jake has demons of his own to fight from his time in the war.
And when tragedy strikes the last guy of Jake's crew to survive, Jake breaks down, pushing everyone away, especially Maddie.
"You're on probation." The words fell out of my mouth before I could rethink them.
"Probation?" I can work with that." He nodded his head, a sly smile creeping onto his face.
"And I wasn't jealous. I poked him in the shoulder.
Bedmates is such an adorable romance. Maddie is an utter sweetheart, working the hardest with never-ending energy and always there for those in need (but especially the animals). Jake I loved as well. His struggle was real, not terribly in-depth, but definitely a strong thorough line that I understood and rooted for him to overcome. And then together they are just perfect. A sexy, sweet couple who love being together. Not the most tensioned couple, but they had their work to fight through all the same.
While the work they're doing is serious, and it does make a statement I highly appreciate, the story remains pretty light. Their arcs, mainly with Jake, are strong. I truly love seeing him grow and standing up for himself and Maddie – not that he is ever weak, but that he's been raised in a very political family with quite the mother. And really, the mother is just awful. Who knows how she raised such delightful children.
I highly recommend Bedmates for those who love sweet and sexy, and who want a military read. Chase is a writer I've always enjoyed. She does a great mix of light and serious that I never want to put down.
Book Info:

Publication: October 4, 2016 | William Morrow Paperbacks | American Royalty #1
From the bestselling author of Suddenly Royal comes the first in a sparkling new series about America's favorite royal—the First Daughter.
Everyone makes mistakes, especially in college. But when you're the daughter of the President of the United States, any little slip up is a huge embarrassment. Maddie McGuire's latest error in judgment lands her in police custody, giving the press a field day. Agreeing to do community service as penance and to restore her tattered reputation, Maddie never dreams incredibly good looking but extremely annoying vice president's son, Jake Simmon, will be along for the ride.
Recently returning from Afghanistan with a life-altering injury, Jake is wrestling with his own demons. He doesn't have the time or patience to deal with the likes of Maddie. They're like oil and water and every time they're together, it's combustible. But there's a thin line between love and hate, and it's not long before their fiery arguments give way to infinitely sexier encounters.
When Jake receives devastating news about the last remaining member of his unit, the darkness he's resisted for so long begins to overwhelm him. Scared to let anyone close, he pushes Maddie away. But she isn't about to give up on Jake that easily. Maddie's fallen for him, and she'll do anything to keep him from the edge as they both discover that love is a battlefield and there are some fights you just can't lose.