In Set the Night on Fire (Jupiter Point #1) by Jennifer Bernard,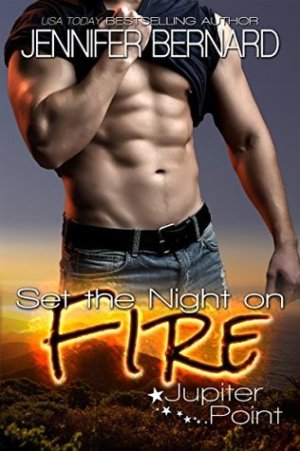 The last thirteen years have changed Sean Marcus in many ways. Since becoming a firefighter, he's found a purpose and was able to put his troubled past behind him for the most part. He never thought he'd go back to Jupiter Point, California, though, after the way he left town. But a chance to become the head of their new Hotshots team and prove his worth to the town that scorned him is something Sean has to do. What he wasn't counting on was falling for Evie McGraw, the town sweetheart. Aware of the secret she's been hiding for over a decade, he might just have the ability to help her overcome her fears. And to win a battle against the town bully who is out to destroy Evie's good name.
She scowled at him. "You're aggravating me again."
"Yes, I can tell. Your eyes are all lit up like a backyard bonfire. It's turning me on."
"Fires turn you on?"
"No. That's all you, sweetness."
Being a McGraw means putting family first and always doing the right thing. Evie was taught that from a young age. As a result, she's never left her hometown, staying to take care of her ailing mother and giving up on her dreams of traveling and a career in photography. But she also harbors a painful secret. One she hasn't shared with anyone except who was there that terrible night. Sean's return to Jupiter Point was a shock to Evie's drama-free world and she's not sure what it means for her. She's wildly attracted to the former bad boy and is proud of the man he's become. She wants to pursue their chemistry and see what happens. But is she cut out for a casual fling? Or will her heart want much, much more from her sexy Hotshot?
"I was told that chicks dig the bad boys."
"Yes, we do," she assured him. "We really do, especially when they're they kind that put out fires."
He looped his arms around her and brushed his mouth across hers, causing an instant riot of tingles. "I'm thinking more about starting one right now," he murmured against her lips.
Set the Night on Fire was a fantastic beginning to the newest scorching hot romance series by Jennifer Bernard. Yep…more firemen!! Sizzling chemistry and a shared secret created a bond between hottie firefighter Sean and Jupiter Point's own town sweetheart Evie that could not be denied, no matter how hard they tried.
'Every kiss from Evie seemed to change Sean's life.'
Jennifer Bernard is an author who knows how to write the perfect yummy alpha hero and a kickass modern heroine. I seriously can't say enough wonderful things about her character development or the ongoing story arcs she creates, keeping her readers' attention multiple books into any series she writes. And on top of it all, the dialogue in Bernard's stories is always, always quick, fun, and super smart & sexy. Sean and Evie were proof of that, along with all of the new hunky Hotshots we got to meet. I chuckled and sighed through the entirety of their journey and had a very difficult time deciding on just a few snippets of their lively (and steamy!) conversations to include here. 😉
Now I'm all about romances that feature 'bad boys with a golden heart'. And let me tell you. Sean? Yeah, he was every bit a former badass with an attitude who turned things around and was setting out to prove all the former naysayers, especially in Jupiter Point, just what he was made of. He had a pretty wild and crazy upbringing and getting a job with the Hotshots was what grounded him, giving him focus. I loved that. Sean was completely dedicated to his team and to helping save others from harm. And he didn't want fame or praise for it. He just wanted to do the right thing. How can you not respect a guy like that?
Evie was a really cool character. She was the town good girl who always did what was expected and never rocked the boat or caused a ruckus. Even when there was cause to do so. She put family first and was a terrific friend. But Evie hid a dark secret from her past that Sean was privy to and it made things a bit strained between them when he returned to town. Evie's evolution through the story was the most dramatic of all the characters. But it felt real. I loved that she chose Sean to help her get over her past and adored their bantering and the rapport they shared. It was so much fun watching her blossom and become her true self.
For readers who love stories where the bad boy gets the good girl, this will be the perfect read for you. I have no idea how Jennifer Bernard churns out one superb romance after another, but however she does it, I pray she doesn't stop anytime soon! Highly recommended.
Book Info:

Publication: September 28th 2016 | Jennifer Bernard | Jupiter Point #1
USA Today bestselling author Jennifer Bernard is back with a brand new series about the wild and sexy firefighters of Jupiter Point.
The town bad boy is back to clear his name
Firefighter Sean Marcus left Jupiter Point in disgrace, but now he's coming home to clear his name. As the man in charge of setting up the new Jupiter Point Hotshots wildfire crew, he's out to prove he's no longer the troubled boy who fled after a night of violence. He's back for one reason only–and it isn't to fall in love.
The town sweetheart has a secret
Evie McGraw has never spoken about that night. But she can't escape it, especially now that her brother's wild friend Sean is back. Rugged, sexy and irresistible, he's the only one who knows what happened. Evie put her life on hold to protect her family, but now, she has to make a choice. Keep silent…or put her heart on the line and let Sean help heal the past?