Best Friend Bride by Kat Cantrellis the first in her 'In Name Only' series and is a sexy, fun friends to lovers/marriage of convenience romance.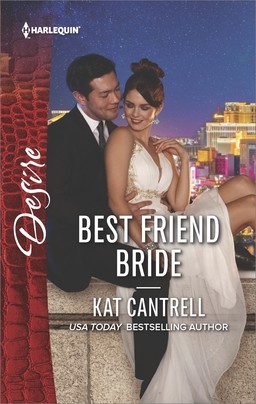 Jonas Kim's Korean heritage is one that fills him with pride but he knows that his grandfather's plan to marry him off to a friend's granddaughter to merge their two businesses is not in his family's best interests. Accordingly he comes up with a plan that will save the merger: if he marries quickly 'for love' he can save face, save his company and then quietly annul the marriage once the merger goes through. His best friend Viviana Dawson is his best bet, and she's a willing accomplice.
Viviana has had a secret crush on Jonas ever since he started coming into her cupcake shop. A friendship between them has stayed strictly platonic, with lunch dates and enjoyable conversations. When Jonas proposes the marriage of convenience, his offer of helping Viv expand her business in return for the few months of inconvenience means she'll get to spend more time with him, something she's definitely looking forward to. But Jonas soon discovers that being around Viv full time is making her hard to keep her in the 'friend only' category and it's easy for them to slip into a more intimate arrangement. Viv's not sure how long she can keep up the facade of not falling for Jonas – when he finds out the truth, will it be the end of their arrangement or the start of something more than just in name only?
What a fun and enjoyable read! I loved both the characters in this story. Viviana is a delightful, talented, friendly woman who puts her heart and soul into her baking, making some delicious concoctions. While she's dreamed of expanding her business, she soon discovers that she's more interested in showing Jonas what a perfect match they make as a married couple. She connects easily with Jonas's Korean family and they are quick to welcome her into the fold.
Jonas hadn't thought ahead to the consequences of what his marriage to Viv would mean to his family and friends. He's in a pact with two male friends to never fall in love, after a heartbreaking episode when they young men were in college and lost one of their pals. He's torn between his burgeoning feelings for Viv as they move from friends to lovers (in some very steamy scenes!) and the promises he made to his friends. Jonas comes across as a thoughtful man with a generous heart who is conflicted by his feelings for Viv, especially as he comes to realize that the marriage they have entered won't be ended so lightly. In the end, they both make the decisions necessary to get to their happy ending. I can't wait to read more of this series!
Book Info:

Publication: July 01, 2017 | Harlequin Desire | In Name Only #1
Bride at the altar…unbridled in the bedroom
Billionaire Jonas Kim only needs one thing to become CEO of his family's company: a smoothly executed business merger. And to get that, he needs a smoothly executed marriage of convenience. Enter Viviana Dawson, Jonas's best friend, who agrees to become a contract bride until the deal is sealed. Viv has crushed on Jonas forever but the stubborn tycoon can't see over the fortress he's constructed around his heart. Yet when fake marital bliss leads to unparalleled bedroom ecstasy, Viv declares war on the love-shy bachelor–and she won't settle for anything less than surrender!
Best Friend Bride is part of the In Name Only trilogy.