Royally Romanov by Teri Wilson: Finley is on the verge of (potentially) getting the promotion she's been dreaming of. She loves her job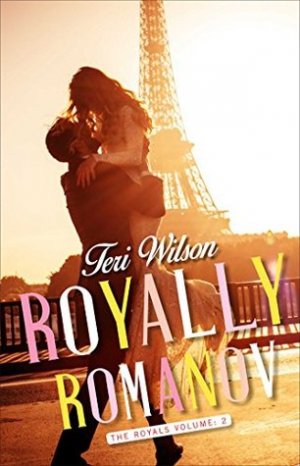 as an assistant curator at the Louvre. As an American living in Paris, it's a dream job to work at the famous museum and she is very much looking forward to the unveiling of her exhibit on the Romanov dynasty. She's become an expert in the Romanov family and just published a book on the famous family.
Maxim is left lost and confused after he was attacked in front of the Notre Dame Cathedral. He's lucky to be alive, but he also doesn't remember any part of his life. The only thing that feels familiar is his grandmother's apartment that he inherited. He doesn't remember his job, his friends, or anything about his attack.
Maxim is now on a quest to try to piece his life back together and figure out why he was attacked. A journal of research that claims he is none other than Grand Duchess Anastasia's grandson is the only clue he has. Finley has also been fascinated by the Romanov's, but most especially Anastasia. When Maxim approaches Finley for help, she's surprised that the sexy stranger is yet another in a long line of people claiming to be from the long-deceased family.
"You can drop the whole charming act. I'm not buying it anymore."
Anymore.
He stifled a grin. "It's not an act, I assure you. But it's nice to know you find me charming." Or she had. At some point.
Finley is surprised by Maxim's persistence that he's a Romanov. She's also surprised that this is the first guy to really catch her attention in years. Maxim has the power to destroy her career if his claim is true, but she can't help being drawn to him. Despite the risks, Finley is drawn into helping Maxim figure out whether or not he just be might royal. As Maxim and Finley get closer, the danger surrounding Maxim increases.
"Not completely right."
She shrugged. "Right enough. Shall we go in?"
His brows rose. "We?"
"We've already established that you need me here. What are we waiting for?"
Royally Romanov is a delightful spin on the classic tale. Teri Wilson created a good dynamic between the characters as they navigate a mysterious past. Ms. Wilson provided good character development with some suspense and drama. Royally Romanov can very easily be read as a standalone book in the Royals series. Fans of Kelly Jamieson and Jessica Peterson will enjoy Royally Romanov.
Book Info:

Publication: Expected publication: July 17th 2017 | Pocket Star | The Royals #2
In this charming modern day retelling of the 1956 classic Anastasia, a museum curator falls for a mysterious man who may or may not be a long lost heir to Russia's imperial Romanov dynasty.
Finley Abbot is organizing the most prestigious art exhibit of her career at the Louvre museum—a retrospective of art from the House of Romanov. But the sudden appearance of Maxim Romanov threatens to turn her into the biggest laughingstock of the art world. When she finds herself falling in love, she realizes there's even more at stake than her career. How can she trust a man with her whole world when he can't remember a thing about his past?
After suffering a violent blow to the head, Maxim's only clue to his identity is a notebook containing carefully researched documentation in his own handwriting indicating that he is the sole surviving descendant of the Grand Duchess Anastasia, previously thought dead in the murder of her family during Russia's Bolshevik revolution. His struggle to put the mysterious pieces of his past back together leads him to Finley. At first, she's convinced Maxim is nothing but a con artist. But there's something undeniably captivating about the beautiful, brooding man who claims to be searching for his identity—something Finley can't quite bring herself to resist. When he reveals a secret about one of the imperial Fabergé eggs in the collection, she accepts he may actually be telling the truth. But as soon as Finley and Maxim act on their feelings for one another, Maxim is confronted with evidence that calls into question everything he's begun to believe about himself.