Bidding on Her Boss by Rachel Bailey: Life isn't all about flowers and sunshine.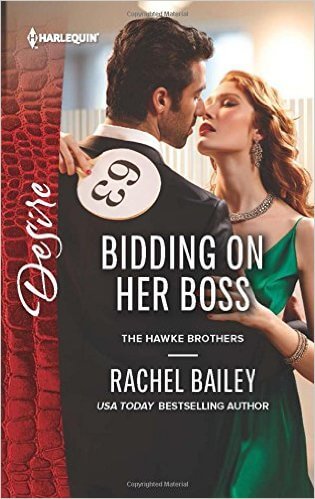 However when you are a florist you might be a little more involved in them.
Faith Crawford knew one thing from her childhood. Love is great, but fleeting and only lasts until the next thing comes along. She was never good enough to be loved enough to have anyone stay. At least that was what she thought. So she learned to rely on herself and on her career to make her happy.
Dylan Hawke had a loving family, who tolerated his ways easily enough. Until he realized he needed to change his image so he decided to help by entering a charity auction for his family's new charity. Then things got complicated, again. Would he ever learn?
When Faith purchased Dylan at the charity auction she really did just want to talk about work. Then something happened when they really looked at one another and it was clear that there was more in the room. However he was her big boss and she loved her job and her career, could they ever even think that more could happen? Or would they just need to ignore the elephant of lust in the room?
WOW! First let me say thank you Ms. Bailey for providing her readers with another amazing Hawke brother. This is the third in what looks to be a trilogy, though it can stand on it's own, but believe me with Ms. Bailey's writing style you will want to pick up the first and then be frustrated as we await the last. Ms. Bailey has a way of writing as if you are there experiencing these emotions and having these feelings right along with the characters. With enough details to keep you with the big picture it never feels like you are bogged down by anything. The plot is steady to quick depending on where you are in the novel and without saying anything more do yourself a favor and go pick this one up.

Book Info:

Published September 1st 2015 | Harlequin Desire | The Hawke Brothers, Book 2
What happens when an ambitious employee buys her boss at a bachelor auction? Find out in this story from USA TODAY bestselling author Rachel Bailey!
Florist Faith Crawford has a brilliant plan–win her company's CEO at a bachelor auction and use their "date" to show him her designs. But her plan backfires when the focus of their meeting shifts from flowers to a floor-tilting kiss.
For Dylan Hawke, it's time for damage control. Promoting the talented Faith is a no-brainer, but fraternizing with her is strictly forbidden. Dylan must remain professional–the fate of his business rests in the balance. Too bad Dylan won't rest until he gets another kiss…