In Only a Kiss (The Survivors' Club #6)by Mary Balogh, Lady Imogen Barclay has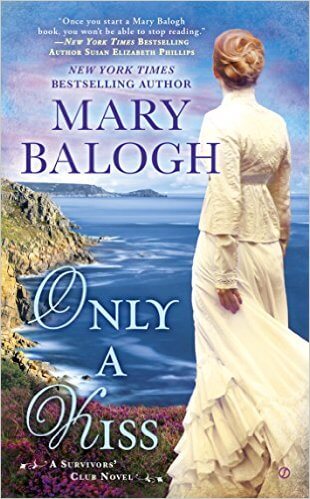 spent the last eight years dealing with the death of her husband after they had been captured by the French. Since their home in Cornwall was inherited by Percival Hayes two years ago after her father-in-law's passing, she has not heard a word from the earl. But now he has just arrived and they are already at odds. Imogen only wants her sanctuary back but the earl is slowly wearing down her defenses and showing her it is alright to finally live, and love, again.
"Good night, Lord Hardford. And if you ever try to kiss me again, I will reply with my fist rather than my open hand."
He grinned at her. "A tactical error, Lady Barclay," he said. "One never forewarns an adversary. To forewarn is to forearm."
The Earl of Hardford had no idea what kind of shape Hardford Hall would be in when he drunkenly decided to pay a visit. He was a bit shocked to find Imogen and two other women in residence there along with a small staff. Percy immediately is aware of Imogen's iciness towards him, making him wonder what happened to her. His supposed short-lived visit to Cornwall turns into a longer stay as he becomes determined to both win her affection and become a man worthy of such a treasure.
"You want me as a friend, Lord Hardford?" she said. "Someone not of your old world? Someone who does not adore you and fawn upon you?"
"I want you as a lover," he told her. "But failing that, friendship will do."
Only a Kiss had me torn up emotionally in a way that only writer Mary Balogh can do. She expertly crafted a story that not only brought me to tears for Imogen's tortured past, but she also brought about tears of joy over such a sweet, tender romance.
"Give me a chance. Let me love you. Let yourself love me. I will give you time if you need it. Just give me hope. If you can."
My emotions were up and down continuously with this book, but it was in a good way. Mary Balogh writes such perfectly detailed scenes that it felt like I was right there with the characters, feeling the effects of what they were going through. Some of the passages were pretty dark, especially when Imogen explained her husband's torture at the hands of the French, while others were comical, like Percy and his little shadow, Hector the dog. I loved that balance in the writing and I think that's what really draws me into Ms. Balogh's stories.
I started off unsure of our hero and heroine. I didn't think I would connect with a man who came across so vain and rather shallow, or with a woman who closed off her emotions that tightly. But I grew to love both Percy and Imogen for their true selves. Percy ended up being a wonderfully dry witted, highly intelligent man with a great (again, very dry) sense of humor, who was almost poetic in conversations. He also matured tremendously by the end of the story. And Percy's belief in Imogen, of helping her truly live her life, was so romantic it could make a person swoon.
Imogen, well, my heart went out to her over the loss of her husband and what she went through. She was an absolutely tortured soul who didn't feel like she deserved to carry on, but still she put one foot in front of the other. I thought Imogen had an innate strength that was admirable, which was easy for others to see as well. She didn't want to feel anything for the dashing earl and fought it with all her might, so I loved how he was able to bring her out of her shell. It was interesting to watch them evolve from bickering to being so evenly matched and having a warm, amiable relationship. Loved that!
This historical romance is sure to become a classic. With an emotionally closed off heroine, a hero in need of self-discovery, and a large lovable secondary cast (including a menagerie of stray pets), there is something in Only a Kiss for everyone.
Book Info:

Published September 1st 2015 | by Signet | The Survivors' Club #6
The Survivors' Club: Six men and one woman, injured in the Napoleonic Wars, their friendships forged in steel and loyalty. But for one, her trials are not over….
Since witnessing the death of her husband during the wars, Imogen, Lady Barclay, has secluded herself in the confines of Hardford Hall, their home in Cornwall. The new owner has failed to take up his inheritance, and Imogen desperately hopes he will never come to disturb her fragile peace.
Percival Hayes, Earl of Hardford, has no interest in the wilds of Cornwall, but when he impulsively decides to pay a visit to his estate there, he is shocked to discover that it is not the ruined heap he had expected. He is equally shocked to find the beautiful widow of his predecessor's son living there.
Soon Imogen awakens in Percy a passion he has never thought himself capable of feeling. But can he save her from her misery and reawaken her soul? And what will it mean for him if he succeeds?