In Big Vamp on Campus (Half-Moon Hollow #5.5) by Molly Harper, Now that Ophelia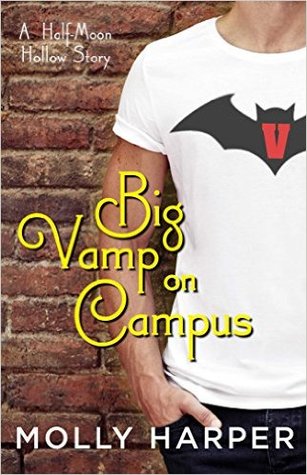 Lambert finds herself on the Council's naughty list, she's been banished to the University of Kentucky to live in the dorms and take classes like a good little teenager. Even though she's over four-hundred-years-old. One plus is that her boyfriend Jamie is a student here as well, although they never seem to cross paths lately. The downside is sharing a room with vamp Brianna who has no sense of boundaries.
'I was Ophelia freaking Lambert. I was the Terror of Amsterdam and the inspiration for the Hall and Oates song "Maneater." And I was going to stop feeling sorry for myself.'
Ophelia is used to knowing her place in the world and using whatever means necessary to get what she wants. Trying to be nice to others, humans and vamps alike, is enough to make her want to break something. She knows she needs to be on her best behavior or suffer further consequences from the Council. Ophelia's not sure he has it in her to play nice with the little humans and vamps on campus and actually pick a course of studies. Between that and finding some quality time with Jamie she will definitely have her hands full.
'This kiss. It was why I risked all that I had to be with him. This feeling of peace and completion and acceptance.'
Finally!!! Fans of the Half-Moon Hollow series have been asking for more about Ophelia and Jamie's unlikely match-up. And just like she did by accommodating us with Dick and Andrea's story in Fangs For The Memories, Molly Harper has delivered a novella sharing details about vampiress Ophelia and her boy toy. I mean, boyfriend. 😉
Oh, what fun I had with this novella. Okay, so it was quite short at just under a hundred pages and didn't really break any new ground. This was more of a little nibble of a story to carry fans through to the next full-length book, Where the Wild Things Bite. But I still had fun seeing how Ophelia was acclimating to college life since her fall from grace.
Through all of Molly Harper's Half-Moon Hollow novels, Ophelia has probably been the one character that most fans love to hate. Between her obsession with all things Hello Kitty and her frightening disregard for remorse or guilt, she's been a force to be reckoned with. Especially while she sat on the Council. So seeing Ophelia taken down a peg or two and forced to interact with humans and vamps in a social setting was oddly satisfying. Even if I did fear for the lives of her unsuspecting fellow students at U of K.
Somehow over the course of her short story I actually came to like Ophelia. It was nice to get a glimpse into her thoughts, albeit they were scary a time or two, but I could see after what she had endured over the last four hundred centuries why she would have an attitude. Plus her sarcastic comments about Jane and her dealings with roommate Brianna just made me laugh. What I think I enjoyed most learning about Ophelia was how deeply she loved both her beloved little sister Georgie and of course Jamie. She loved them fiercely and would do anything to keep them safe. They would do the same for her, as well as try to keep her in check. One of those moments was when Ophelia had, let's say, an "altercation" with Brianna and Jamie sent her this hilarious text, which is classic Molly Harper comedy:
Jamie: Did you or did you not try to strangle your roommate with her own spleen?
Me: No, silly.
Jamie: Ophelia.
Me: I just broke a FEW of her ribs.
Jamie: THIS IS NOT HOW YOU MAKE FRIENDS!
Snarky, sarcastic and surprisingly sweet, Big Vamp on Campus was just enough of a story to bridge the gap between full-length novels in the Half-Moon Hollow series. I can now say I (tentatively) actually like Ophelia and am rooting for her and Jamie 100%. For now.
Book Info:

Published June 6th 2016 | Pocket Star | Half-Moon Hollow #5.5
You've asked for years when Ophelia and Jamie would get their own story and now it's here! How will Ophelia adjust to living in a dorm room now that she has been banished from the Council and forced to matriculate at college with Jamie? Communal showers! Horrible, pretentious roommates! Humans who try to be FRIENDS! The horror!