In Awakened by the Wolf (HQN) by Kristal Hollis, exiled wolf Brice Walker sneaks into his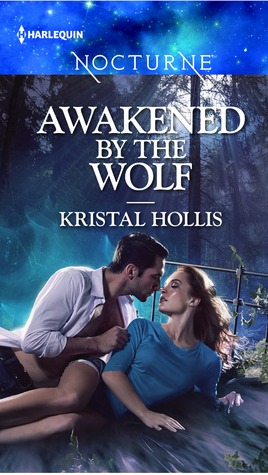 old territory to visit his grandmother. Entering his old room, he doesn't expect to be attacked by a woman sleeping in his bed, in his shirt. After meeting Brice in a hospital when she was younger, Cassie had always felt a connection to him, but, being human, she didn't understand the mate bond. Brice recognizes that Cassie might be his true mate and does his best to win her over, all while introducing her to the wolf culture. But when she sees how violent their justice could be at times, will she stick around?
I felt for Brice. He thought his father had exiled him after the death of his brother, but his grandmother tries to get him to speak to his father to get the truth. He's essentially a pawn between packs, being used by people who were supposed to care about him, especially his uncle. He also blames himself for his brother's death, and believes that the rest of the pack feels the same way. The only person he feels he can receive comfort and support from is Cassie, who struggles with her feelings for Brice. He wants to help her out, but she refuses to accept any type of help. She feels the she needs to be independent and that by leaning on him she'll lose that. At times her stubbornness was a bit frustrating.
I had mixed feelings about Brice's parents. His father puts down an ultimatum that he needs to find a mate by December, which puts a bigger wedge in their relationship. Then when they realize that Brice believes Cassie is his true mate, they don't find her acceptable mate material, yet she is acceptable enough to be an employee at their resort. At times, it felt like they didn't respect Brice or his feelings.
Awakened By The Wolf was a great beginning to the The Wahyas of Walker's Run series, and I'm looking forward to reading future books in the series. If you enjoy paranormal stories, especially ones about werewolves (in this case known as wahyas), then you might want to check this one out.

Book Info:

Publication: June 1, 2016 | Harlequin Nocturne | The Wahyas of Walker's Run #1
Exiled from his pack by his father, Brice Walker has secretly come home to visit his ailing grandmother only to discover a human and very desirable female sleeping in his bed. Their attraction is instant. But his new bed buddy seems determined to resist his Southern charm and Alpha allure.
For Brice, fiercely independent Cassie not only represents a chance to build a new life in Walker's Run but is also his one true mate. Cassie's reluctance dissolves when a rogue shifter kidnaps her, and now she and Brice must work together to save his pack. But once she witnesses the savagery of wolfan justice, can Cassie accept Brice as man, beast and her true love?