Bound by a Child by Katherine Garbera: The Feud between the McKinneys and the Chandlers goes back a couple of generations, but the current one is holding the grudge firm. So much so that when their gaming companies merge, the cuts are coming hard and fast – and Jessi Chandler is at the top of the cut list. Usually Allan McKinney wouldn't care – in fact, he'd be delighted. He and Jessi are like oil and water. Well, except for that kiss…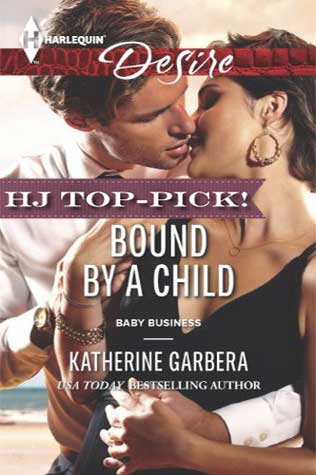 Then the news comes – John and Patti are suddenly taken from them, but their baby survives. With Allan and Jessi named co-guardians, they'll have to find a way to deal with the situation for the rest of their lives. Because ultimately, neither of them will abandon their best friends' child.
They can't deny bonding over the pain of losing people so close, and there's something there too – something they see in each other, an integrity to live up to John and Patti's memories – it's so hard to dislike that trait in each other. And still, there's that kiss…
Ironically it was John that urged Allan to talk to Jessi in the first place. It was at his wedding to Patti that he told Allan how the Chandler family weren't the bad guys anymore. And if he was going to have to co-exist with her, perhaps it was time to do a little soul-searching. And hey, if they can scratch an itch or two – how bad can that be?
I simply LOVED this book. So many layers to the story – the parallel between the literal and figurative storms, the way the couple were described as being atypically pretty, but growing to become gorgeous in each other's eyes. (I'm assuming they started out more than fine btw). I also adored that Jessi was kind of a geek girl, but also had a softer side, and Allan snuck some reading in that made her see red.
Hotness factor = middling to high, intensity = sometimes tense, kleenex warning = definitely high, funny nicknames = one, conclusion = READ IT! 😉
Book Info:

Published February 1st 2014 by Harlequin Desire
Cocky businessman Allan McKinney has always gotten on Jessi Chandler's nerves—especially now that he's taking over her family's company. But when tragedy strikes, and they become coguardians of their best friends' child, Allan shows Jessi his sensitive side, going from unbearable to irresistible just like that.
For Allan, it's getting harder to keep his eye on the bottom line when his head is turned by Jessi. Now a storm is brewing that threatens to blow away their fragile bond. Will Allan and Jessi let their very personal merger slip through their fingers?