Burn for You by J.T. Geissinger is one of the best books I've read this year, and I've read some pretty wonderful books. The dialogue, the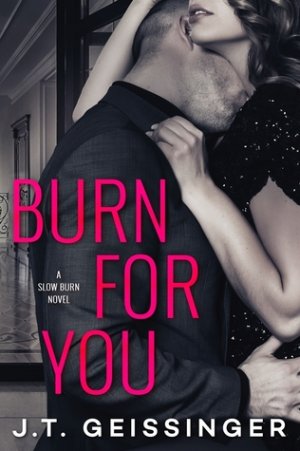 depth of the characters, the setting…everything about this book impressed me!
Bianca Hardwick is the owner of the hottest new restaurant in the French Quarter. She created her menu based on the Boudreaux bourbon and it's doing very well. She has an eye for detail, is great with people, and extremely talented when it comes to the kitchen.
Jackson Boudreaux is known as "the Beast" in Louisiana. He's the heir to the world's number one best-selling bourbon empire. He can make grown men quiver in fear, but when he throws his attitude at Bianca…let's just say he's met his match. This woman doesn't back down and she doesn't play! Their first interaction together was a hoot.
Both find each other irritating in the beginning, but there is a burning attraction between them that is sizzling just waiting to be acknowledged. Of course, it's not just that easy. Bianca and Jackson both have exes that have done them wrong and it's easy to see why it takes them a bit to admit what they feel for each other.
The dialogue was on point! I need Bianca as a best friend, seriously! The secondary characters were fabulous and kept me laughing throughout the funny parts. Bianca kept a smile on face with her strength, but Jackson, he touched my heart. His life hasn't been the easiest despite the millions in his bank account. He is a very complex character and more than once, I wanted to reach through the pages and give him a hug!
If you only buy one more book this year, let it be Burn for You. You will not be disappointed.

Book Info:


Publication: October 17th 2017 | Montlake Romance | Slow Burn #1
The marriage is fake. But for a sassy chef and an arrogant billionaire, the sparks are real…
Jackson "The Beast" Boudreaux is rich, gorgeous, and unbelievably rude to the staff at Chef Bianca Hardwick's New Orleans restaurant. Bianca would sooner douse herself in hot sauce than cook for Jackson again, but when he asks her to cater his fund-raiser, Bianca can't refuse, knowing the cash will help pay her mother's medical bills. Then Jackson makes another outrageous request: Marry me. The unconventional offer includes an enormous sum—money Bianca desperately needs, even if it does come with a contract—and a stunning ring.
The heir to a family bourbon dynasty, Jackson knows the rumors swirling around him. The truth is even darker. Still, he needs a wife to secure his inheritance, and free-spirited, sassy Bianca would play the part beautifully. Soon, though, their simple business deal evolves into an emotional intimacy he's built walls to avoid.
As the passion heats up between them, Bianca and Jackson struggle to define which feelings are real and which are for show. Is falling for your fake fiancé the best happy ending…or a recipe for disaster?