In Merry and Bright by Debbie Macomber, Merry Knight's year long temp job is quickly coming to a close and she has mixed feelings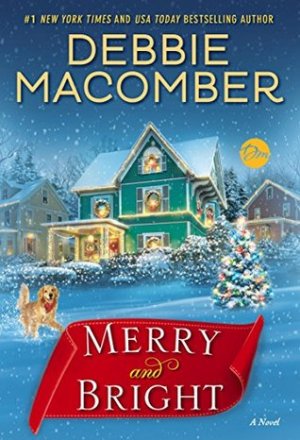 about that. While she loves her coworkers and the data work she's been a part of, it will be nice to finish her college degree and move on in her life. Oh, and then there's her grumpy boss Jayson Bright. He might be as handsome as they get but his attitude needs some adjusting. Not that Merry would ever tell him that, considering they butt heads at every turn in the office already. Even her attempt to bring holiday cheer to her coworkers by decorating their space was shot down by Scrooge himself, Jayson. She lets it go and instead concentrates on finishing her job on a good note while also preparing for the impending hectic Christmas festivities with her family.
'Wonder what that means that we're both home on a Friday night?' he wrote.
'It says a lot, doesn't it?' Merry typed.
'Thing is, I wouldn't want to be anyplace else than right here, right now, chatting with you.'
'Are you sweet-talking me?'
'And if I was?'
'Then keep talking.'
Merry soon gets an early Christmas gift in the form of an online dating profile set up by her mother and well-meaning brother. Yikes. They were only trying to help but it makes her nervous to think who will try to contact her. With no actual picture of herself on her profile, some of the responses are as crazy as she thought they'd be. But when she connects with someone named Jay–who also has no picture on his profile–Merry finds chatting with him online is the best part of her day. Things change dramatically when they agree to meet and she realizes she already knows Jay. She has trouble reconciling the man she met online with the man she's dealt with in real life and before long, Merry is going to have to make a choice how she will tell the truth to Jay, knowing there will be consequences she'll have to face.
"You're the woman I want, Merry, and you're beautiful, both inside and out… You mean the world to me… You are the most amazing woman I've ever known."
Merry and Bright was a holiday romance with a completely engaging storyline and endearing characters, plus the added bonus of being filled with the warmth and spirit of the Season.
"Christmas is a condition of the heart," she continued… "It's being open and sincere, generous and kind to those with less, or showing our love to those we cherish."
Like so many readers out there, Debbie Macomber is one of my go-to authors. She never fails to charm me with her quirky but realistic characters and the positive messages she shares with her uplifting tales. This particular story showed many of the cast facing adversity, whether it was in a family relationship (Jayson), struggling to make ends meet (Merry) or even through health issues (Merry's mom and brother). And I love that while each person dealt with things in their own way, they didn't necessarily dwell on the issues and instead found a way to persevere and even thrive. That incredible human spirit was such a fantastic thing to see and I feel like it's something Macomber excels at presenting in her books.
The romance between Merry and Jayson was a tad complicated but had a lot of fun elements to it. There was a bit of office romance, some online connections between them, and just a ton of sweetness and cute moments. Without giving too much away, let's say there was some confusion as to who they were to each other when they met online–even the dating site name was festive: Mix & Mingle–and you could see the train wreck ahead with how Merry handled things. But she had her reasons. The biggest of them being how Jayson was kind of a combination of Scrooge and the Grinch when he was at work. Not so much outside the office, thankfully, so I really did end up liking him. Merry herself was super responsible and spread herself a bit thin between home, work, and saving up to finish college. Although they definitely did make a nice couple when it was all worked out between them.
I do have to say, though, that Merry's brother Patrick was an absolute gem and the highlight of this book for me. You'll find out what his personal challenge was when you read the story, but I couldn't help smiling at his joy in the season and in his love for his family. Patrick defended Merry towards the end of the book (verbally) and it was seriously one of the sweetest moments throughout. Sigh…
I don't think anyone's Christmas reading list would be complete without a Debbie Macomber book on it and I have a feeling this one will become a fan favorite very quickly.

Book Info:

Publication: Published October 3rd 2017 | Ballantine Books |
Merry Knight is pretty busy these days. She's taking care of her family, baking cookies, decorating for the holidays, and hoping to stay out of the crosshairs of her stressed and by-the-book boss at the consulting firm where she temps. Her own social life is the last thing she has in mind, much less a man. Without her knowledge, Merry's well-meaning mom and brother create an online dating profile for her—minus her photo—and the matches start rolling in. Initially, Merry is incredulous, but she reluctantly decides to give it a whirl.
Soon Merry finds herself chatting with a charming stranger, a man with similar interests and an unmistakably kind soul. Their online exchanges become the brightest part of her day. But meeting face-to-face is altogether different, and her special friend is the last person Merry expects—or desires. Still, sometimes hearts can see what our eyes cannot. In this satisfying seasonal tale, unanticipated love is only a click away.