In Caged in Winter by Brighton Walsh, College student Winter Jacobson is counting down the days until graduation. When she will be free to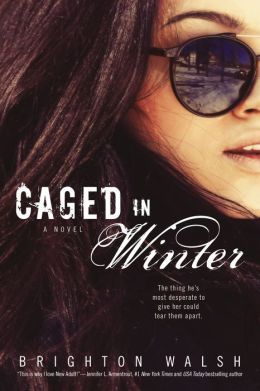 finally look for a job she enjoys, instead of waitressing at a bar with seedy customers hitting on her. Winter is used to being on her own and handling the tough situations life throws at her alone. So when a muscle-bound, sexy guy steps in to thwart the unwanted advances of a drunk patron, she's stunned and, quite honestly, mad. Winter can see the tip she's worked hard for all night going out the window. After taking her frustrations out on sexy guy verbally, she stalks away. But he reappears outside the bar night after night to ensure she's safe. Winter's defenses are slowly being worn down by Cade, even though she knows she shouldn't trust him. Her instincts are telling her he really is the good guy he seems to be, but can she go out on a limb without getting hurt?
'I feel like he can see every bit of me, every ugly, unlovable part of me I've tried for years to hide away. He sees me. And he wants me anyway.'
Life has thrown a few curve balls Cade Maxwell's way over the past few years but he and his sister Tessa are doing pretty well. He's about to graduate from college and enter the restaurant field as a chef which is requiring all of his focus. The last thing Cade has time for is dating. But when he sees Winter getting manhandled on the job, he has to step in and do something about it. Now he can't get her fiery expression out of his mind while at the same time worrying about her safety there at the bar. As Cade begins to pursue Winter, he has no idea how far and how fast he will fall for her. All he knows is that he can't stay away from her and will do anything to make her his.
"Why is it so hard for you to let me be there for you?" I don't even realize how badly I want her answer until I ask the question. I want her to open up to me, even just a little.
Caged In Winter is a superb example of how a New Adult novel should be written. Major kudos to author Brighton Walsh for giving us such a perfectly wonderful love story.
'Love has only ever ended in ruins for me.'
Now, I'm going to try not to gush too much about how great the characters are and how seamlessly the plot was put together. But it will be difficult! Let me start off by saying that I appreciate the fact that neither Cade nor Winter were abusive–physically or even emotionally–toward each other as seems to be the growing trend in this genre. Was there angst? Yep. Was there drama? Sure was. But it wasn't overdone or presented in a destructive manner. And for that I am thankful.
I thought it was interesting how Cade and Winter both had traumatic pasts but dealt with it quite differently. Cade became the super-protective big brother who put everyone's needs before his own. As Winter and his sister Tessa would say, he tried to be a knight in shining armor rescuing them. Winter, however, only relied on herself and shut everyone else out. Not that I blamed her at all, given her childhood. I loved that these two equally strong people came together and could (eventually) find that they were even more powerful as a team. They respected each other's boundaries and, even though it was difficult, gave one another room to be who they needed to be in order to move forward.
As for the individual characters themselves? Well, not only is Cade one of my favorite new book boyfriends, but Winter is now one of my favorite gutsy, tell-it-like-it-is heroines as well. I mean, how can you not like a huge muscled mammoth-sized guy who is a budding chef (how sexy is that?) but who melts as the sight of a special three year old little girl? *sigh* And the scene where Winter meets Cade for the first time and gets right up in his face, telling him off…even though he's a foot taller than her…made me want to hang out with Winter and see what she'd say next. 😉
If you enjoy New Adult romance, I think you'll love this one. I can't wait for Tessa and Jason's story up next in book two, Tessa Ever After.
Book Info:

Published November 4th 2014 by Berkley Books
In this emotional and sexy New Adult debut from Brighton Walsh, the only thing more frightening than commitment is hope……
Aspiring chef Cade Maxwell is immediately, viscerally attracted to Winter Jacobson. But it's not her mouthwatering curves he's drawn to—it's the strange emptiness in her eyes. When Cade saves her from a drunken customer with grabby hands, he's shocked at her response……
Winter doesn't need Cade's help. After a lifetime of getting by on her own, she's happy to rely on herself. She's exactly seventy-six days away from graduating college, and if she can hold it together that long, she'll finally be able to rise above the crappy hand she was dealt.
But now, every time she turns around, Cade is there, ready to push her, smile at her, distract her from her plans. Winter knows she can't afford to open up—especially to a man she's terrified to actually want….