In Can't Help Falling in Love by Cheryl Harper, Randa Whitmore has been sent to the Rock'n'Rolla hotel in Memphis as an undercover spy by her father. Her job is to scope out how much money and time it will take to turn it into a Whitmore Hotel so they can buy the building out from under the current owner. Randa's not sure what to expect from the *ahem* unique hotel and it's staff, but she sure wasn't ready to meet Tony Ortega.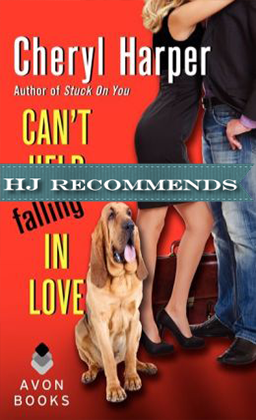 One look at the dangerously sexy manager and Randa is tongue-tied. She tries to play it cool, sticking to her cover story as a fan in town for Elvis week, but she's not sure Tony's buying it. At every turn, he's suspicious of her, yet she sees a trace of attraction in his eyes as well. She's used to manipulating in the business world, but is it really the best way to get the information she needs about the Rock'n'Rolla? As she gets to know Tony and the staff better Randa is at a loss for the first time in her professional life as to how she should proceed. What Randa first thinks is a tacky salute to Elvis turns out to be a welcoming place to make friends and learn who she really is.
'She was just walking a fine line between getting what she wanted, which was a tour of the hotel, and ignoring the other thing she wanted, which was Tony naked.'
Tony Ortega hasn't had the easiest of lives, but you'll never find him complaining. He did his time in the Marines and has since found a home at the Rock'n'Rolla hotel. He enjoys working as the manager/head of security and feels like he's in a good place in his life right now. He wasn't looking for a woman to walk into his life, but that's what happened as soon as Randa strutted into his lobby. The fact that the long-legged blonde stopped to talk adoringly to Misty the Bloodhound cinched the deal for him. Unfortunately she is lying about her reason for staying at the hotel. And Tony can't stand liars. So he sets out to solve the mystery behind Randa's intentions. Without falling for her, that is. Because even though he has reason to distrust her, his attraction to her proves to be even stronger.
'He was probably going to spend too much time replaying her strut across the lobby in his mind. If there'd been a wind machine and Def Leppard playing in the background, she'd have been his every teenage fantasy come to life.'
Can't Help Falling in Love is a really fun story full of charming characters. Cheryl Harper uses a lot of humor in her writing, and it's especially evident in Randa and Tony's internal monologues, which got quite a few chuckles out of me. She's a quotable author who also writes with a very clever, descriptive prose that is easy to read. One of my favorite examples of this is: 'The smile that lit her face was like the sun peeking over the horizon. It started slow but by the time it rose completely it was blinding.' I was impressed with the intensity of the feelings she created between the characters and that she could convey it seemingly so easily.
It was harder for me to connect with Randa's lifestyle than Tony's where she came from a life of luxury and he came from basically nothing. However, it was very easy to relate to Randa's struggle to prove herself to her parents and figure out exactly what she wants to do with her life. I think it's something all of us have struggled with at some point. In that respect, it seems like Tony was the perfect balance for Randa. He worked very hard and was dealt a lot of hardships before he made his way to Memphis, so he understands her problem.
I definitely recommend checking out this contemporary romance. If for nothing else, read it for the charming hardcore Elvis fans, kooky decor and Misty the Bloodhound. I guarantee you'll fall in love with Randa and Tony while you're at it, just like I did.
Book Info:

Published August 20th 2013 by Avon Impulse
The staff of Cheryl Harper's Elvis-themed Rock'n'Rolla Hotel are back with a funny, fresh romance that goes undercover—under the covers!
As a former Marine, hotel manager Tony Ortega has plenty of experience assessing threats, and the hotel's newest guest, Randa Whitmore, is a code red. Tall, blonde, and with legs for miles, she may look like his every fantasy, but he knows she's not really visiting for the famed Elvis Week. Though dangerously drawn to his new guest, Tony will do anything to protect his job . . . especially if it means sleeping with the enemy.
Business strategist Randa Whitmore never meant to be undercover in Memphis. In August. Sweating her expensive spa treatments away. But snagging another perfect hotel location for her father's empire means using all the tricks in her designer arsenal. And even though the sexy, tattooed manager seems oblivious to her charms, Randa's prepared to bring out the big guns—just so long as she can stay objective and out of Tony's muscled arms. After all, it's just business, right?