Greek for Beginners by Jackie Braun: Curvy automobile fact checker and future writer Darcie Hayes is creating a new life for herself. After being unhappily engaged for six years, she finally comes to her senses and cancels her wedding a week before the actual "I do" date. Darcie needs some time away to reevaluate, refresh and revitalize, so she agrees to give her ex-fiance their shared condo and finicky cat in exchange for their two week, prepaid honeymoon to Greece.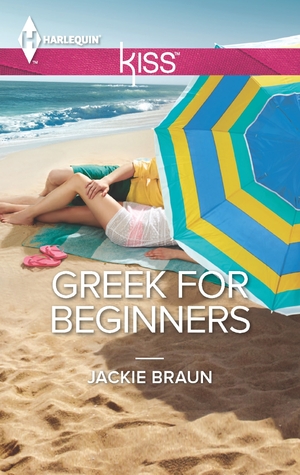 To Darcie's dismay, there is no one waiting for her upon her arrival into Athens from Zeus Tours. Furthermore, she discovers that Zeus Tours is practically bankrupt and her tour is worth peanuts. Needless to say, she strategizes about how long she can stay in Greece with the money she has available. To make matters even worse, the airline lost the one piece of luggage that contained all the new, fun clothes for her trip, now she is stuck with some well worn shorts and tees. What a time Darcie is having!
Greek Adonis Nick Costas notices Darcie the minute she arrives at the airport. Nick is a chivalrous man and takes it upon himself to help Darcie. He befriends her and takes her to a decent hotel. Darcie is guarded about trusting a stranger, but their is something about Nick that makes her heart race, plus she is desperate. Nick is a very successful classic car collector and reseller and travels for business extensively. He is a native Grecian, but lives in New York City. His entire family lives in Greece, so he visits very often.
Due to Darcie's circumstances and the fact that Nick likes her, he offers to be her tour guide, which Darcie semi-reluctantly agrees too. Naturally as they spend time together, they learn about each others' lives; the good, the bad and the ugly. Feelings are beginning to develop and a couple of magical kisses cause Darcie to gain some confidence and Nick to rethink his single status. Darcie helps Nick come to terms with the marriage of his younger brother Pieter and his ex-girlfriend Selene, while Nick assists Darcie with her writing career. Darcie and Nick seem to be perfect for each other.
They both avoid talking about the possibility of a future together until the very last minute. Darcie and Nick decide to give each other six months of freedom before making any kind of commitment to each other. They agree to meet on the first Saturday of the new year at Tidwell's, a well known auction house in Brooklyn, New York. Their kiss goodbye is hot and memorable. So, Darcie returns to Buffalo to tidy up some lose ends and Nick returns to NYC, engrossing himself in his work. Six months is a long time to wait when you are in love, luckily, patience is a virtue.
I enjoyed this book. The two main characters were interesting and fun to read about. The secondary characters added a lot the storyline and were well developed. I also liked learning about the history of Greece through Darcie's eyes. If you are looking for a sweet romance with some adventure, give Greek for Beginners a read.
Book Info:

Published August 20th 2013 by Harlequin KISS
Alpha, beta, gamma, delta.
That's just about the extent of Darcie Hayes's Greek before she touches down in Athens, ready to put her troubles behind her and indulge in a little sun, sea, sightseeing and flirtation! But when Nick Costas, modern-day Adonis, saves her from a con man, she begins to think there might be more to Greece than meets the eye.
Nick is perfectly happy with his single status, but meeting Darcie makes him wonder if falling in love really would be the worst thing in the world. Is Nick actually considering pushing this thing with Darcie past the Beginners' stage and on to Advanced?