In Falling for the Backup by Toni Aleo, we get to see former superstar goalie of the Assassins, Jordan Ryan trying to get back in the game. He was out for over a year due to an injury, but now that he is back he is only the backup and no longer the start goalie, which is driving him insane. So he decides to start looking at other options with other teams. One of his stops is in Boston, but after a not so good meeting he is on an airplane back to Nashville.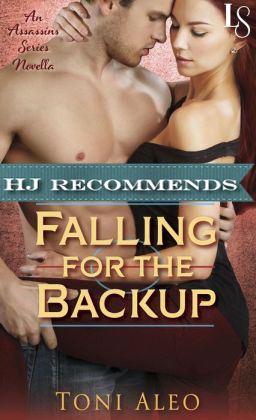 Aynslee Shaw has had the worst day ever. First she has to be bridesmaid in her niece's wedding, with everyone asking why is still not married or dating, then she gets a call from her landowner about a problem in the house and she needs to return immediately, but not only that, right before she is to leave, her kleptomaniac aunt Fern has taken her suitcase by "mistake". Now she is on an airplane bound home to Nashville dressed in an ugly pink dress and some hooker heels her niece insisted on.
Jordan used to be a very smooth guy with the ladies, but after his accident and then his girlfriend left him soon after he lost his main position on the team and lost much of his confidence. Now as he sees the woman who is to seat next to him he wishes that he could be as confident as he used to be before and not the shy man that he has become. But as they strike a conversation an accidental move from him ends up spilling her Starbucks coffee on her lap. And as much as they have a good conversation and the attraction and chemistry is mutual he ends up running away from her as soon as they step outside the airport doors.
But this won't be their only accidental meeting . It will be up to Aynslee to take the initiative and do something if they are to have more than just accidental meetings. Although, that will not be the biggest challenge they face, for if Jordan gets a contract with another team he will be moving soon and that will put whatever relationship they can have on strain.
Another great book by Toni Aleo's the Assassins series. It may be a short novella, but I loved that it had the same feeling, deep love and hard work that all others have had in order for the main characters to get their HEA, and like always, it was all worth it. Don't miss this book if you want some laughs and a deeply emotional short and fast read.
Book Info:

 June 24th 2013 by Loveswept – Random House
After serving as a dutiful bridesmaid in the wedding from hell, Aynslee Shaw just wants to slink home to Nashville and forget the whole trip. That is, until the hottest guy she's ever seen is seated next to her on the flight and dazzles her with his easy laugh and killer smile. But just when she thinks things are getting good, he vanishes, leaving Aynslee wondering, was that guy the one? And did she just let him slip through her fingers?
Former superstar goalie Jordan Ryan is back on the ice—finally. After a crippling knee injury that had him wondering if he'd ever play pro hockey again, he's got his full attention on rebuilding his career. So a pretty—okay, beautiful—girl on a plane shouldn't be a distraction. But Jordan is very, very distracted. And when Aynslee crosses his path again, he's not sure any job in the world is worth missing his second chance with a woman like her.